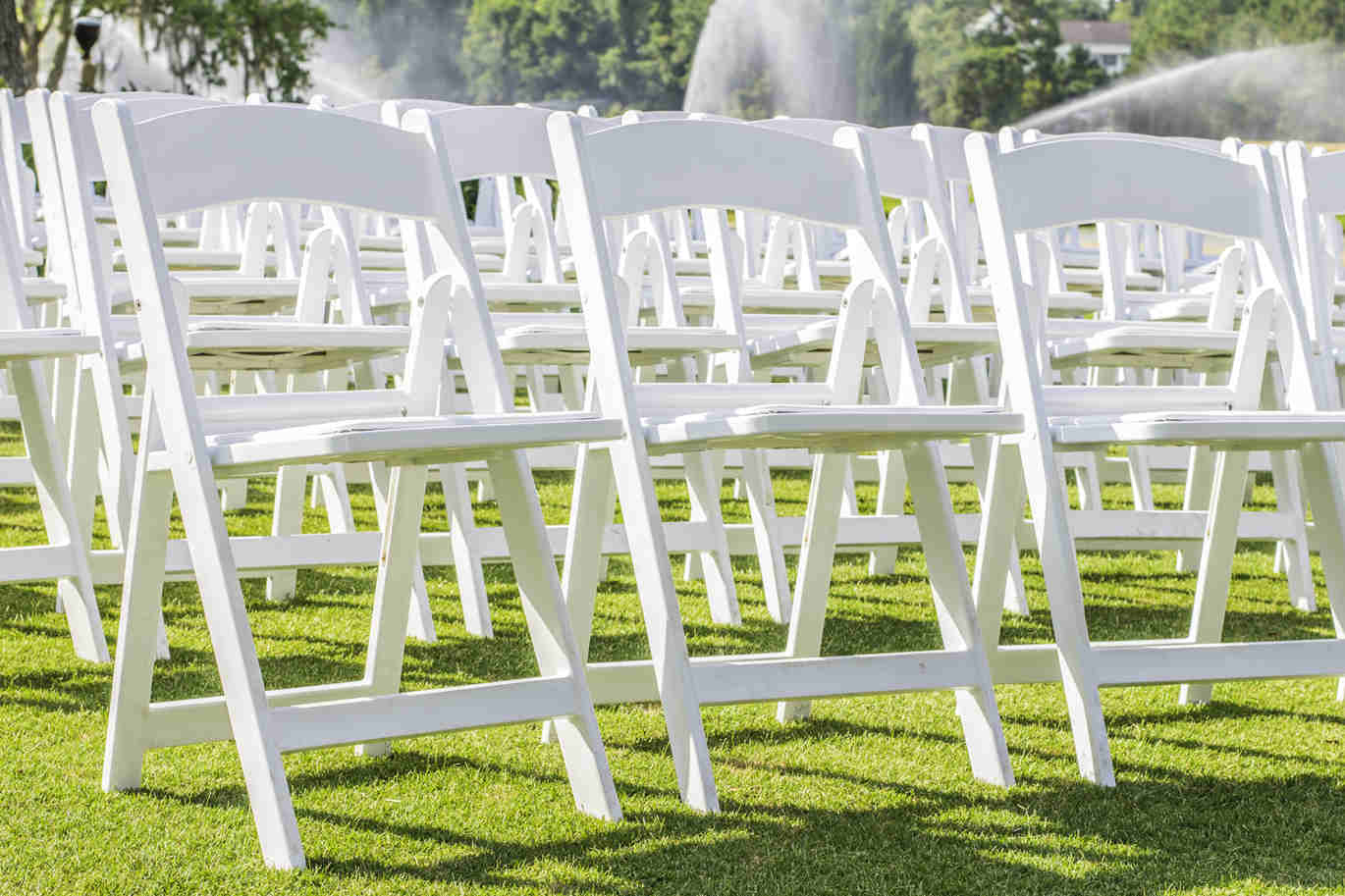 2022 The Top 30 Table and Chair Rental Companies
So many people plan events and occasions such as weddings, birthdays, anniversaries, graduations, and corporate events to celebrate their achievements. However, the number of guests invited may exceed more than the table and chairs in the event.
This may require looking for companies that offer table and chair rentals and making your guest comfortable and entertained.
At Noya, we are a premier promotional products supplier, and you may contact us for custom-made enamel pins and business cards with logos as we help to create a personal touch or connection with your events and occasions. Below are the top list of table and chair rentals for your choice.
Top 5 Event Furniture Rental Companies
This is one of America's leading and the largest event furniture rental service providers with genuine, iconic 20th Century trending furniture and accessories. It includes modern and 21st-century masters such as Bauhaus to Classic.
FormDecor maintains a perennial depths of stock for trade shows, set designs, and numerous social corporate and events. They provide high-end event furniture rental styles for
weddings, corporate events, parties, exhibitions, and trade shows. They work closely with the clients throughout so as to ensure that they are fully satisfied.
It is a Premier Company for table and chair rentals. They offer attractive event rentals, furniture, and accessory rentals for your special event and occasion, such as weddings, red carpet events, trade shows, corporate meetings, and conferences countrywide.
It has established its name when it comes to the hospitality industry by offering high-end, unique furniture and accessories to all social, corporate and red carpet events.
They have a very creative workforce who is always there to help clients choose the best furniture for their events and occasion. AFR events furniture offers occasional seating café and bar tables, lighted cubes, carpets, event tables, chairs.
Cort Events is committed to making a big impact when compared to table and chair rentals. They go beyond to ensure that all their events are perfect, leaving the client super excited by their services. Cort believes that everything is possible when it comes to offering event rentals furniture.
If there is a matter of concern, they make all the efforts to see it so that it is fully resolved amicably to client satisfaction. This becomes their greatest measure of achievement.
Cort has several years of experience hosting events. They have held a number of interactive panels that have answered some of today's hottest questions.
At Designer8, they believe in creating wonderful experiences when it comes to events and occasions, whether it's an outdoor event, gala, or corporate exhibition,
They have a passion for searching for the best and the right furniture that will suit your event. It has a wide range of inventories that can be used on different occasions, such as trendsetting, furniture, lighting, custom scenic props.
They have other accessories that ensure that your event is at the next level.
Their collection ranges from classic to modern. It also has a custom-made design that is prepared specifically for certain events.
Opus Party Rentals is based in Los Angeles.
If you are looking for the best company when it comes to table and chair rentals, Opus is right here for you. It is the most popular event rental in LA. It offers event furniture rentals and rustic table rentals in Los Angeles and its environs.
When it comes to events, meetings, conferences, Opus is the perfect company to host them. They make event rentals and party services become successful, leaving their client happy and satisfied.
Opus Event Rentals focuses on creating a memorable occasion for every client, no matter who you are in society.
Imperial Party Rental, Los Angeles, has offered a wide selection of products for more than 20 years to private events, corporate events, and weddings. Their prices are as competitive as compared to other firms in event rentals furniture.
It has its customer base for table rentals from Beverly Hill all the way to San Diego. They have superb deliveries and are always flexible when it comes to their severe delivery.
Imperial Party Rental offers all party supplies such as classic wedding chair rentals, Chivalry chairs, dance floor rentals, tent rentals, linen rentals, draping rentals, china rentals, Illuminated Bar rentals, Lounge Furniture rentals, and much more for your event and occasions.
They are the leading event rentals furniture company in LA, California. Fiesta King Rental proudly serve and deliver to all parts of orange county, Los Angeles, and other cities such as Vernon like Bell Gardens, Vernon, Commerce, Downey Bellflower, Lakewood, Long Beach, El Monte, Beverly Hills, Whittier, La Habra, Norwalk, Paramount Montebello, Hollywood, Pico Rivera, and much more.
It has the best selection for event furniture rental that will take care of your celebrations. You can choose from a classic high-end set of furniture such as bride and groom furniture, thrones, and other accessories that will impress you and your guests.
Party Rental CA offers a wide selection of table rentals in the Inland Empire and the greater parts of Los Angeles County. They are mostly used in church functions, school, company events, birthday parties, and any other event held for kids and adults.
They are the most preferred party rental service provider, and their goal is to offer the best and affordable rates as well as top-notch customer service. It never compromises on the quality and ensures that all their rental equipment is insured. This ensures safety for your guest and yourself.
Since 1996, Magic Jump Rentals has offered party rental services in Los Angeles County and the surrounding environment. They have really grown from their humble beginnings to the biggest and the most reliable rental company in the southern region of California.
MJR has a wide range of equipment for rental, such as chair rentals, a variety of jumpers, rock walls bouncers, water slides, obstacle courses, slides carnival games, concession machines, interactive inflatables, movie screens, zip lines, photo booths, combos, and much more!
They regularly get more and modern equipment for rentals that offer great service to their clients.
A to Z is an event rental furniture company. It has been serving its clients for half a century. Despite its slowdown being affected by the pandemic, it hasn't compromised its services to the community.
Their customer service is top-notch, and they are always eager to serve you on your next event or occasion.
They help you out in strategizing your entire outdoor tenting events, backyard games, emergency rentals, summer color schemes, grills, sanitizers, and any other events that come to mind.
They focus on offering the highest quality that there is as well as supporting American made products.
Top 5 Chair Rental Companies
Big Tent Events help to turn all your dreams, ideas into reality, making the event memorable as well as remaining in the minds of your guests for a very long time.
They are a one-stop shop in Chicago when it comes to all tent rental requirements. With over 10 years in the renting industry, they serve thousands of clients, meeting their needs and solving their rental problems.
They have a wide range of tent frames that come in different designs, shapes, and sizes, to keep your tents warm and guests entertained.
Since it was launched back in 1996, Shiraz Party Rental has been offering high-quality services and products to the larger Los Angeles County and its environs. They can connect with their clients freely and provide exceptional service and solutions for their needs.
They reach out to get to know your needs, and in case there's any change prior to your event taking place. They are flexible, and this helps them to adapt easily if the need arises.
All they want is clients to experience their professionalism as well as being the most reliable company of choice.
They help develop and create memorable experiences through their wide range selection of curated rental equipment that may help match your needs for your events or occasions.
Through their thorough research and inquiries, they added more inventories for the chairs and table. Slowly they started with just a few plastic folding chairs and tables.
They always have a goal to offer clients the best quality materials at a reasonable and affordable cost. Even up to today, they have never compromised their services for whatsoever case
EPR has been a premier party rental company in California that has been leading in birthday Parties, weddings, corporate events, and any other event that fun and elegance is number one.
They have a wide list in their catalog that you can choose from. They include Silverware, farm tables, elegant chairs, tent draping, chairs, and much more.
You can book online as you make plans for your special day. You are guaranteed to get the best of the best for all your rental equipment.
They offer party and event rentals in Los Angeles, California, and several cities that are within 40 miles of Downtown LA.
Whether you are having a wedding, birthday party, seminar, baby shower, or any other occasion, Big Blue Sky Party Rentals gives you the best rental supplies that you require to facilitate your events or occasions.
If you rent out the equipment you need, you may not worry about when or how to clean them before you return them. They have that all covered for you.
Top 5 Cocktail Table Rental Companies
DEL REY party rentals do not just organize large-scale events. They also love working and organizing captivating events, which will be remembered for many years. They create events of any size in Santa Barbara, Los Angeles, and all through Southern California.
They work with event specialists and event venues to give 100% client satisfaction in all events regardless of the size.
DEL REY party rentals are proud of their excellent service, quality and trustworthiness. Their web team keeps adding new items and updating information for an improved rental experience.
Lakewood Rent-All is an event rental business that has been serving Lakewood, Los Alamitos, Long Beach, Cerritos, Downey, and Seal Beach since 1969. They specialize in Anniversaries, Weddings, Graduations, Corporate Events, Birthdays, and Poker Parties, among others.
They have all you need including tables and chairs, flatware, glassware, canopies and dance floors, linen, patio heaters, and food service, and many more.
Lakewood Rent-All, in addition, has a complete line of rental equipment for garden and home requirements, floor care needs, and medical equipment. They deliver to your business or home with specialized services.
Party Time Rentals believes that you deserve a smooth event regardless of the event you are celebrating.
They are here to assist you! They provide a huge collection of event rental products along with event-related services. Party Time Rentals provides rental products you require and the service you expect
Don't worry about getting quality rental products at reasonable prices. With Party Time, you are guaranteed excellent value and unmatched customer service. They are your solution to all event rental problems and the answer to any event rental queries.
Are you planning a corporate event festival or an event, and would you like it to represent your professionalism? Don't worry; Rentals has got your back!
They believe it is supposed to be easy, and you don't have to overpay. That's why Reventals have evaluated self-governing, locally owned, and run rental companies to find the best dealers, unique rentals with great prices. Let them know what you require, and they will find it for you.
Reventals takes pride in incredible customer service that provides valuable knowledge and assistance.
For the last 90 years, Pico Party Rents have offered Los Angeles residents event rentals with high-quality equipment, trustworthy service, and competitive rates.
For Birthday Parties, Company Events, Weddings, corporate events, and many more, they will organize a memorable event for you!
Pico Party Rents' customer service representatives are cooperative, experienced professionals who will help you with everything you need. Their Special Events employees are skilled in all aspects of party rental and are dedicated to making sure that your occasion is everything goes as you had imagined it to be.
Top 5 Farm Table Rental Companies
Wonder Event Rentals offers a huge collection of event rentals, and they are still adding new items. They have a passion for creating a memorable event through their welcoming service as well as quality products.
They are available to assist and happy to give insight and guidance. They are all set to go above and beyond for their customers to get everything right, create an unforgettable experience, and thus, keeping your sanity along the way.
Wonder Event Rentals are very appreciative, and they really love what they do.
This is a family-owned event rental company that is based in San Diego. They offer farm table rentals, party rental, wedding rental, event rental, wood cocktail table chair rental, belly bar rentals, dance floors, rustic wood bars, and ceremony arch rentals. They specialize in parties' weddings and corporate events.
Their highly trained and experienced workers deal with the client directly, and they do so to meet their needs and expectations. They have a special department that deals with delivery service only.
The company appreciates every moment they serve their clients.
Rent wander Event Company offers Lounge furniture, Farm Table Rentals, chairs, and other equipment that you require to hold your next event.
You may rent about their goods that may be required for your events, and their delivery department is there to deliver them to your event venue. They also allow a client to pick them from the warehouse located in Bellingham, WA.
The team also helps in the event planning as well as offering high-end rentals. In addition, they help in logistics and design to make your event memorable.
His & Hers Rentals specializes in bona fide, handcrafted farm tables, wedding rentals, catering, and vintage designs in Ventura, Los Angeles, San Diego, and Orange County.
They offer tailor-made catering menus, vintage decors, and outstanding services. They help you to have a memorable time in your life as they strive to offer high quality and professional experience for that special day.
His and hers rental has qualified and highly experienced staff who helps you to select the best equipment for your event or occasion.
This is a team of highly, talented, experienced, and award-winning designers. They develop environments that are favorable for occasions.
They select the best markets that ensure to deliver their vision to all their clients and partners. Archive rental has a vast collection of cocktail table rental.
They began operation in 2010 from just a humble beginning by offering event rentals and design. They offer design services to its clients in California, Maya, Texas, and Mexico any other areas their services are required.
Top 5 Folding Chair Rental Companies
Meant to Be Event Rentals does its best to offer top-quality rental items that will exceed your expectations. They believe in cooperation and communication as the key to complete your event faultlessly.
Be it glassware, dinnerware, table, and chair rentals, tenting & staging, they carefully handle their rental items to guarantee just the best quality.
Meant to Be Event Rentals organizes various different events such as corporate events, weddings, birthdays, fundraisers, and many more. They strive to make your event flawless and memorable.
All Occasion Rentals is the premier provider of event rental equipment in the Inland Empire, Orange County, and San Diego County region.
They are committed to offering high-quality event rentals in Riverside, California. Their mission is to provide their customers with the topmost esteem when organizing your event.
Whatever your requirements, they will do their best to make your occasion just the way you intended it to be. Don't allow the prospect of your upcoming occasion to overwhelm you; All Occasion Rentals got your back.
Party Rentals Delivered understands that organizing a successful and flawless event requires more than just the right event rentals, furniture, and decorations. It is the service behind their products that guarantees smooth planning, delivery, and pickup services.
They take pride in what they do and are dedicated to providing their customers with perfectly maintained equipment, quick delivery, and pickup services while having excellent customer attention.
Party Rentals Delivered throws fabulous events by delivering top-quality folding chair rentals, tables, glassware linens, and many more.
5 Star Rental has everything you may need when planning a special event. From farm table rentals and beautiful linens cocktail tables rental, to garden chairs, they are available to meet all your rental requirements.
They are event rental experts that will transform your ideas into a truly unforgettable event.
Don't bother with the stress of setting up chairs and tables. 5 Star Rental will do the work for you; they provide both delivery and pickup services. They, in addition, do a tent survey check to guarantee the right tent set up.
Arcade & Party Rentals by GEMS has a matchless mixture of quality event rental equipment and a full list of arcade games.
They deliver quality rentals for corporate events, weddings, birthdays, banquets, or any other event at a reasonable price. They know what it takes to make your event successful and perfect.
Arcade & Party Rentals by GEMS are passionate about what they do. With their excellent customer service, customers are comfortable that their event is in good hands.