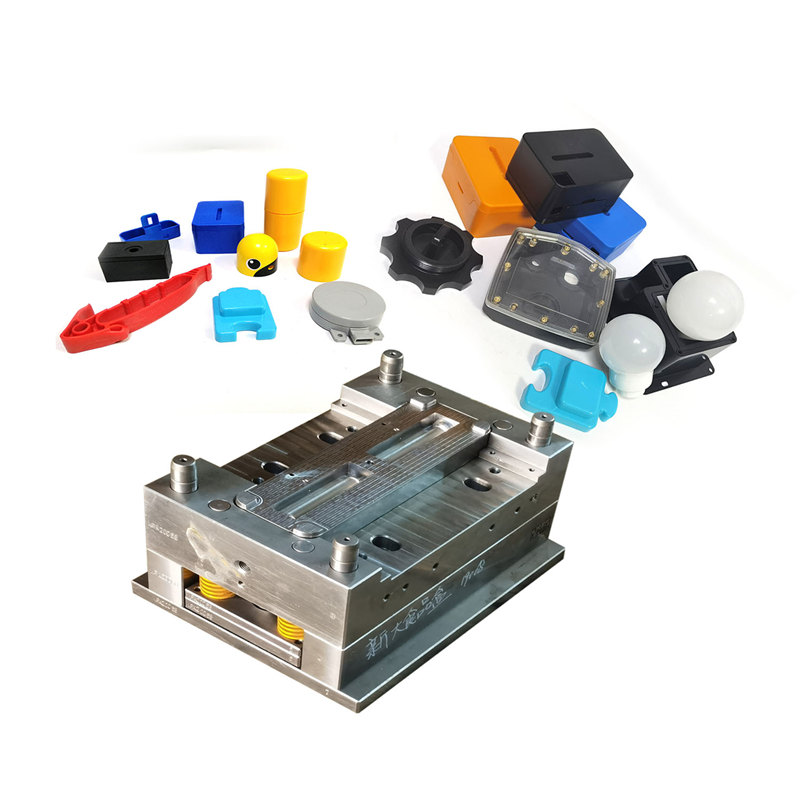 Top 20 Plastic Manufacturers and Companies
In today's modern world, plastics are everywhere. From packaging materials to automotive components, construction materials to medical equipment, the importance of plastics in our lives cannot be overstated.
The plastics industry is a massive global market, with numerous manufacturers and companies contributing to its growth and development. In this blog post, we will take a closer look at the top 20 plastic manufacturers and companies leading the way in the plastics industry, providing innovative solutions and high-quality products.
Top Plastic Manufacturers and Companies USA
Xometry, Inc. is an AI-enabled marketplace for on-demand manufacturing that connects buyers with a curated network of manufacturing suppliers to source custom parts and assemblies efficiently. The company uses proprietary technology to generate instant and accurate prices for part designs and lead times, matching them with appropriate sellers.
Xometry's approach creates consistent pricing transparency and supports a more robust and resilient supply chain. With customers ranging from startups to Fortune 100 companies, Xometry has developed a liquid, scalable, and global marketplace for sourcing on-demand parts that transform one of the largest industries in the world.
Since 1982, Orange County Industrial Plastics (OCIP) has been an industry leader in plastic distribution and fabrication. With an expansive 80,000+ square foot Anaheim headquarters, they specialize in turnkey solutions that cover a wide variety of plastic products, from acrylic sheets and Plexiglass to nylon, Lucite, and more.
OCIP also offers a complete suite of services, from custom fabrication and assembly to bending, forming, and laser cutting. With their advanced equipment, they can create high-quality products that exceed customer expectations. Additionally, they provide full print and graphic capabilities, as well as fulfillment services, to ensure a successful job from concept to completion.
Committed to quality customer relationships and superior products, OCIP is dedicated to technical excellence and on-time delivery. They offer over 10,000 items, including ECO-FRIENDLY, SUSTAINABLE, RECYCLED or RECYCLABLE alternatives, and various visual merchandising displays such as counter and floor displays, acrylic cosmetic displays, sunglass cases, and plexiglass sign holders.
For over three decades, OCIP has been the go-to source for all plastic needs, providing innovative solutions for businesses across multiple demographics. With their commitment to process improvement and customer satisfaction, OCIP is the perfect choice for any plastic project.
Plastic Design International, Inc. is a plastic injection molding company that caters to various industries such as automotive, fire safety, security systems, defense, electronics, and medical.
Established in 1977 as an R&D prototype business, PDI has since become a comprehensive injection molding resource center with two locations occupying 55,000 square feet, 21 molding machines ranging from 35-Ton to 385-Ton capacity, and ISO certification.
PDI utilizes state-of-the-art technology like robotic sprue pickers, automated conveyors, CMM equipment, and advanced product quality planning (APQP) procedures to ensure high-quality standards.
The company also offers Production Part Approval Process (PPAP) tailored to meet specific customer requirements. As manufacturers of injection molds, plastic parts, and components, PDI guarantees customers' supply needs are satisfied with tight tolerances.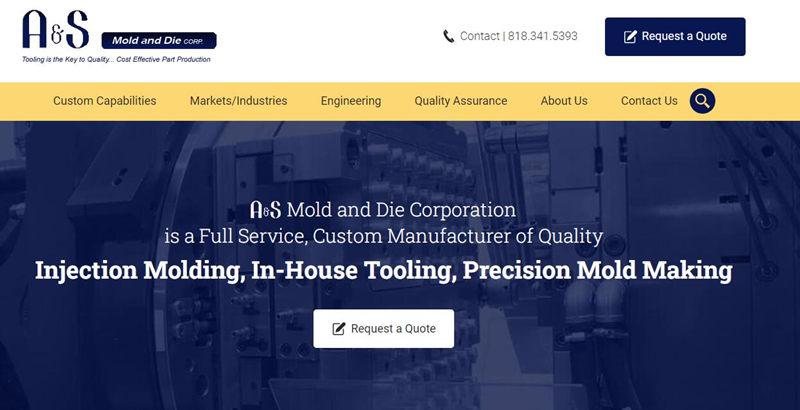 A&S Mold & Die Corp. is a full-service custom injection molding facility that offers plastic fabrications for all industries, including aerospace, military, and consumer goods. They provide plastic machining, fabrication, molding, and casting services to markets such as water treatment, agricultural, medical, automotive, and more.
A&S Mold can handle complex applications with various materials, from polyester to PEEK. The company provides quality injection molding, in-house precision mold-making services, and secondary service options such as engineering, mold making, and assemblies.
A&S Mold also performs precision quality control evaluations to meet and exceed customers' expectations, serving diverse businesses such as 3M, Sybron Dental, Square D, TYCO, and Fluke Networks.
Mar-Bal, Inc. is an integrated compounder and molder of BMC Thermoset composite products and value-added finishing services. The company offers plastic compounding and formulation services, injection molding, and finishing for appliances, lighting, construction, transportation, and more applications.
Mar-Bal has been recognized as one of America's fastest-growing companies for two consecutive years and prioritizes quality, customized materials and parts, superior customer service, and commitment to the total value. With four facilities in North America, an overseas facility in Taizhou, China, and an Asia Sales Office in Shanghai, Mar-Bal serves various industries worldwide.
The company continues to research and formulate advanced materials and develop innovative products to be the premier thermoset composite solutions provider in industrial and appliance markets while expanding into new markets.
Hoehn Plastics, Inc. is a family-owned and operated company specializing in plastic processing services such as toll grinding, compounding, blending, and recycling. The company provides high-quality recycled resins to the injection molding industry, with long-term partnerships achieved through solid team efforts focused on creative and cost-effective solutions.
Hoehn Plastics specializes in recycling post-industrial plastic, offering MetaPro Polymers that can replace many prime-grade resins. The company also provides several toll manufacturing options and just-in-time delivery and pick-up of products.
Nifco is a leading global supplier of plastic fasteners, providing custom injection molded plastic components and assemblies to industries such as automotive, electronics, telecommunications, home appliances, office equipment, and fashion.
Founded in 1967 during Japan's industrialization period, Nifco became the first company to introduce plastic as an alternative to the metal as fasteners, significantly reducing labor and workforce on production lines.
With expertise in research & design, tooling, injection molding, and shipping, Nifco America offers innovative solutions to clients in various specialties and industries. They have injection molding presses ranging from 45 to 450 tons with twin-shot, insert molding, and gas assist tool technology.
Their design team handles everything from existing designs to turnkey solutions within specified parameters to reduce costs and shorten manufacturing time.
Modern Plastics was established as "Modern Glass Company" in Bridgeport, Connecticut, in 1945 by Joseph C. Carbone, who specialized in the same-day installation of automobile window glass through a one-man operation with a pot-bellied stove for heat during New England winters.
The company's success is attributed to Mr. Carbone's hard work and integrity instilled in the business and employees, along with his genius. In 2018, Modern Plastics underwent a branding transformation to reflect its status as a trailblazer in the plastics industry.
The company is a leading global distributor and custom fabricator of plastics, serving elite customers and industries with unparalleled quality backed by nearly 80 years of experience and a technical expert team. Modern Plastics places great emphasis on sustainability, recycling virtually 98% of plastics used in cutting and fabrication operations.
In contrast, their parent company, North American Plastics recycling division, recycles 100 million pounds of plastics annually, keeping them out of landfills and repurposing them into usable materials.
General Plastics has been an American-made leader in the composites industry for 80 years. Founded in 1941, General Plastics Manufacturing Company is still privately held. It produces preservative coatings for wood, phenolic-resin plastic laminates, foam material, and build-to-print parts in its 135,000-square-foot facility in Tacoma, Washington.
The company employs more than 170 skilled, passionate professionals. It provides high-quality, high-performance materials and products to customers in diverse industries. General Plastics has developed long-standing relationships with aerospace industry giants such as The Boeing Company, ATK, and Lockheed Martin.
It has been recognized for excellence with the Boeing Performance Excellence Award for the past four years. They focus on building enduring relationships with customers, employees, and partners and striving to meet the stringent requirements of engineers and design teams.
Asahi Kasei Plastics North America ("APNA") is a leading manufacturer of high-performance engineered polymers and chemically coupled polypropylene resins. With over 400 employees across three locations in North America and sister companies in Mexico and Canada, APNA offers a wide range of products for various segments such as automotive, pool and spa, industrial, furniture, housing, and construction.
Founded in 1922, the Asahi Kasei Group has a long history of proactively diversifying and adapting to environmental and economic changes. Now, APNA is dedicated to providing quality plastic compounds for everyday life and works with an emphasis on safety and product quality. With the latest technologies and solutions for the future, APNA is a trusted partner for industry leaders in the plastic industry.
Clark Rubber & Plastic is dedicated to providing the highest quality rubber and plastics manufacturing solutions. Their 40,000 sqft facility offers 6 new extrusion lines and their molded rubber facility boasts some of the most advanced equipment available to the industry.
Their injection presses increase our capacity to meet and exceed customer's expectations. They have implemented a cutting-edge quality system to ensure that all products and services meet or exceed customer's quality and safety requirements. ISO/TS 16949:2009-certified and UL-certified, they can reliably deliver the parts you need.
Vycom (a division of The Azek Company) is a plastics manufacturer and supplier of high-quality plastic sheet products designed to replace traditional materials like wood and metal. Their products include Celtec® plastic sign material, Flametec® fire-resistant high-temperature plastic, HDPE sheets, Seaboard® marine board, Corrtec® chemical/corrosion-resistant plastic, Playboard®, industrial plastics, and Designboard®.
Their innovative solutions are designed to optimize quality and performance, while providing a more sustainable future. At Vycom, they pride ourselves on creating a streamlined and efficient manufacturing process which allows us to quickly expand and meet customer demands.
Their made-to-stock inventories and custom run-to-size orders are designed to maximize efficiency and minimize freight expenses. With over 500 team members and 1,000,000 SF of manufacturing under one roof, they are headquartered in Scranton, Pennsylvania and are committed to helping you achieve success.
Dutchland is a high-performance, process-driven, contract manufacturer specializing in high-volume plastic rotational molding.
With state-of-the-art facilities in Wisconsin and New York, they have the ability to scale production quickly, enabling their customers to "Go BIG!" Dutchland's highly controlled rotational molding manufacturing process allows them to manufacture at a comparable quantity to blow molding while providing more design flexibility.
They engineer, manufacture, assemble, and ship finished products, making them a trusted partner from concept to completion. In addition to molding, Dutchland offers a lengthy list of value-added services, including mold maintenance, product engineering, warehousing, and distribution.
Crown Plastics, Inc. is an independent national full-service distributor and custom fabricator of plastic sheet, rod, and tube for industrial, engineering, and medical-grade plastic needs.
They also provide laser cutting, precision sawing, CNC routing, assembly, packaging, and local delivery. Crown Plastics has distinguished itself as an industry leader by offering excellent service, quality, and successful partnerships with customers and vendors since 1972.
They have a knowledgeable team with over 135 cumulative years of experience, and their goal is to make it easy to do business with them. Crown Plastics has the ability to respond to special delivery requirements and can custom-engineer solutions for various industries.
Bright Plastics is a single-source provider of high precision plastic injection molding and contract manufacturing. They serve various industries, including medical devices, automotive, aerospace, military, industrial, outdoor recreation, telecommunications, and more, by successfully manufacturing plastic components with a proven track record of solving complex design and engineering challenges.
Bright Plastics offers in-house solutions for hard-to-process engineering resins and precision plastic components and can deliver parts to customers throughout the US with warehousing, assembly, and fulfillment as needed. With over 30 years in the industry, they adapt to their customers' needs by building inventory, stocking to min/max demands, and drop-shipping to their end customers or distribution centers.
Miller Plastic Products Inc. is a family-owned plastic products manufacturer in business for 50 years. They specialize in fabricating and precision machining custom plastic products and components, including chemical tanks, pipe systems, filtration systems, duct work, fume hoods, and more.
Their superior quality is ensured by using 100% virgin American-made materials and following German DVS PersZert® welding standards.
Miller Plastic Products offers state-of-the-art CNC routing equipment and conventional plastic machining services, as well as engineering, drafting, welding, annealing, plastic polishing, molded part alterations, and more, to meet all of their customers' custom plastic fabrication needs.
Classic Plastics Corporation is a custom bioplastics company that offers environmentally friendly alternatives to traditional plastics. They specialize in extrusion of bioplastic resins and have accumulated a range of fabricating equipment to convert their extruded bioplastics into finished products.
With in-house printing and fulfillment capabilities, they offer private label services for direct-to-retail offerings. Classic Plastics is dedicated to sustainability and strives to make "going green" affordable by sourcing raw materials, manufacturing bioplastics, and converting them into finished products.
They offer a unique series of options to create an environmentally friendly product that is also cost-competitive with traditional materials. Classic Plastics' sustainable product line is based on derivatives of corn, tapioca, and other starches commonly used in the production of glue and pressed board products, as well as PHA resin produced in nature by bacterial fermentation of sugar or lipids.
They are pioneers in the implementation of hybrid thermoplastic starches and are continuously researching ways to produce PHA from municipal wastewater and polypropylene bioplastic products using carbon dioxide found in the atmosphere.
Southwest Plastics Company is a family-owned plastic and rubber molding company that has been an industry leader for over 55 years. They specialize in custom molding plastic and rubber parts using the latest technologies and techniques to ensure precision molding, quality, service, and value.
Their experienced staff, diverse molding capabilities, and extensive secondary operation department enable them to produce a broad spectrum of plastic parts for all industries. Southwest Plastics operates a financially sound organization with a very low turnover in personnel and continuously invests in improving its capabilities to stay at the forefront of developments in the industry.
They offer services such as injection molding, transfer molding, CNC machining, compression molding, and more, and they provide design support for those who need help transferring specs to 3D.
With over 45 years of experience, Southwest Plastics is recognized throughout the plastic molding industry for providing individualized and personalized service and can develop plastic molds for prototypes, production runs, and multi-material parts. Their work is always done in America, ensuring the safe protection of customers' designs against intellectual property concerns.
Hansen Plastics Corporation is a cutting-edge pioneer in the plastics industry that made the strategic change to an Employee Stock Ownership Plan in 1998. They are committed to building long-term relationships with their customers and offer manufacturing and design to fit a variety of needs.
With over 70 molding presses, Hansen Plastics Corporation is dedicated to technology and lean manufacturing, emphasizing precision and care every day. Their founder, Elmer Hansen, remains on the board and continues to exercise the values the company was built on.
As employee-owners, HPC's mission is to provide the highest quality injection-molding products and services to ensure customer satisfaction and continued profitable growth, enhancing each employee owner's personal investment.
PBS Plastics is a custom extrusion manufacturer of rigid and flexible plastic tubing and profiles that runs through every industry. They are an independently owned and operated company with a "can-do" employee culture that supports creative problem-solving at every level and a commitment to building long-lasting business connections based on communication and trust.
PBS Plastics offers tighter tolerances and quality control due to their in-depth, hands-on knowledge of plastic extrusion and welcomes R&D challenges. Their Agile Advantage™ process emphasizes reliable customer service experiences, backed by a team of industry experts who operate with a "can-do" focus to deliver high-quality, durable, and precise custom extruded plastic tubing and profiles.
The owners are actively involved in every step of the process, overseeing each project to ensure customer satisfaction and long-term success. PBS Plastics' flexible structure allows them to respond quickly to customer needs and ship around the United States.
FAQ About Plastics Manufacturing
What are the different types of plastic?
There are many different types of plastic, each with unique properties and uses. Here are some common types of plastic:
Polyethylene (PE) – used in bags, containers, and packaging films.
Polypropylene (PP) – used in food containers, automotive parts, and textiles.
Polyvinyl chloride (PVC) – used in pipes, vinyl flooring, and electrical insulation.
Polystyrene (PS) – used in foam cups, packaging materials, and toys.
Acrylonitrile-butadiene-styrene (ABS) – used in automotive parts, toys, and electronic housings.
Polyethylene terephthalate (PET) – used in beverage bottles, food packaging, and polyester fibers.
Polycarbonate (PC) – used in eyeglasses, riot shields, and medical equipment.
Nylon – used in clothing, fishing line, and toothbrush bristles.
Acetal – used in gears, bearings, and electrical components.
Polymethyl methacrylate (PMMA) – used in acrylic glass, signs, and lenses.
These materials have different properties, such as flexibility, strength, transparency, and durability, which make them useful for a wide range of products and applications. In addition to these common plastics, there are also bioplastics made from renewable sources such as corn starch, sugarcane, and potato starch, which are becoming more popular due to their environmentally-friendly properties.
What is plastic manufacturing?
Plastic manufacturing is the process of producing a wide range of plastic products or components using specialized equipment and techniques. The process typically involves melting plastic resin pellets, which are then molded, formed, or extruded into a variety of shapes and sizes, depending on the intended use.
Plastic manufacturing can be used to create products like bottles, containers, automotive parts, toys, electronic housings, medical devices, and many other items used in everyday life. The process can involve different methods, such as injection molding, blow molding, extrusion, thermoforming, and rotational molding, depending on the specific application and desired outcome.
What are the different methods used in plastic manufacturing?
There are several methods used in plastic manufacturing, including:
Injection molding: This is a popular method that involves injecting melted plastic material into a mold cavity under high pressure to produce complex shapes or parts with high precision and consistency.
Blow molding: This process involves inflating a hot plastic tube (or preform) into a mold to create hollow shapes such as bottles, containers, and jars.
Extrusion: In this method, plastic is melted and forced through a die to produce continuous shapes such as tubing, pipes, and sheets.
Thermoforming: A flat sheet of plastic is heated until it becomes pliable and then molded into various shapes using heat and pressure.
Rotational molding: Also known as rotomolding, this process involves heating and rotating a hollow mold filled with plastic resin until it coats the inside of the mold, creating a seamless, hollow part.
Compression molding: This method involves pressing a heated plastic material into a mold to create a variety of shapes, often used for large and thick parts such as automotive bumpers and fenders.
Transfer molding: Similar to compression molding, transfer molding uses a piston to force heated plastic into a mold. This method is more suitable for small and intricate parts.
Each method has its own advantages and disadvantages, depending on the type of plastic being used, the complexity of the part, and the desired end product.
What are the benefits and drawbacks of plastic manufacturing?
Plastic manufacturing has both benefits and drawbacks. Here are some of the most notable ones:
Benefits:
Versatility: Plastic can be molded into various shapes and sizes, making it useful for various products and applications.
Durability: Many plastics are resistant to wear and tear, making them useful for long-term use.
Lightweight: Plastic materials are generally lightweight, which makes them ideal for transportation and packaging.
Cost-effective: Plastic manufacturing is often less expensive than other materials such as metal or glass.
Hygienic: Plastic products are easy to clean and maintain, making them ideal for medical and food-related industries.
Drawbacks:
Environmental impact: Plastic manufacturing produces significant waste and pollution that can harm the environment and wildlife.
Non-biodegradable: Most plastics do not biodegrade and can persist in the environment for hundreds of years.
Health concerns: Some plastics contain harmful chemicals that can leach into food or drink containers, potentially harming human health.
Recycling challenges: Plastics can be difficult to recycle due to their complex composition and different types, potentially leading to more waste.
Perception: Negative perceptions around plastics have increased in recent years due to their environmental impact, leading to consumer backlash and demands for alternatives.
Plastic manufacturing can benefit by providing various industries with versatile, durable, and cost-effective materials. However, the negative impacts of plastic on the environment and human health cannot be ignored and require solutions and changes in manufacturing practices to mitigate these effects.
What steps can be taken to make plastic manufacturing more environmentally sustainable?
Several steps can be taken to make plastic manufacturing more environmentally sustainable:
Use of Green Materials: Companies can use biodegradable, compostable, or plant-based materials as an alternative to traditional plastic.
Reduce Single-use Plastic: The use of single-use plastics should be minimized or eliminated, where possible, through alternatives such as reusable bags, containers, and packaging.
Energy Efficiency: Implementing energy-efficient practices can reduce carbon emissions, such as using renewable energy sources, investing in new technologies, and improving production processes.
Recycling Efforts: Companies can increase recycling efforts by creating closed-loop systems that maximize material efficiency and minimize waste production.
Waste Reduction: Reducing waste by implementing lean manufacturing principles or reusing scrap materials can reduce the environmental impact of plastic manufacturing.
Carbon Footprint Reduction: Companies can offset their carbon footprint by investing in renewable energy projects or purchasing carbon offsets.
Public Awareness: Educating consumers about the importance of reducing plastic waste and encouraging them to take action can create a positive shift toward sustainable practices.
Plastic manufacturing can become more environmentally sustainable by implementing these steps, reducing its environmental impact, and promoting a more circular economy.
Conclusion
In conclusion,the list of top 20 plastic manufacturers and companies have been presented, with a brief overview of each one. It is clear that the industry for producing, manufacturing, and distributing plastic products is vast and ever-growing.
This provides great opportunities for new entrants to the market who are looking to innovate on existing products or create entirely new ones. As plastic continues to play an increasingly vital role in everyday life, it is likely that these companies will remain highly successful in the future.