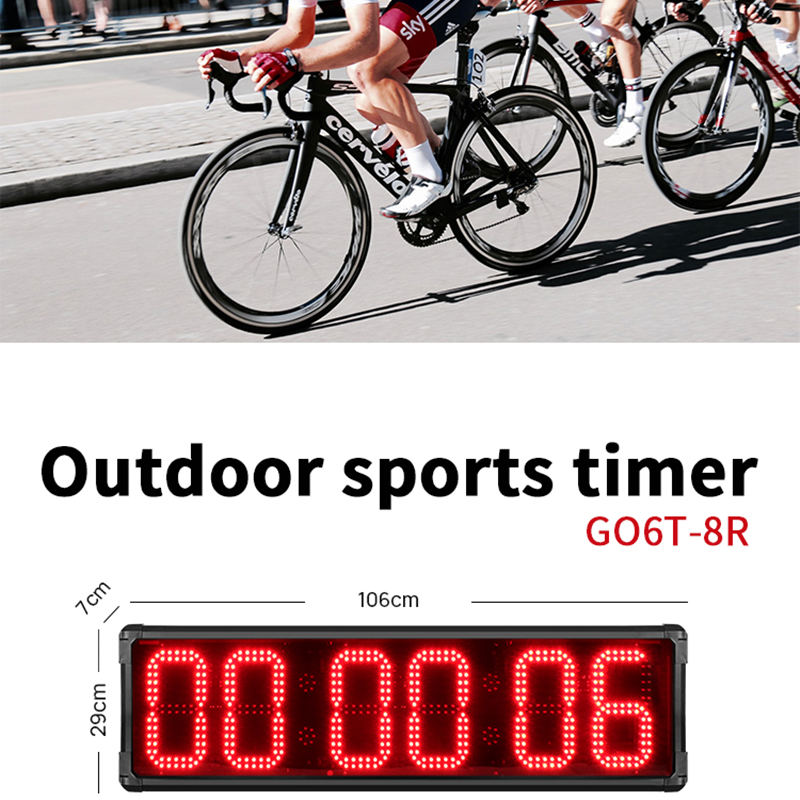 Top Race Timing System Providers & Companies
Organizing a successful race event requires a lot of planning and organization. One important factor to consider is what race timing system to use. Race timing systems help organizers keep track of racers, their times, and the overall results of the event. There are numerous companies offering various solutions for race timing systems, making it difficult to choose which one to go with.
In this article, we will cover the top race timing system providers & companies so that you can make an informed decision when selecting one for your next event.
RACE RESULT Company
RACE RESULT is a leading supplier of timekeeping technology for sports events of all sizes. The company offers a complete package of hardware and software, from online registration to personalized start numbers and timekeeping systems. RACE RESULT is known for its outstanding quality Made in Germany and is rapidly growing its user base worldwide.
The company's engineers push the technical limits of development to innovate and change the future of the timing industry. RACE RESULT was founded in 1999 by Sönke Petersen, who started the project at 16.
The company has grown to have about 50 employees at its headquarters, seven distributors on three continents, and a supervisory board with three members. RACE RESULT increased its customer base and turnover tenfold in the last four years, with a total turnover of 10M Euro in 2018.
The company's primary competitive advantage is its RACE RESULT 12 software, but its German-engineered timing hardware generates most of its revenues. RACE RESULT is 100% employee-owned, guaranteeing a happy, dedicated, and stable workforce and high customer satisfaction.
Hightlights: Complete solution for your event, including timing systems, bibs and timing transponders, online registration, race management and scoring
Check Out RACE RESULT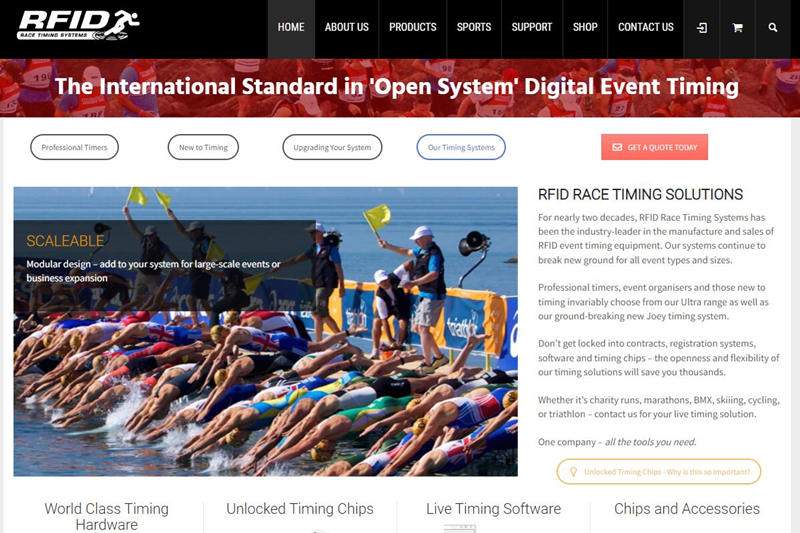 RFID Race Timing Systems Company
RFID Race Timing Systems is an industry leader in manufacturing and selling RFID event timing equipment. The company was founded in 1997 by Andrew Peterson and officially registered in 2003. RFID Race Timing Systems has developed new products over the years to keep pace with the advancement of technology and the ever-increasing demands of events.
The company's headquarters are based in Perth, Western Australia, with a custom-built manufacturing workshop, electronics laboratory, and administration department. All aspects of the timing system, from design to production, are managed within the same facility to ensure absolute quality control and timely delivery of new orders.
RFID Race Timing Systems has distribution centers established in the United States and Europe to assist with delivery timeframes and remove the hassles of customs clearance within those regions. The company's network of seven global distributors can help with sales inquiries, training, maintenance, and repairs.
RFID Race Timing Systems has products in use on every continent and has proven to perform in the most demanding conditions. The company's continual investment in research and development has meant that it can provide an ever-expanding range of products to cater for small club events right through to the most significant events with 30,000+ participants.
Hightlights: World Class Timing Hardware, Unlocked Timing Chips, Live Timing Software, Chips and Accessories
Check Out RFID Race Timing Systems
MYLAPS Race Timing Systems Company
MYLAPS is a global leader in sports timing, offering a wide range of timing systems and services to professional timers, event organizers, track and club owners, federations, and individual racers and athletes. The company was founded in 1982 and has revolutionized the world of sports timing with groundbreaking innovations.
MYLAPS captures the performance of over 20 million people worldwide every year and turns their data into insights, progress, and fun. The company's systems support registration, identify individual racers and athletes, determine their start, finish, and intermediate times, collect performance data, calculate rankings, and publish the results.
MYLAPS has products on every continent, from professional to amateur, from minor to high-density events. The company's systems are used in significant events such as the Olympics, NASCAR, 24 Hours of Le Mans, Boston Marathon, Giro d'Italia, and Ironman Triathlon.
MYLAPS is headquartered in the Netherlands, with sales and support offices in the USA, Australia, Malaysia, Japan, China, and the United Arab Emirates. The company is part of the company portfolio of Nordian Capital Partners and has a responsibility and an ambition to contribute to a better world.
Hightlights: Custom Race Timing Systems for mass events, cycling, triathlon, skating, swimming, biathlon, Car, Motorbike and Kart racing,Event App, Event Results, Registration, Fundraising, Brand Scan, Runner Tag, Coaching software
Check Out MYLAPS
Innovative Timing Systems Company
Innovative Timing Systems is a world leader in the timing industry, offering the Jaguar Chip Timing System and ITS YOUR RACE, an online registration and results platform. The company was founded in 2007 and has since become the innovator of the timing industry, with 25 patents on its technology.
Innovative Timing Systems engineers and manufactures its products at its headquarters, creating jobs for Americans and ensuring the highest quality standards. The company has an entire support staff available 364 days a year via phone or email to ensure customers always feel safe with their equipment or online registration.
Innovative Timing Systems has built the most advanced R&D and manufacturing facility in the world, leading to record levels of reliability in the industry. The company's founder's passion for the athlete experience is as strong today as in 2007. The company's offices are family members, celebrating births, supporting each other through tragedy, and always treating customers with great respect.
Hightlights: Digital Clocks, Chip Management Solution, Results Kiosks, Race Timing Chips, Track & Field Timing, Low-cost timing solutions that come with amazing support and training,
Check Out Innovative Timing Systems
Raceclocks Electro Numerics
Electro-Numerics has been a comprehensive source of sports timing equipment since 1974, with all its products made in the USA. The company offers a range of sports timing products, including Scoreboards, Raceclocks, Sports Timers, Printing Timers, and accessories such as tripods, carrying cases, and remote controls.
Electro-Numerics' Raceclocks do timing to 1/100 of a second, and a computer can operate the Time Machine Complete Race Timing system remotely. The company's Raceclocks are used at the start line, finish line, and along the race to display time-of-day, count down the time remaining before the official start time, display race time for entrants, spectators, and media, and sequentially display race time, pace per mile or kilometer, and projected finish time.
Electro-Numerics' Raceclocks are also used on the track, in the field, in the gym, and for sponsor advertising. The company's quality products are backed by superior service and support, ensuring customers' investments in sports timing equipment from Electro-Numerics will serve them for years.
Hightlights: Raceclocks, Ultra Bright LED, Raceclocks, Stopwatches, Race Timing System, Raceclock Commander Software
Check Out Electro Numerics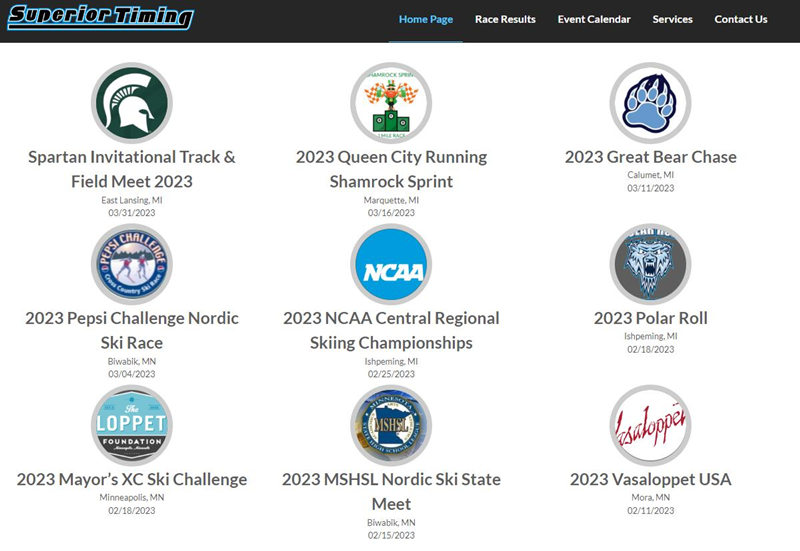 Superior Timing LLC
Superior Timing LLC is a leading race timing company based in Marquette, Michigan. They specialize in providing technical and mission-critical event timing solutions for a variety of sporting events, including Nordic skiing, running, biking, triathlon, and track and field.
They use the latest technology and equipment from Race|Result, Lynx System Developers, and Alge Timing to provide high levels of accuracy and reliability. They also offer custom software development, advanced event scoring, and live data integration services.
With extensive experience timing high-profile events, Superior Timing has the technology and expertise to time races quickly and accurately.
Hightlights: best equipment and software from Race Result, Lynx System Developers, and Alge Timing
Check Out Superior Timing
Swiss Timing Group
Swiss Timing, founded in 1972, is responsible for negotiating and concluding contracts for timekeeping and scoring services on behalf of Swatch Group's brands, including Omega and Longines. Omega has been the official timekeeper for major sporting events since 1904, and in 1932, a single company was responsible for timekeeping at the Olympic Games for the first time.
Swiss Timing has since delivered state-of-the-industry timekeeping and data-handling solutions to the world's highest-profile sporting events. Longines has also served as the official timekeeper at the Olympic Games and has a long history of supporting alpine skiing, motor racing, and equestrian sports.
Swiss Timing engineers, sports managers, and specialists work closely with governing federations of over 100 sports to create timekeeping and data-handling technologies and processes that meet the ever-changing requirements of various events and sports.
They have introduced breakthrough technologies such as photoelectric cells, photo finish cameras, touch pads in swimming pools, and starting blocks with false start sensors.
Hightlights: DISTRIBUTED TIMEKEEPING, SCORING, RESULT SERVICE, EVENT MANAGEMENT SYSTEM, COMMENTATOR INFORMATION SYSTEM, INFORMATION SYSTEM, SCOREBOARDS, BROADCAST SOLUTIONS, TV GRAPHICS, ANALYSIS TOOLS, WEB SERVICES, LIVE TIMING & SCORING
Check Out Swiss Timing
Quince Electronics Race Timing System Provider
Quince Electronics is a Greek company that manufactures high-quality timing systems and electronic scoreboards for sports, with world and European championships applications. Their products cover various sports, including basketball, swimming, athletics, and football.
Quince's electronic scoreboards and sports timing systems are designed and manufactured in Greece, ensuring time precision and reliability for sports events at the highest level of competition.
They also offer after-sales support and have a website section devoted to guiding clients in selecting the proper electronic equipment for their venue. Quince Electronics is the leading Hellenic company making electronic solutions for professional fields like electronic scoreboards and sports timing systems.
Hightlights: Integrated Scoreboard, Video and Timing Solutions for Sports Venues, Electronic Scoreboards and Timing Systems per Sport, Colorful Video LED Displays with Multi-Sport Software, Software and Web Solutions for Sport Federations, Tournaments and Clubs, Timing, Statistics, TV Graphics and Live Streaming Services for Sports
Check Out Quince Electronics
Colorado Time Systems Company
Colorado Time Systems (CTS) provides platinum quality timing, scoring, and display systems for athletic facilities worldwide. Founded in 1972 by four HP engineers, CTS began as a sports timing company for aquatics and has since expanded to provide cutting-edge scoring and display products for almost every sport.
Their display portfolio includes LED full-color video displays, sport-specific scoreboards, and portable scoreboards. CTS products can be seen at nationwide events held by USA Diving, USA Water Polo, and U.S. Masters Swimming, as well as international events such as the Olympic Team Trials and Commonwealth Games.
CTS products are designed to withstand harsh environments, perform with accuracy, and maximize the longevity of investments.
Hightlights: Timing & Scoring, Scoreboards & Video Displays
Check Out Colorado Time Systems
RaceAmerica Time Systems Provider
RaceAmerica Corporation is a privately held company based in San Jose, CA, that provides innovative solutions to the automotive, industrial, and commercial markets. They design and manufacture a complete line of Track Safety Systems, Wireless Drag Timing systems, LED Scoreboards, and WiFi and internet-based apps.
Their products are used in various racing events, including Drag Racing, Race Tracks, Road Courses, Autocross, Snowmobile, Mud Bogs, Soap Box Derbys, ATV racing, Dirt Tracks, and custom-designed Timers for commercial and industrial applications. RaceAmerica products offer a perfect balance of both standard and exclusive features, with industry-leading customer and technical support.
Hightlights: TIMING SYSTEMS, ELECTRONIC FLAGGING, SCOREBOARDS, SOFTWARE, ROI CALCULATORS
Check Out RaceAmerica Corporation