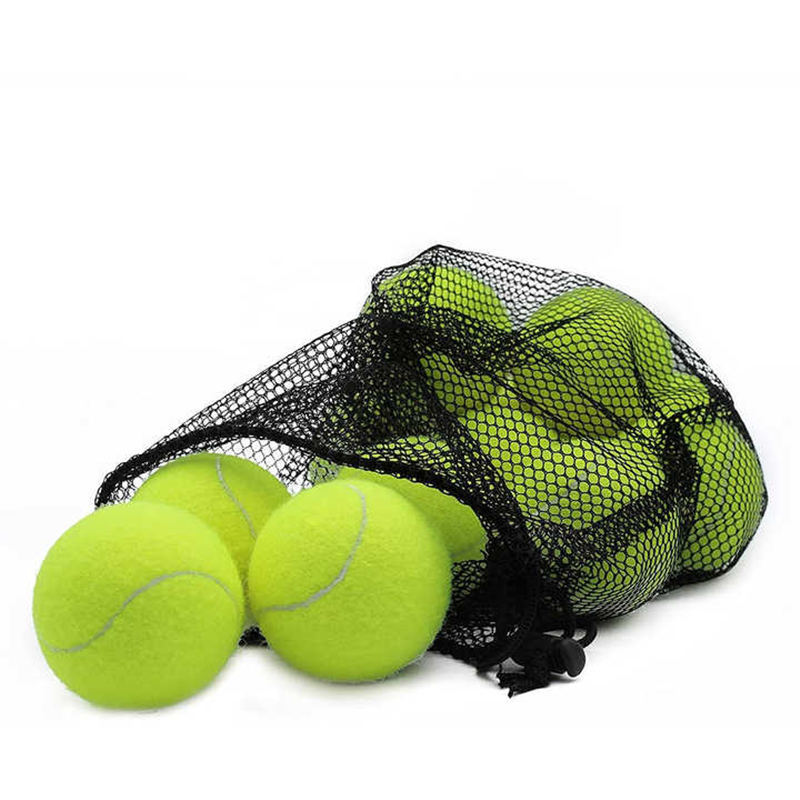 Best 12 Tennis Ball Manufacturers & Brands
Tennis is a beloved sport and having the best tennis ball can elevate your game. Whether you're a recreational player or a professional competitor, you want to know that the balls you use are of the highest quality.
Knowing which tennis ball manufacturers and brands are the most reliable can be difficult. This article will provide an overview of some of the best tennis ball manufacturers and brands so that you can make an informed decision when selecting your equipment.
Top 12 Tennis Ball Manufacturers
Penn is a tennis ball manufacturing company that has been in operation since 1910. The company started in Jeanette, Pennsylvania, and has since become America's number-one-selling tennis ball. In 2010, Penn celebrated 100 years of excellence. The company's state-of-the-art factory now produces over 13,000 tennis balls per hour.
Penn's first tennis balls were not pressurized and were sold fresh off the line at factory branches. Pressurized cans were introduced in 1922 to give the balls a longer shelf life. Over the past decade, Penn has used more than 150 million square feet of optic yellow felt to produce tennis balls.
The company's professional balls are the most technologically advanced, providing players with top-of-the-line core and felt technologies that allow the ball to play at its best for more extended periods.
Penn also offers QST teaching balls for junior players, which are approved for QuickStart & 10 and Under tennis play formats and endorsed by the PTR Teaching Pro Organization. The company's tennis balls are made for different surfaces, including Extra-Duty felt for hard courts, Regular-Duty for softer courts, and Extra-Duty High Altitude for courts located in higher elevations.
In addition to tennis balls, Penn also produces racquetballs with improved rubber compounds and manufacturing processes that deliver lighter, crisper, ultra-consistent, and durable racquetballs. Overall, Penn has come a long way since producing only 13,000 tennis balls in its first year of manufacturing and is a leader in the industry.
Price of Bath is a small, family-run company making balls in Britain for over 90 years. The company was founded by Joseph Price, who developed and made rubber products, including car and lorry tires, tennis balls, and squash balls. Derek, Joseph's son, joined the business in 1947 and grew the company in two areas: rubber balls and rubber components.
The company soon became a well-respected rubber manufacturer for industry and began exporting all over the world. Louise, Derek's daughter, joined the business over ten years ago and has maintained the company's reputation for innovation.
Price of Bath is committed to providing excellent quality balls made in England, with sustainability at its heart. The company has designed and developed balls for many major organizations, including the first-ever larger and lighter 75mm Mini Red Tennis Ball for the LTA, which was adopted worldwide by the ITF and has contributed to getting more children involved in tennis.
The company also designed the more significant Magnum type 3 tennis balls for the International Tennis Federation, which later became a World Standard ball.
Price of Bath has also created the official balls for The England Squash & Racketball Association for 'Mini Squash' and Racketball. The company aims to appeal to a new generation of players with sustainability at the heart of everything they do.
Wilson Sporting Goods Company is a globally renowned American sports equipment manufacturer that has been in business for over a century. The company specializes in producing high-quality and innovative equipment for various sports, including baseball, badminton, American football, basketball, fastpitch, softball, and more.
One of the most popular products made by Wilson is their range of tennis balls. They offer an extensive selection of tennis balls designed to meet the needs of players at all levels. From amateur to professional players, Wilson's tennis balls are known for their durability and performance-enhancing features.
In addition to baseball equipment, Wilson also produces top-of-the-line footballs that have been used in many Super Bowl games. The brand's basketballs are also highly regarded by athletes on all levels as they come with superior grip technology that allows better ball-handling skills during games.
All this equipment showcases the company's commitment to excellence which has earned them a well-deserved reputation as one of the leading manufacturers of sporting goods worldwide.
TTI Sports International is a leading supplier of woven and needled tennis felt with an impressive history of innovation in the tennis felt market. In the 70s, TTI Sports transitioned from white to fluorescent yellow felt; in the 80s, the company introduced a high-quality, non-woven, needled punched tennis felt.
In the 90s, TTI Sports set up factories in Thailand and China to provide an efficient supply chain for tennis ball manufacturers moving to Asia.
TTI Sports works with individual customers to design felts that meet specific performance criteria. Customers who require engineered felt for transparent court surfaces can count on TTI Sports to meet their needs. The company's textile technology expertise allows them to create advanced specialty felts, incorporating various specialty fibers to improve performance.
Thanks to their commitment to quality and innovation, TTI Sports remains the number one choice of Penn, Wilson, and other premiere tennis ball makers.
The company offers a range of manufacturing capabilities encompassing all price points, producing tournament-grade tennis felt on traditional high-speed weaving looms using projectile and rapier looms. High-performance woven, woolen felts result from custom fiber blends and specialty finishing, including napping, fulling, and dyeing.

SVA Sports SDN BHD is a leading tennis ball manufacturer with a combined experience of 65 years in rubber technology. The company's chief advisor, Kaz, is a rubber technology and mechanical engineering specialist with a wealth of ball manufacturing experience.
He has spearheaded many successful projects, including building top-notch golf ball factories and serving as a consultant to some of the biggest sports manufacturers around the world. The company produces high-quality tennis balls that meet ITF specs and are made to deliver the correct performance.
Their balls are created in a joint venture OEM factory that already produces for some of the biggest tennis brands, including Head and Wilson. The company has placed the production of custom-branded balls on hold to reduce supply lead times.
The Pressure-Less Meister Tennis balls are perfect for coaches and players who train regularly, with high-grade TTI woolen combination felt that provides the durability needed for maximum lifespan. The Meister Stage 1 Tennis Ball is prepped to deliver seamless control and connection, ensuring that beginners and kids 9-10 get their range and shot right without sweating.
It provides a bounce that is 25% slower than regular tennis balls, making it perfect for people just getting started in the game. The tennis balls comprise a high-grade Acrylic Felt and are uniquely designed for everyday use and made to last.
Head Sport GmbH is a well-known manufacturing company based in Kennelbach, Austria, and the United States. The company owns the famous American tennis racket brand, Head, and produces various products for various sports, including skiing, snowboarding, swimming, and tennis.
The company was founded in 1950 by Howard Head, who invented metal skis. Head Ski Company produced the successful Head Standard metal-wood composite downhill skis and one of the first oversized metal tennis rackets. In 1968, the company launched a tennis division and introduced the first metal tennis racket at the U.S. Open a year later.
The company has several previously independent companies, including Tyrolia, an Austrian ski-equipment manufacturer, and Mares, an Italian diving equipment manufacturer. The HEAD brand covers fitness, skiing, swimming, diving, cycling, sports shoes, clothing, yoga, and sports accessories.
The company collaborates with athletes at the Winter Olympics and major tennis tournaments and has over 32,000 merchants selling its products in more than 80 countries. The company is committed to developing innovative products for the mid-to-high-end market.
Babolat is a French company that has been a pioneer in tennis and badminton since 1875. The company invented the first tennis string made from unprocessed beef intestines, reinforcing its position as a professional brand. Babolat produces a wide range of equipment, including tennis rackets, shoes, sweatbands, and other accessories.
The company is committed to innovation and providing comprehensive equipment support to help players reach their full potential. Babolat has become deeply popular and is the choice of champions playing at the world's most prestigious badminton, tennis, and padel competitions.
The company constantly innovates and defies convention to improve the game and provide racquet-sport players with the equipment they love. Babolat has a solid commitment to respecting women and men in the Group's teams, partners, customers, and fans of their sports. They are also responsible for respecting the world around us and future generations.
The company's "Fair Victory" philosophy is about taking an ethical approach and winning a fair and transparent victory that respects the game and players. Babolat has achieved extraordinary success, with two world number one in two different sports in 2019, including Juan Lèbron, who became the world No. 1 with his Viper Carbon pala racquet, Jet Premura shoes, and dedicated Babolat outfit.
Prince Global Sports is a sporting goods manufacturing company based in Atlanta, Georgia. Founded in 1970, the company specializes in tennis racket design, manufacture, and sales, and has expanded into clothing, shoes, and accessories.
Prince is a global racket brand and a leading manufacturer of tennis rackets, with a range of products that includes rackets, footwear, apparel, tennis balls, pickleball paddles, stringing machines, hats, and bags. The company's main product lines include Triple Threat, Force 3, EXO3, EXO3 HYBIRD, O3 SPEEDPORT, O3, OZONE, ART, Air O, and TT.
Prince has achieved international exposure by sponsoring players like Jennifer Capriati, Patrick Rafter, and Martina Navratilova, and sponsoring various professional tours. The company's revolutionary innovations in tennis include "OVERSIZE" and "LONG BODY."
After recovering from bankruptcy, Prince moved its headquarters from Bordentown, New Jersey to Atlanta in March 2014. Prince's CEO Mike Ballardie stated that Atlanta had a thriving tennis community with more people playing tennis than any other American city, which made it a great base for the company. Atlanta also boasted the largest city tennis league in the world, with more than 80,000 members of the Atlanta Lawn Tennis Association.
Slazenger is a well-established sporting brand that has existed globally for almost 150 years. The company dominates tennis, cricket, field hockey, swimming, and golf. Slazenger has a long history of more than 120 years as a British noble brand. In 1902, Slazenger became the official tennis ball supplier for Wimbledon, and this partnership is now in its 113th year, making it the longest-running sporting sponsorship in history.
Slazenger tennis balls were first requested to be used at Wimbledon by champion tennis players. Wimbledon Championships currently use Slazenger tennis balls as the official ball among the four Grand Slam tennis tournaments. Slazenger has always engaged in sports for the upper class, including polo, cricket, and field hockey.
The British royal family used Polo exclusively, and golf significantly impacted Europe during the 1960s and 1970s. Slazenger is a brand loved by demanding individuals due to its high standards and strict requirements.
Today, Slazenger continues to be a major international sports brand synonymous with performance, style, and expertise. Slazenger is endorsed by ambassadors such as Tim Henman and English cricketer James Anderson.
Dunlop is a British sports equipment provider specializing in applying high-tech advancements to sports equipment. The company has been at the forefront of the tennis, squash, and golf equipment industries for nearly a century. Dunlop's products, including tennis and squash racquets, tennis strings, sports clothing, sports shoes, and golf equipment, are popular among enthusiasts in major sports equipment markets worldwide.
The company has also launched self-driving travel products, outdoor clothing, and latex mattresses. Dunlop's badminton racquets are made from Kevlar, carbon fiber, boron fiber, and titanium alloys originating from space shuttles.
Dunlop has made significant contributions to developing sports equipment, especially for tennis. The company has introduced several successful tennis rackets, including the MAXPLY FORT, MAX 200G, and Superlong.
Dunlop has also patented several racket technologies, such as the ISIS, ACS, Shot Blok, D-HOOP Section, Power Wedge, and a three-dimensional weaving technique for muscle tissue, to improve racket power, ball control, and comfort.
Dunlop is driven by a passion for the game and aims to empower every player with beautifully designed, technically sophisticated sports products. The company strives for incremental improvements to make its products lighter, stronger, and faster, helping players take control of crucial matches and achieve victory. Dunlop's love for the game has driven the company over 130 years.
Teloon Tennis Singapore is a subsidiary of Teloon Group, established in 1988, which specializes in the research and development, design, production, and marketing of tennis equipment. Its main product is TELOON brand tennis products, including balls, clothes, shoes, and brand derivatives for tennis, badminton, and squash.
With over 80,000 square meters of production facilities in Wenzhou Industrial Park and Suzhou Industrial Park, Teloon's quality management and environmental management systems are certified ISO9001 and ISO14001. The company has obtained 47 national patents and drafted the national standard for "Tennis."
Teloon Pound and Green Dot tennis balls are officially used by the Singapore Tennis Association (STA), and Teloon Pound is also the official match ball for various international tournaments.
The German brand VOLKL was founded in 1880 and is known for producing high-quality skiing and tennis rackets. It has expanded to offer a range of outdoor products such as safety helmets, ice and snow equipment, lawns, climbing bags, flooring, outdoor clothing, and accessories.
VOLKL is recognized as an "innovative force" in the industry, utilizing high-tech and professional knowledge to create top-of-the-line outdoor products. Their P-Series snowboards have evolved over the years, with athletes such as Katja Seitzinger, Martina Ertl, Sonja Nef, Alexandra Meissnitzer, and Hilde Gerg achieving great success using VOLKL equipment.