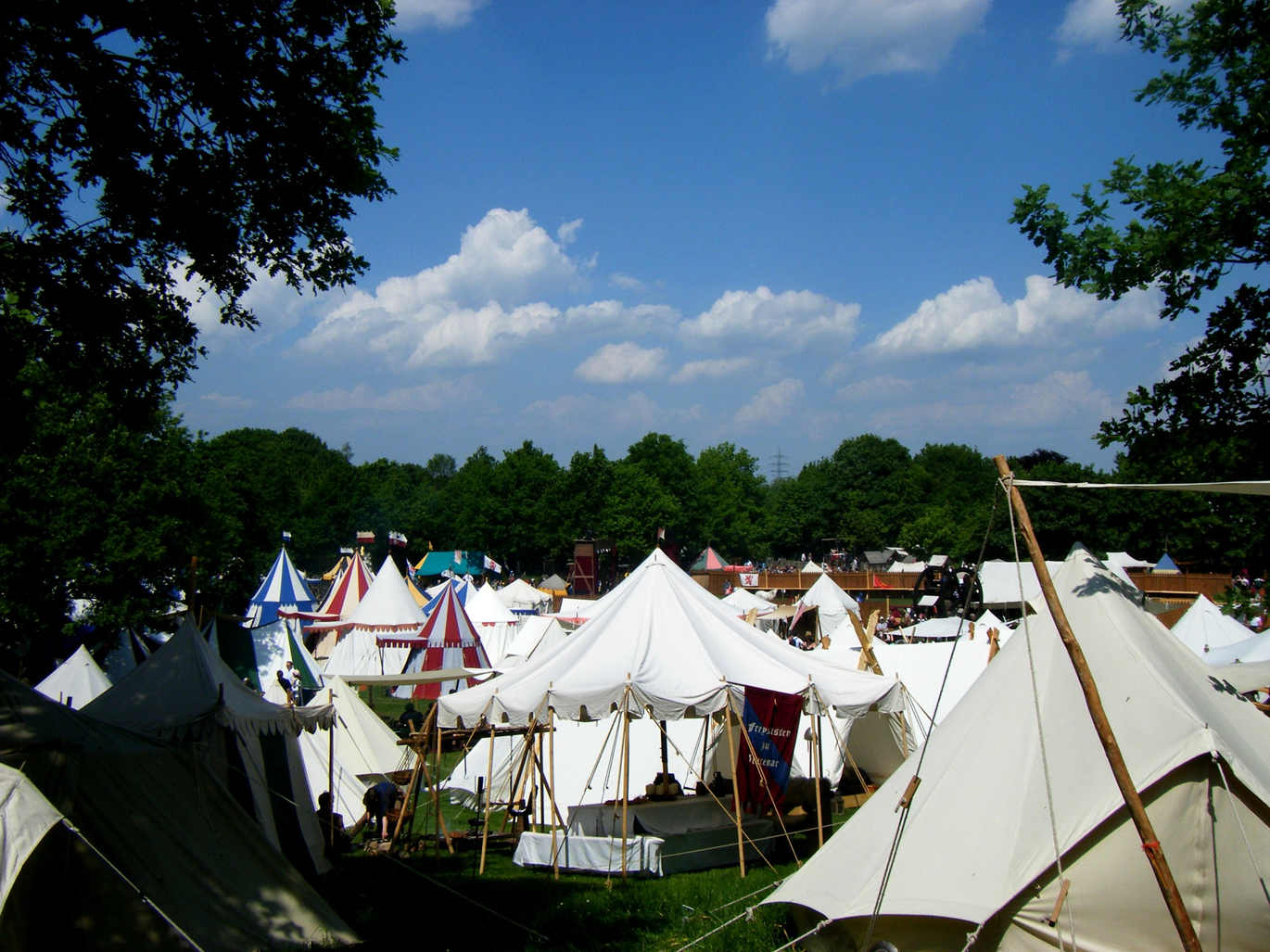 2022 The Best 50 Tent Rental Companies
Tents are one of the best things that can make your event or any occasion convenient, enjoyable, and memorable. Does it mean you should buy one for your event? Of course not! There are many tent rentals for events that can provide the tent you need.
Parties To Go is a one-stop shop and event rental. It's where you can find everything you will need for any party, including tents. Since they are a full-service company, you can rent not only tents but also chairs, tables, sound equipment, table décor, lighting, and more.
You have three tent choices at Parties To Go—Pagoda Tent, Large Event Tent, and Stage Tent. The Pagoda Tent is multipurpose and versatile. If your event is large enough for a house to fit, then the Large Event Tent is the choice. The Stage Tent is perfect for entertainment purposes.
Pico Party Rentals is not only an event rental company but also party planning professionals. They can handle all your party needs, such as tent rentals, from start to finish. Pico Party Rentals help clients enjoy the beautiful views outdoors with protection from the sun and rain.
The beauty of renting from Pico Party Rentals is you have a team to assist you. They can handle setting up the tent while making sure you get the size and style perfect for the theme of your party. You rent a tent, and you also get reliable staff.
Marquee Event Rentals is a premier event rental company in Kansas, one that covers everything from beverages to staging. Of course, it includes tent rentals as well. When it comes to tent rental, they are known primarily for their extensive inventory.
This means you can find just about every type of event from them, whether for weddings, family reunions, music festivals, to sporting events. With all the other event rentals services they offer, Marquee Event Rentals make one of the best places to get your tenting needs.
Diamond Event & Tent is a company that promises to help make any occasion as memorable as possible. They make this happen by attending to every detail of your event, from the décor to silverware, not to mention the tent as well.
When it comes to tents, Diamond has varying options, including canopy tents and pole tents. Clients can choose from different types, sizes, and styles to make sure they get the best tent. It means they get not only an aesthetic tent, but a durable one as well.
Celebrations Party Rentals aim to bring an event to life, as you can imagine. They make this possible through the different rentals and products they offer. Clients can find everything they need for an event here, from tables to dance floors to arches to tents.
The tents available at Celebrations Party Rentals are ideal for various sizes of events. They can provide tents ideal for big corporate events or large wedding celebrations, such as structure tents, mono pitch tents, double-decker tents, 10-T Tents, and more.
If you need a full-service party rental in Orange County, Apex is one of the premier places to choose. At Apex, clients can find not just ordinary tents but ones with bold designs and sturdy structures. These are tents meant to offer customers complete satisfaction.
The tent and canopy rentals Apex offers include framed tents, festival tents, tidewater tents, and more. They have many styles available depending on the size and location where your occasion will be. If you need them, Apex offers tent accessories as well.
The Imperial Party Rentals have been providing event rentals for 20 years, and that includes tent rentals. Renting from The Imperial Party Rentals means taking advantage of a tenting service for corporate events, weddings, and parties, at a competitive price.
Tents make a vital structure at events, especially on big occasions. It will protect your guests from sun and rain so they can enjoy whatever celebration or entertainment you have. The Imperial Party Rentals know this and so provides tent rentals that work for any event.
A Grand Event Rentals is an event rental company where you can get high-end equipment at competitive prices. Whether it is a wedding tent, corporate tent, or party tent, A Grand Event Rental offers tent rentals at the best prices.
The tents available at A Grand Event Rentals come in varying sizes and styles. No matter how small or big a party is, they have just the right tent. You can rent tents and tent accessories here like lighting and sidewalls to make any occasion even more special.
If a classic tent is what you're looking for, Fiesta King Rentals might have it. They boast of providing a classic atmosphere to their clients' events and parties through their luxurious tents. With their tent service, you can ensure your guests will have a great time.
When it comes to tents and canopies, Fiesta King has different styles and sizes available. It is not only canopies and tents they offer but all kinds of lighting, back wall, front wall, sidewalls, and flooring.
Special Events Rentals cater to clients' tent needs for weddings, fairs, expos, festivals, and more. As a professional tent rental company, they promise to provide only top-of-the-line equipment to ensure your event will succeed.
They're a rental company that promises to cater to all your rental needs, so they make sure they have all tent sizes and accessories. They have decorative lighting, sidewalls, and linen decorations, all designed so you won't have to look anywhere else for your tent needs.
Tents don't seem like it, but they are essential in any event. With a tent, you don't have to worry about the sun and rain ruining your party. So, with the best tent rentals and Noya as your custom promotion experts, there's no way your event will be nothing but success.
2021 The Best 10 Tent Rentals with Heaters
Sometimes events and occasions may fall on very cold seasons, for instance, winter. And if it is an outdoor event, it may make your guests uncomfortable. This may lead you to search for tent rentals with heaters to offer a smooth flow of the event as they need to provide heating solutions for your tents.
These companies may, in addition, offer other products that make the event more colorful such as sidewall and flooring services.
This is one of the renowned family businesses that offer party rentals. It is proud of several years of experience in tent rentals with heaters. Their goal is to be the company of choice when it comes to party rental companies.
They specialize in large events and work towards creating fantastic events for their clients that remain memorable for several years to come.
It has vast resources and a collection of supplies that lets them handle all event sizes in Santa Barbara, Los Angeles throughout Southern California. It guarantees 100% customer satisfaction.
Priority rental is the leading rental company that offers rental services, installation emergency services, and delivery services to their clients' event venues.
They have highly trained and knowledgeable staff that are available to offer credible, reliable, and customized customer services. They fully understand the significance of quick services, and that is why they are always near you.
They have a variety of modern rental equipment that perfectly serves all their clients' needs. Their tents with heaters and other rental equipment are safely stored and disinfected before each event. Its customer base includes Maryland, New Jersey, and Pennsylvania.
This is a combination of event experts Madison Party Rental and Brookfield Party Rental. They have over had a century of experience with just one goal: to make events and occasions memorable.
The party rental equipment and event rentals with heaters are of the highest quality that is routinely inspected and cleaned before dispatch. This ensures that their tents, chairs, and table are in good condition.
They regularly update their inventories with the latest rentals for their clients as they offer a wide range of party rentals such as tents, chairs, tables, canopies, carnival booths, among others.
The company was opened back in 2011, and it has continued to thrive because of its excellent customer services as well as best quality equipment.
They offer a wide range of party equipment in Los Angeles County, Inland Empire, Riverside County, and Orange County. Tent rentals with heaters are used for school, birthday parties, company events, church functions, and other types of festivity for adults and kids.
They are proud to be a one-stop rental shop as their goal is to offer high-quality services at affordable prices.
For more than 30 years of experience, it has been offering its clients memorable moments in Southern California and beyond.
They have an exclusive high-end tent with heaters and event rentals; Consultants and professional event experts create memorable events and occasions by superseding client's expectations. Signature Party offers the largest collection of canopy and tent options.
They range from standard structures to advanced and most modern equipment, fabric, and much more. The team is always ready to lend a hand to ensure you get what you need.
This is one of the newest party rental companies in England. They have highly trained experts who specialize in creating unique and memorable events for their clients. They offer services for weddings, festivals, backyard parties, corporate functions, anniversaries, among others.
Whether your event is formal or casual, the gathering is small or big; their experts have great experience in their work. They work closely with you in order to offer the best and memorable event according to your budget and ideas. They have simple goals that exceed your expectations.
They have a wide selection for their inventories, such as tents with heaters, tables and chairs, canopies, stages, and others.
Cabaret Tent and Party Rental provide event rental and tent rental packages in New York City and its environs. They have been installing tents for over 30 years, thus guaranteeing specialized installation. Their commitment to offering the utmost level of customer satisfaction has enabled them to be one of the most reliable tent rental suppliers in New York City.
Services offered include chair and table rentals for business events, wedding tent rentals. Their team is available to make sure that your tented occasion runs smoothly.
Besides event tent rentals, Cabaret Tent and Party Rental delivers every party supply you require to match your tent
For more than 25 years, A V Party Rentals has been delivering quality and style that leaves guests grateful for long after the occasion is over!
They offer excellent service and equipment to skilled and novice event planners, providing a unique rental experience.
A V Party Rentals' goal is not to be just the company you rented equipment from. They want to be a partner on your special occasion. That's why they go beyond just rental equipment and offer many services that are required to furnish your special event. That is what sets them apart from their competitors.
Tlapazola Party Rentals has been giving out rental services to the South Bay region since 2016. It is located in Gardena and has been focusing on weddings. However, it now has party planners who can assist small events of 10 guests up to 1,000 guest events.
It has delivered rental equipment and services to the residents of Los Angeles County, Gardena, South Bay, West Los Angeles, Mar Vista, Venice, Santa Monica, Marina Del Rey, and many more.
Tlapazola Party rentals have turned out to be the number one event rental destination in the South Bay for all commercial and residential events.
This is the best party rentals supplier company in Los Angeles. They have been in party rentals for more than 90 years. It has professional event planners who take to their heart all your needs when it comes to making your event elegant and memorable.
2021 The Best 10 Tent Rentals for Camping
After a long period of work, the body gets a lot of fatigue. Therefore, this results in poor work output, calling for one to get some rest either as an individual, family or with workmates.
This can be done outside town and requires you to look for renting tents for camping that you will carry a tent for the group or larger parties.
At Noya, we are the leading promotional products supplier in China and will help you to select custom logo-printed promotional gifts that can be used for marketing camping events. Check this ultimate Tent Rentals for Camping checklist.
This is the leading world luxury tent rentals for camping websites. It has several spots worldwide that range from getaways, glamping retreats, or eco-friendly hotels.
It was started back in 2013 as a booking website for accommodations and resources of the tourism industry. It is made up of different countries with headquarters based in Colorado, Denver, and Spain.
They have a committed team that provides the best glamping experience with high-quality customer care. The rates are pocket friendly and they don't compromise the quality of their services.
Since it was launched, it has provided comprehensive recourse in booking and discovering unique outdoor getaways, including RV parks, cabins, glamping treehouses, and tent camping.
They are passionate about their service delivery as their mission is to take more clients outside. They believe in the power of love and inspiring others.
They create mutual trust and respect that offer a conducive environment for the client to send their feedback.
They are prompt in action during their work as well as promoting a positive impact on humanity.
If you are searching for a tent to rent, a backpacking package, a camping package, or a high-end setup Outdoors Geek has it all. Outdoors geek has been in business for more than 25 years, and they have tested equipment from tents, packs to stove to thousands of other products.
They have the largest collection of rental tents for camping gear worldwide. It is made up of top brands such as Marmot, North Face, MSR Gregory, Big Agnes, among others. They ensure that you get the utmost experience when it comes to the outdoor experience.
Their vision is to help the client to get more adventure in their life. They meet all the gear requirements either for solo backpackers or groups. It was launched back in 2009 as one of the network's cities full-service outfitters.
They offer sales and rental tents for hiking camping gear in addition to guided hiking trips. Initially, it was an online business and later on had opened physical premises after high demand in the industry. They have a customer support system that ensures clients get a high-end outdoor experience.
Whenever you are organizing a big camp for your family or workmates, it is very important to think of time. You don't have to rush at the last minute to gather all the necessary equipment, decorations, and supplies to get to a wonderful event. Cloud of Goods makes it easier for you.
They strive to make the entire event fantastic by availing all the necessary equipment for rental solutions.
They pick up their tents after your event has ended. They give a chance to explore their catalog so as to select suitable tent for camping for your occasions
Tahoe Mountain Sports is a leading outdoor gear one-stop-shop for human-powered adventure from trails. They offer backcountry skiing, hiking, trail running, back packaging, cross country, skiing, and climbing.
They also offer apparel and footwear that enhances your outdoor activity. We have footwear and apparel for year-round outdoor activity enjoyment.
Tahoe Mountain Sports believes in offering all outdoor equipment that makes your camping activity memorable. It offers free resources that help planning events by providing affordable equipment for rentals. They ensure everyone enjoys and is safe whenever they are using their gears
Life in tents offers canvas bell tents. They are the largest equipment rental marketplace on the planet. They are built with tough material that may be used for commercial use for camping and outdoor guest shows. They are able to withstand almost all calamities that Mother Nature offers.
Bell tents are elegant and can be placed on a wooden platform that shines all night long. They don't just care about the appearance but also its functions.
Life in tents helps its clients to disconnect their daily work routines while using bell tents. They offer comfort, joy, purpose, and connections throughout the world.
AJ motion sports firm concentrates on client service that offers the best rental experience. They believe in offering quality services that can only be achieved through honest diligence, emphasizing education through their fun-filled staff.
The team has great experience in outdoor recreation services. They offer quality products that clients get excited about.
They offer the best value for all their clients. They support teamwork by taking time so as to get a positive review for their work. They embrace all the challenges that may be on the offer by giving valuable solutions in a meaningful way
Rent-a-Tent Canada is committed to offering as safe an environment as possible for their employees and clients as they conduct their business throughout all seasons and beyond.
They continue to use best client practices in regard to renting out high-end tents. During this period of covid 19, they ensure that they take care of all equipment and gears by sanitizing and disinfecting them before renting them.
They isolate them for around 72hour before they are taken back to the inventory. They allow clients who would like to cancel their events. Should do so within 72hrs as they get their full refund for the tents.
Mountain Side Gear Rental is located in Denver, and they have a huge high-end camping inventory. They are award-winning gear such as GSI Outdoors, Big Agnes, Alps Mountaineering, and Mountain smith.
When you are looking for a high-quality camping tent for rentals, complete kits for camping backpacking packs, and other camping gear for mountain side gear rental, have it all for just affordable rates.
They are a committed firm that ensures high-end gears and getting the highest level of cleanliness. They ship tents directly to you worldwide.
2021 The Best 10 Tent Rentals for Parties
Parties are part of our lives. Tent rentals are perfect for different events with performers, entertainment, and bands. They are also used for small, big dancers as they cover stage equipment.
These tents are made of high-quality material that is durable and can accommodate all weather conditions. They are easily set up and delivered. Tents for rentals have flexible packages that accommodate every client.
We offer custom promotional products for concerts, fundraisers, receptions, and other different types of events. And make your next event spectacular.
Atent for Rent offers extra services to ensure that their clients are completely supported from the beginning to finish making sure you get a successful event.
For clients who would like to go beyond renting a tent and actually have their own, they, in addition, design and erect custom tents. If you have your own Tent, they are capable of keeping it looking great since they have a gigantic tent washing machine, storage options during the off-season, and repair services.
Atent for Rent has an RF Welder, like the one used by manufacturers to make the tents; thus, they guarantee repairs meet the same specifications as that of a new tent
A Grand Event has a wide array of tables, tents, linens, chairs, flatware, glassware, dance floor, staging, and a lot more. Besides rentals, they provide delivery, fixing, set-up, in addition to take-down services. They keep an eye for detailed quality and their knowledge on the most modern decorative trends that will make your event A Grand one!
A Grand Event has the best and the right equipment for you, whether you are having only some guests for a small party or an event of 500 people. They have everything for your whole event rental needs, from ideas on the latest decor trends to determining the items you require having an event of your dreams.
Avalon Tent & Party has a wide range of super quality tent rental products that makes them the best source for tent rentals for your party or event.
If you require a custom tent of any size for your party, event, or a standard tent Avalon Tent & Party has an in-house manufacturing center located in Anaheim, CA. They welcome the chance to be your tent and shelter supplier.
Their highly dedicated staff has an incomparable experience with tents and event structures. They have a well-known customer service name that guarantees success at your event.
Raj Tents leads in themed luxurious tenting and décor. They have a wide collection of beautiful rental tents and accessories. Their different themes such as White Wedding, Moroccan, Old Hollywood, Arabian Nights, Indian, Bollywood, Out of Africa, and the like make them stand out from the rest.
In addition to event tent rental, they offer furniture rental, flooring rental, and thematic lighting rental. Their rental installation services are available all over the US and overseas to facilitate making your destination wedding unique.
Raj Tents work with wedding and event venues in California and anywhere else in the US, fixing luxury decor and tenting in private homes.
BR Party Rental has been offering event/ party rental services in Los Angeles County for a decade and more. Their big event rentals equipment can house the needs of your special event or gathering!
BR Party Rental party rental is well-known for keeping equipment updated, in good conditions, and above all sanitized. They make sure that every event is an experience to be remembered, and customer satisfaction is guaranteed.
Their tent rental inventory stands out, with durable grade products which will support all the needs of your event. They will make your event or party a big success!
Tent and table have been operating for more than 25 years, installing, delivering, and giving out commercial grade bounce houses along with equipment. They also provide different types of wedding tents, which consist of frame tents and pole tents with banquet tables and chairs.
For the best entertainment, tents, and table inflatable lines include a range of bounce house inflatables along with water slide inflatables. The commercial inflatable blowers are available in different sizes that will meet all your requirements. Buy from them because they are not just in the business, but they are in business for you!
People have recognized signature Party Rentals since 1986 as the first performance party tent rental company in Southern California. They have been uplifting life's unforgettable moments all over Southern California and afar.
Signature Party Rentals have a warehouse space of more than 50,000 square feet. They provide both residential and commercial clients with a matchless collection of quality pieces of equipment at a cost that goes well with every budget.
Regardless of where you are in your planning process, Signature Party Rentals will step right in because this is what they do since they love what they do.
Fiesta King Event Rentals provides the top variety of event furniture rental for your party. They have LED accessories, thrones, end tables, bride & groom chairs, classic design furniture sets, and many more. You can be sure of their excellent event furniture rentals to turn up in sparkling and all set to amaze your guests.
Fiesta King Event Rentals ensure that every inflatable bounce house jumper is cleaned, vacuumed, and after that sterile to kill all germs. They clean, disinfect and vacuum every inflatable after use, no exemption! They always offer new-looking jumpers to each party event.
It is a privately owned company that has operated from its headquarters in Greater Los Angeles since 1998. They have different party supplies and camping gear that clients have a great camping experience.
In addition to tent rentals for parties, they also offer chair and table rentals. Their event rentals have assisted the clients from Pasadena, Santa Clarita Burbank, and beyond by impressing guests now and then.
Triple-A Rents & Events tents have always maintained high quality. Therefore, you are assured that they are in their best condition.
They have highly trained staff that provides reasonable and affordable rates
A refined selection process simplifies top Care Tent Rental packages. They offer a perfect combination of a selection of tents, Chairs, Linens Sidewalls, String Lights Cocktail, party supplies, and more tables, tent party supplies, and much more.
They offer tailor-made services, therefore, making every party unique and special.
They put it all together with a flexible package that can accommodate any type of event that you are hosting. Their Top Care Tent Rental customer care helps in event planning, making it memorable and presentable.
2021 The Best 10 Tent Rentals for Wedding
The tent should handle the toughest climatic condition. They need to be durable, easy to set up and dissemble.
As promotional products supplier, we help you plan and create an unforgettable event with our custom products. Check below the best tent rentals for weddings and take your wedding planning journey with ease.