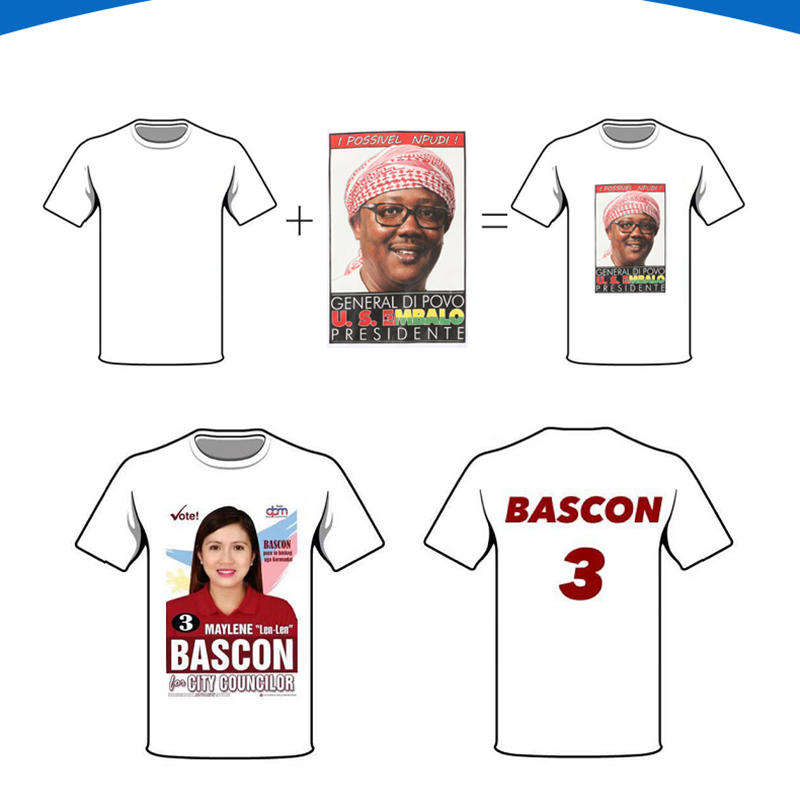 Top 20 T-shirt Printing Shops & Companies in Canada
Online t-shirt printing is a great way for businesses to create custom shirts for employees, customers, or for promotional purposes. With a wide variety of fonts, graphics, and colors to choose from, businesses can create a unique shirt that reflects their company's branding. In addition, online t-shirt printing is a cost-effective option compared to traditional methods like screen printing. The shirts are printed on high-quality fabric and shipped directly to the customer's door.
Noya is a t-shirt screen printing and design company in China. We work with many Canadian businesses or organizations to promote their brands. We have years of experience and a team of experts who will help you get the perfect custom branding products for your business. Our t-shirts are also affordable, making them a popular promotional item choice.
There are a number of great t-shirt printing shops in Canada, each with its own unique style and set of capabilities. Whether you're looking for a traditional screen print shop or a more specialized provider, there's likely a shop near you that can satisfy your needs. Here are 20 of the best:
20 Best T-shirt screen printing in Ontario
PARANOID PRINT COMPANY is a small, independently-owned screen printing business located in the heart of Toronto Ontario. The company was founded in early 2014 by two friends with a shared love of screen printing and all things DIY. From its humble beginnings in a small, dark basement, PARANOID PRINT has quickly grown into one of the most respected screen printing shops in Canada.
Alby's Print Shop is a print shop located in London, Ontario. It was started in early 2019 by Randy, who was inspired by the music scene, It offers screen printing services for bands and artists. The shop has been a success so far, and it has been praised for its high-quality prints and friendly customer service.
If you're looking for high-quality, custom screen printing, United 54 Apparel is the perfect place to go. Located in Ottawa, Ontario, this print-on-demand service can handle all of your printing needs, from Sweaters & Fleece to T-shirts and Tank Tops. They use the latest printing technology to ensure that your prints are of the highest quality possible, and they offer a wide range of customization options to make sure that your prints are exactly what you want them to be.
Their fast turnaround times and competitive prices make them the perfect choice for all your printing needs. So if you're looking for a reliable, affordable printing service, United 54 Apparel is definitely worth checking out.
PROMOPAYS is a leading provider of custom screen printing, digital printing, and embroidery services. They are passionate about providing high-quality, affordable custom printing services to businesses and individuals alike. Their most popular products are customizing t-shirts, long sleeves, sweaters, hoodies and track pants, but they offer a wide range of services that are sure to meet your needs.
If you are seeking to present your brand by customizing corporate apparel or recruiting and maintaining employees in a uniform, PromoPays is here to assist you with embroidery orders.
T-Shirt Time is a small, independent screen printing shop that specializes in printing t-shirts. We love t-shirts, hoodies, long sleeves, crewnecks, polos, hats, caps—basically anything with a tee or collar. They are committed to providing their customers with high-quality t-shirt products and services, and they always work hard to ensure that they are satisfied with their final printing products.
Start Famous is a Hamilton-based screen printing company with a focus on social consciousness and community involvement. The company was founded in 2019 by two friends, Wade Morrison and Chrisy, who shared a passion for screen printing and a desire to start their own business. Since then, they have established themselves as a local favorite, producing high-quality prints for businesses and individuals alike.
They are musicians and graphic designers, and they value good merchandise. They want people who wear Start Famous gear to feel like they're a part of something special. Their goal is to create a community of supporters who share their love for music and art.
Chessfield Trading Ltd offers custom printing services using t-shirts made by Gildan, their aim is to offer a high-quality, bespoke printing service that is both affordable and efficient. They can print any design or text onto a t-shirt of your choice, and they also have a wide range of colors and sizes available. Their team is experienced in printing and design, and they are confident that they can provide a service that meets your needs.
Civilian Screen Printing, a screen-printing company based in Kitchener Ontario, was started by four friends in 2007 while they were attending college. The company got its start in the basement of their student house, where they would print shirts and other items for themselves and their friends. As word spread about their quality work and affordable prices, Civilian Screen Printing began to take on more and more business, eventually outgrowing their small basement operation.
Today, the company is a thriving business with a loyal customer base, thanks to the high quality of their prints and the friendly, personal service that they provide.
Their story begins with a simple idea: to create the perfect custom printing shirts. One that is stylish and comfortable, and can be worn anywhere. They wanted to create a shirt that would make everyone feel like a part of the Dream Team. So they started experimenting with different materials and designs until they finally found the perfect combination. And now, they're excited to share custom-printed shirts with Canada.
Lightning Print Shop is a family-owned and operated business that takes pride in its work. They love creating one-of-a-kind apparel and merchandise for their customers. Their logo design and formatting services are top-notch, and they are experts at sublimation and screen printing. They truly care about their customers, and they go the extra mile to make sure they are happy with their orders.
Located in Burlington Ontario, Valley Town Tees has been in the custom printing t-shirt business for over 10 years, and they offer long sleeves, hoodies, baby (or adult) onesies, tea towels, rally towels, and pillowcases/covers, totes, jeans, etc. They offer a wide range of services, including embroidery, screen printing, and DTG. They have a wide selection of clothing and accessories to choose from, and they can customize any order to meet your needs.
Kustom Klubhouse is a Greater Sudbury Ontario custom printing t-shirt store, having served the city for 25 years. They are the largest embroidery outfit in Northern Ontario, and their team of skilled professionals can put your logo or design on just about anything. Whether you need a few hundred shirts for your company's summer picnic, or you're looking to deck out your entire ballroom for your meetings, they can help.
I'm here to talk about T-shirt Time, a Canadian-owned company that specializes in custom printing. They're a small business, but they've been around for over 10 years and they know their stuff. They can print anything on a t-shirt, they're always up for a challenge, and their quality is top-notch. If you're looking for something unique, then T-shirt Time should be your go-to t-shirt printer.
When it comes to quality and craftsmanship, Hoops N Loops Custom Embroidery knows no equal. For over 30 years, they have been providing customers with the best custom embroidery in the business. No job is too big or too small, and their team of experts is dedicated to delivering a product that you will love. Whether you need a new logo for your business or some customized embroidery for a special occasion, Hoops N Loops is the place to go!
The Merch Factory is an order fulfillment company that works with artists, bands, record labels, and other businesses to get their custom-printed products to the customer. They have a wide range of products available, and they can ship anywhere in Canada. The Merch Factory also offers a printing service so customers can have their products customized.
Fin-Print Inc. is a digital and screen-printed t-shirt company that has been in business since 1995. They have dedicated their time to creating high-quality transfer paper for their customers. This has resulted in a product that is reliable and produces great results. They also offer graphic design services, from concept to patterns, and a myriad of layouts through outfitting.
Stitch Wizard is a family-owned and operated business, providing quality embroidery and printing services to businesses and individuals alike for over 10 years. They are experts in custom t-shirt field, and they are dedicated to providing the best possible customer service. They offer a wide range of services, including custom T-shirt printing, embroidery, and screen printing.
Since 1978 Villager Custom is a family-owned and operated custom printing business. They specialize in the design and manufacture of high-quality, custom-made clothing and accessories for men, women, and children. They take great pride in their workmanship and use only the finest fabrics and materials available. Their products are made to order and can be tailored to meet your individual needs and requirements.
Superior Screen Printing is a small business that takes pride in its products and services. They use traditional, eco-friendly plastisol inks of the highest quality. Their printers are some of the most advanced in the industry, and they take care to produce high-quality prints for each and every customer. Whether you need Four Colour Process Printing or a large run of Oversized Prints t-shirts, they can handle your order with ease.
If you're looking for high-quality screen printing, embroidery, and design services, R&S Screening is the perfect company for you. They offer custom solutions that are tailored to your specific needs, and they always strive to exceed your expectations. They have a wide variety of products and services to choose from, and they're confident that they can provide you with the perfect solution for your business.