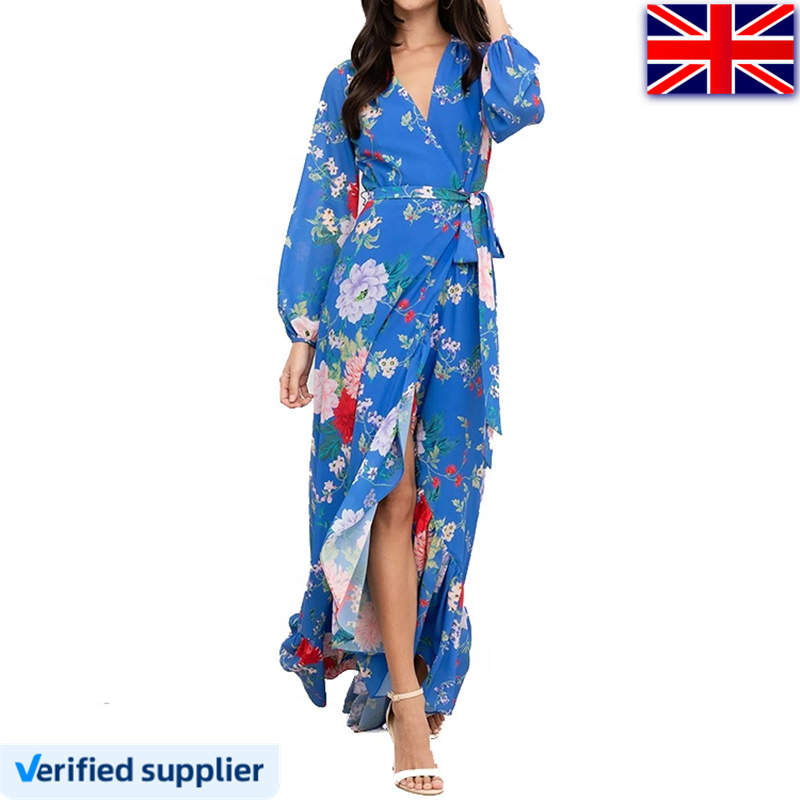 The Ultimate List: 10 Best Clothing Manufacturers UK
It can be very challenging for someone new to the british fashion industry to find a high quality clothing manufacturers UK. There are many factors to consider when designing clothing, such as selecting the right materials and configuring the manufacturing process. However, with a little research and perseverance, it is possible to find a reputable clothing manufacturer that meets your needs.
Clothing manufacturing is a process that involves the creation of garments, from start to finish. It generally starts with the design of the garment, followed by the cutting and sewing of the fabric, and then finally the finishing touches like buttons and zippers.
If you're looking for the best clothing manufacturers in the UK, look no further. This list includes the top clothing manufacturers in the UK, based on customer reviews and ratings. From sportswear to formal wear, these companies have you covered.
Related Blog: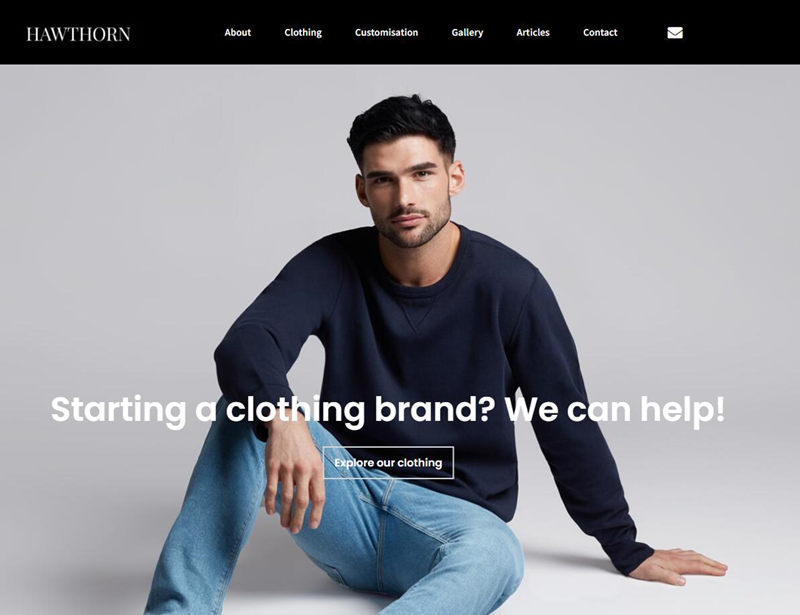 Hawthorn is one of the UK s leading clothing manufacturers, producing clothing for many fashion startups, small clothing brands, SMEs and emerging designers. And their team is passionate about delivering high quality garments on time and to budget.
They're proud to be a British company that supports British jobs, and they have a long history of working with UK-based suppliers. Their ethical manufacturing practices are also very important to them, and they work hard to ensure that their supply chain is as sustainable as possible.
When it comes to finding the best clothing manufacturers in the UK, look no further than Felipe Tadd. A leading manufacturer of high-quality apparel and home textiles, Felipe Tadd is skilled in producing and delivering top-notch products that meet the needs and expectations of their customers.
With over 20 years of experience in the industry, Felipe Tadd has established themselves as a reliable source for quality clothing and textile products. Their team of experienced designers and craftsmen are dedicated to creating garments that are not only fashionable but also comfortable and durable.
By working with 150 factories( based in India, Bangladesh, and China) that adhere to these standards, Felipe Tadd is able to provide its customers with products that are ethically sourced and of high quality.
Whether you're looking for casual wear, formal wear, or anything in between, Felipe Tadd has something to offer. Their extensive collection of clothing and textile products are sure to meet your needs and exceed your expectations.
DSA Manufacturing Limited is a leading clothing manufacturer based in UK & Istanbul, producing premium quality garments at an affordable price.
Their team of experienced designers and pattern-makers work closely with their production team to ensure that each garment is made to the highest standard. They only use the finest fabrics and trimmings, sourced from the best suppliers in the UK and Turkey.
Some of the ways they can help include streamlining your production process, improving communication between you and your team, and helping you troubleshoot any problems that may arise. They want to help you be successful, and they believe that by working with DSA, you will be able to achieve your goals.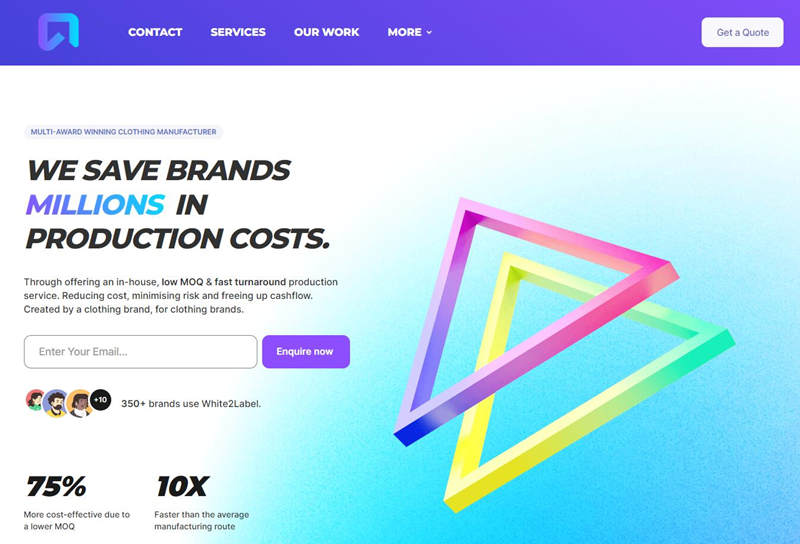 Since 2018, White2Label Manufacturing is a UK based company that specialises in both white label and bespoke product services for sportswear brands. Utilising extensive experience and knowledge of the sports industry, they are able to support clients from design to delivery.
They offer an end-to-end service which includes sourcing high quality materials, manufacturing garments to the highest standards, and providing a wide range of finishing options. Their team of expert designers and machinists are dedicated to creating garments that meet the specific needs of each client.
By having a low MOQ, White2Label allows customers to order smaller quantities which helps to keep costs down. The fast turnaround time means that customers can receive their orders quickly and without having to wait long periods of time. This is beneficial as it means that you can get apparel products on the market faster and start selling them sooner.
Whether you're looking for a small batch of bespoke items or large scale production, White2Label Manufacturing can provide a solution that meets your requirements. With their flexible approach and competitive pricing, they are the perfect partner for any sportswear brand.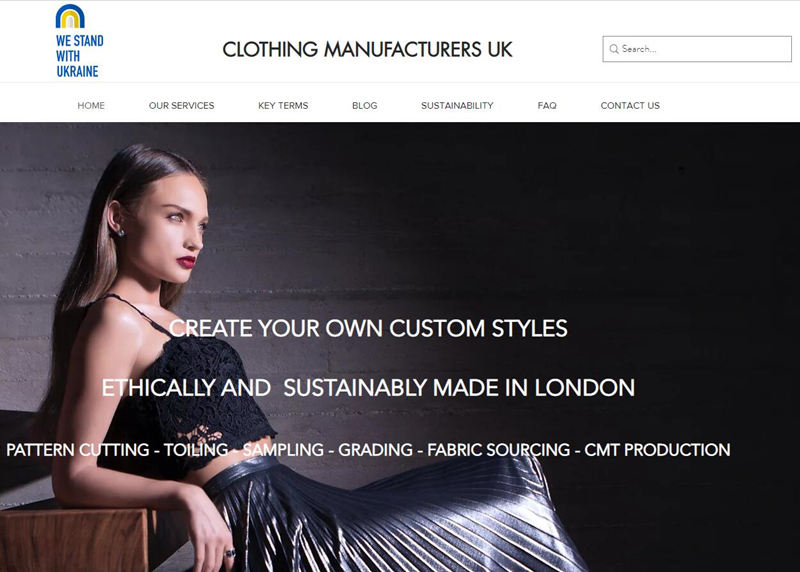 At Clothing Manufacturers UK, they creating custom womenswear , menswear and childwear located in london.
Their team of experienced designers who will work with you to create the perfect garments for your brand. They also have a wide range of fabrics and trims that you can choose from to make your garments unique.
They also offer a full range of manufacturing services, from cutting and sewing to finishing and packaging.
Their clothing product is made with the correct fabrics and trimmings, so you can see what the production garments will look like. This is beneficial because it allows you to check for quality and make sure that the final product meets your standards. Additionally, it allows you to see how the garment will look before it goes into production, so you can make any necessary changes.
So if you're looking for the best clothing manufacturers in the UK, look no further than Clothing Manufacturers UK.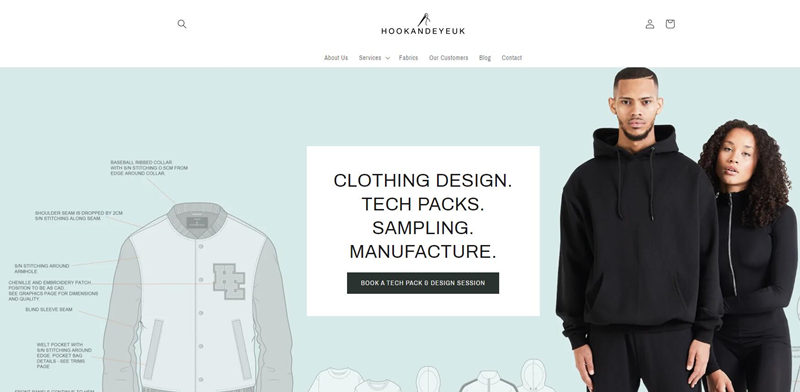 At Hook and Eye UK, they know a thing or two about clothing design and manufacturing. They've worked with fashion and streetwear brands across the UK and internationally, so they know what it takes to create high-quality garments that meet your unique vision.
Whether you're starting a brand from scratch or looking to revamp your current collection, they can help you achieve the look you want. They'll work with you to create prototypes, source materials and manufacture your garments to the highest standards.
If you're looking for a clothing manufacturer in the UK that can help you take your brand to the next level, look no further than Hook and Eye UK. They're experts in garment construction, pattern cutting, grading and sourcing, so they can bring your vision to life exactly as you imagined it.
Lyfecycle is a sustainable clothing supplier, providing custom clothing sourcing to both large international brands & start-ups. Their vision is to build a more sustainable future for the fashion clothing industry, and they are proud to work with some of the biggest names in the business to make this happen.
They believe that fashion should be fun, sustainable and stylish – and their collections reflect this. They offer a range of different services to their clients, from sourcing and manufacturing eco-friendly fabrics to help them create their own unique designs.
They create custom, one-of-a-kind clothing that is both stylish and eco-friendly. They use only the highest quality sustainable materials to create their garments, so you can feel good about what you're wearing.
They are passionate about making a positive difference to the fashion industry, and they are always looking for new ways to improve their products and services.
F Chand & Co is a UK based clothing manufacturer who has been supplying custom label clothing for many brands since 1978.
Their products are made from the finest materials and are designed to last. They offer a wide range of products including shirts, suits, jackets, trousers, and more.
Their design development team has years of experience in the industry and can turn your sketches into professional grade patterns. Tech pack implementation is key to streamlining the manufacturing process and ensuring that your vision for the product is carried out.
Pattern cutting is a complex process that their experts are well-versed in. Sampling is an important part of the process to ensure that the final product meets your standards. Fitting and pattern grading are essential to ensuring a perfect fit for your garments. They also source fabric and trim to meet your specifications and budget.
Since 1960s, Unlimited Fashion is the leading clothing manufacturers in uk. The company has been manufacturing quality clothing for over 60 years and has established itself as one of the leading clothing manufacturers in the UK.
The company offers a wide range of clothing items for both men and women, including formal wear, casual wear, and outerwear. Unlimited Fashion is known for its high quality standards and attention to detail, which has led to its popularity among both customers and retailers alike.
Their apparel products are collections for luxury brands who showcase at London Fashion week and produce costumes for movies and theatre shows. The features of their clothing products are the luxurious fabrics, the intricate designs, and the perfect fit. The benefit to the customer is that they can feel confident and stylish.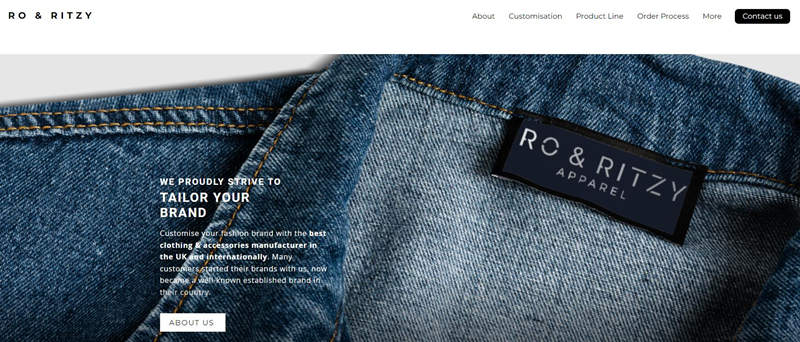 Ro & Ritzy Apparel is a sustainable custom clothing and clothing accessories manufacturer in the UK, specialised in manufacturing custom menswear, womenswear and childrenswear for USA, the UK, Canada, and the EU.
All of Ro & Ritzy's products are made from sustainable materials such as organic cotton, eco-friendly natural dyed fabrics, various prints, embroidery, which are all sourced from local suppliers in the UK. The company is also a member of the Fair Wear Foundation, which means that all of their products are manufactured in ethical working conditions.
So if you're looking for some stylish, sustainable and ethically-made clothing, then Ro & Ritzy Apparel is definitely worth checking out!
How to Choose Best Clothing Manufacturers UK?
As a new business owner in the fashion industry, it can be difficult to find a reliable and high-quality clothing manufacturer. With so many choices available, it can be hard to know where to start. However, by doing your research and taking the time to find a reputable manufacturer, you can be sure that you're getting quality clothing that will benefit your customers.
Some things to look for in a clothing manufacturer include experience in the industry, a wide range of services, and a commitment to customer satisfaction. Working with an experienced manufacturer can help you avoid common mistakes that new business owners make.
Additionally, having access to a wide range of services means that you can get all of your clothing needs met in one place. Finally, choosing a manufacturer that is committed to customer satisfaction will ensure that you're always getting the best possible product.
The Benefits of Manufacturing Clothing in UK
A clothing manufacturer that offers a high quality product, a wide range of services, and competitive prices can be very beneficial to new businesses. They can provide assistance with design, material selection, and configuration, and help to ensure that your products are made to the highest standards.
This can save you time and money in the long run, and give you the confidence that you are providing your customers with the best possible products.
If you're looking to streamline and improve your clothing production, they're the right companies for you. They'll work closely with you to make sure that your apparels are of the highest quality, while you focus on running your business.
Their services are reliable and efficient, and prices are competitive. They're dedicated to customer satisfaction, so you can be sure that you're in good hands.