10 Best Custom Jersey Makers & Manufacturers
A custom jersey is a must-have for any sports fan. Whether you're looking for a gift for a die-hard fan or you want to show your support for your favorite team, a custom jersey is the way to go. But with so many options out there, how do you choose the right one?
Don't worry, we've got you covered. We've put together a list of the 10 best custom jersey makers and manufacturers, so you can find the perfect jersey for you or the sports fan in your life.
Owayo is a German sportswear company that produces high-quality custom jerseys and other sportswear products. The company has its own manufacturing facilities, which allows it to maintain a high level of quality control. Every owayo product meets our high quality standards.
Their team is experienced in working with a variety of fabrics, they take great care to handle each jersey with the utmost care and attention to detail.
Owayo is one of the best custom jersey makers out there. You can design your own personal sporting apparel in professional quality with owayo. They have a wide range of products to choose from, and you can even add your own personal designs or logos.
As a global leader in licensed sports merchandise, Fanatics is the ultimate sports destination for fans of all ages. They offer the largest selection of officially licensed products from all major leagues, colleges and Olympic teams.
Through Fanatics' technology and ecommerce platforms, consumers can buy jerseys, apparel and other gear from all major professional leagues, college athletics programs and Olympic teams.
Fanatics has become the go-to destination for sports fans looking for jerseys and gear from their favorite teams and athletes. The company has seen tremendous growth in recent years, thanks to its innovative ecommerce platform and strong partnerships with major league sports organizations.
When you need high-quality custom apparel on a tight deadline, RushOrderTees is the company to trust.
Since 2002 they specialize in custom jerseys and other apparel, and their team of experts can help you create exactly what you need. They're proud to offer some of the best turnaround times in the industry, so you can rest assured that your order will be delivered on time.
Plus, their state-of-the-art facilities and experienced staff ensure that your garments will be made to the highest standards. So if you're looking for a custom jersey maker that can deliver great results on a tight timeline, RushOrderTees is the right choice.
Located in Illinois, Rick Tollefson founded Boombah Inc. in 2003, and it has since become one of the fastest-growing companies in the United States. Boombah specializes in custom jerseys and apparel for sports teams and athletes. The company's products are made from high-quality materials and are designed to last. Boombah's customer service is outstanding, and its products are backed by a 100% satisfaction guarantee. The latest products from Boombah are designed to improve your performance on the field.
There's nothing like representing your favorite team with a custom jersey. And with Ninjersey, you can do just that. Based in Italy, Ninjersey is a 100% customizable kit maker that allows you to create your own unique jerseys, complete with your own personal touch.
With their cutting-edge technology, you're able to design a jersey that's perfect for you, whether you're looking for something simple or flashy. So show your support for your team and get creative with Ninjersey today.
Wooter Apparel is a leading provider of sublimated uniforms for teams and athletes around the world. The company offers a wide range of customization options to help customers create the perfect uniform for their needs.
Wooter Apparel's sublimated uniforms are made from high-quality materials and are built to last. The company's design team works closely with customers to ensure that their uniforms meet their specific needs.
You can pick what color, style, and type of fabric you want and get exactly what you and your team want instead of being limited to what the store has in stock.
Wooter Apparel's commitment to quality and customer service makes it the perfect partner for teams and athletes who want the best possible uniforms.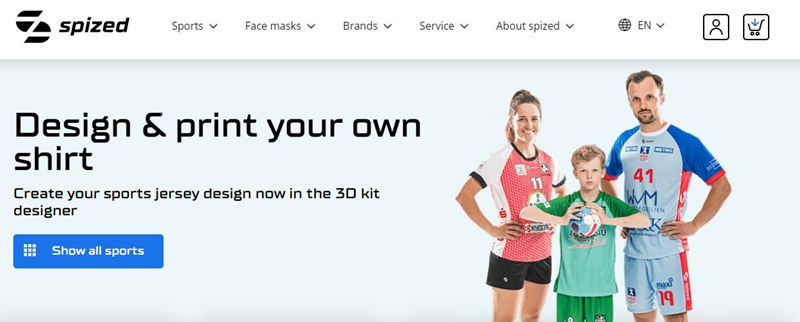 At spized, they make it easy for you to design your own custom sportswear. Using their 3D configurator, you can choose the colors, patterns, and style of your jersey in just a few steps. You can also add your own personal logo or design to make your jersey truly unique.
They offer quick production time so that you can enjoy your new gear as soon as possible and get the most out of it. In addition, their prices are very fair and they offer a wide range of jerseys products, so you can find exactly what you're looking for.
Whether you're looking for a one-of-a-kind gift or outfitting your entire team, spized is the perfect place to create custom jerseys that are exactly what you want.

Whether it's a come-from-behind victory or a dominant display of sportsmanship, Playmakers Wanted celebrates those who make the game great. From custom jerseys to one-of-a-kind moments, Playmakers Wanted is the ultimate destination for diehard football fans.
From customized jerseys to one-of-a-kind experiences, Playmakers Wanted is the ultimate destination for diehard football fans.
They offer vector graphics for all jobs in order to get the best results. This ensures that your logo will look great on your jersey. Vector graphics also allow for a wider range of colors, which means that your logo can really pop.
Whether you're looking for a unique way to show your support for your favorite team or player, with a wide selection of products and services, there's something for everyone at Playmakers Wanted.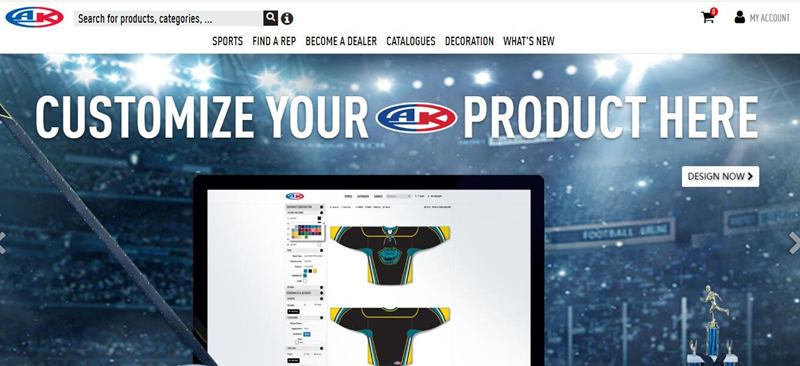 Athletic Knit is a Canadian sportswear company, founded in 1962. The company produces uniforms for various sports, including hockey, baseball, basketball, and football. Athletic Knit has a tradition of quality and an emphasis on durability and comfort.
Their products are made from high-quality materials and are designed to last. Athletic Knit is also committed to providing a good customer experience, with quick turnaround times and excellent customer service.
Athletic Knit jersey products are designed to provide the best possible printing logo experience for sports. Their jersey products are sold through an extensive network of Authorized Dealers, who have expert knowledge of the AK product range and can guide end-users to the best possible product for their needs.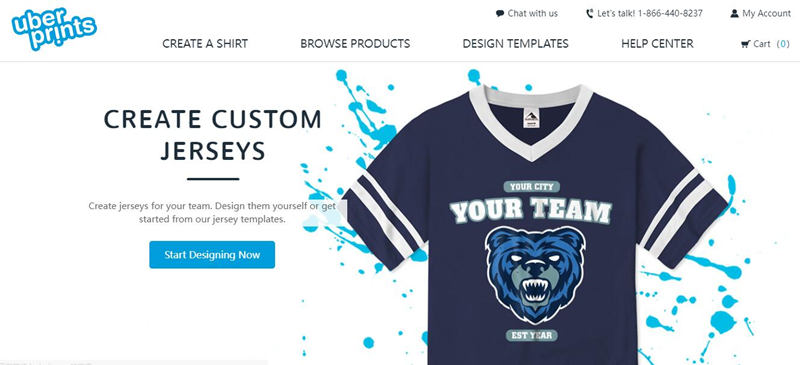 UberPrints is a custom jersey maker that offers a unique take on the design process. Rather than simply allowing customers to choose from a pre-set selection of designs, UberPrints allows them to create their own custom designs. This allows for a greater degree of creativity and personalization, making the shirts more meaningful to the customer.
Since 2005, UberPrints has been perfecting their craft and expanding their services. They now offer a wide range of customization options, including printing on different types of fabrics, using different inks, and even adding special effects like foil printing. All of these options allow customers to create truly unique shirts that reflect their individual style.
In addition to offering high-quality shirts, UberPrints is also committed to providing excellent customer service.