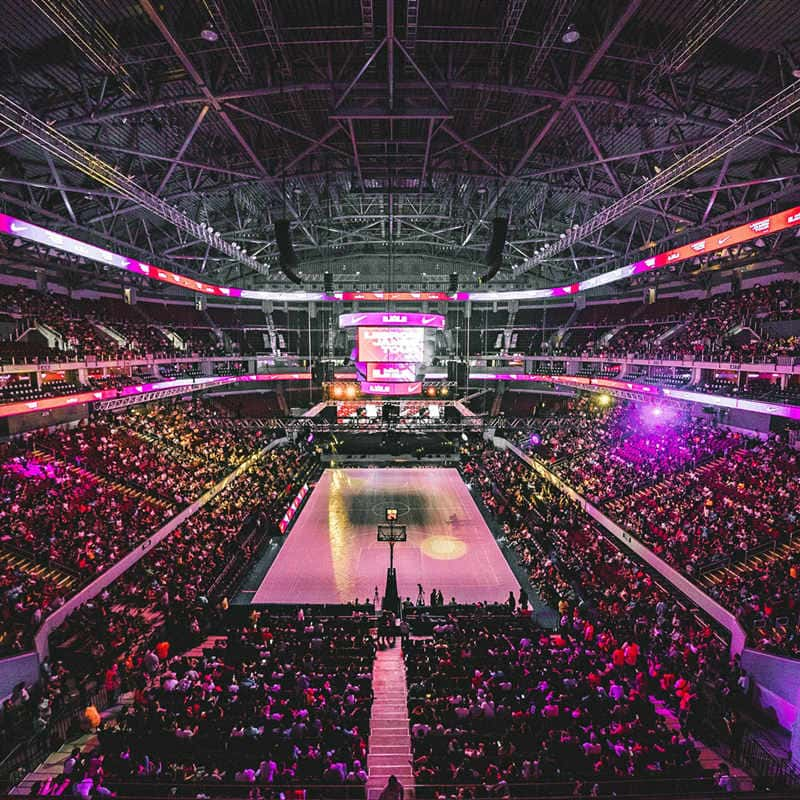 Top 12 Sports Marketing Agency Companies
When it comes to finding the right sports marketing agency, there are a lot of companies to choose from. It is important that you do your research and find an agency that understands your needs and can help you reach your goals.
This is because not all athlete marketing companies are created equal. Some have more experience working with certain types of clients or in certain industries than others. Others may have a wider range of services they offer or more robust technology platforms.
And, some companies may simply be a better fit for your organization based on culture and values.
So, how do you identify and short-list the right sports marketing companies?
Here are some things to consider when choosing a sports marketing agency:
1. What kind of services does the agency offer?
2. Does the agency have experience working with sports teams or athletes?
3. What is their track record for successful campaigns?
4. How well do they know your industry and what are their insights about your target market?
5. What is their pricing structure?
6. Are they willing to work with you on a flexible basis or do they have a one-size-fits-all approach?
Only after carefully considering the organization's goals and objectives can one begin to compare and contrast the different sport marketing agencies. It is important to look at each agency's past successes as well as their areas of expertise.
And finally, it is essential to ask questions about the services that are offered in order to get a sense of how well each agency understands the client's needs.
However, with so many athlete marketing agencies to choose from, how does one determine which is the best for your needs?
We have researched, compiled and verified below list of top sports marketing agency companies to help you make the most of your advertising budget and Increase your sales & leads.
Here we go.
Noya creates high-quality, branded merchandise for sports teams of all levels. Our custom promotional products are made to last and feature exciting designs that appeal to fans of all ages. With a wide variety of products to choose from, your teams can find what you need to represent your organization. Such as custom design sports trophies, logo printed towels, race medals, baseball gears.
Best Sports Marketing Agency Companies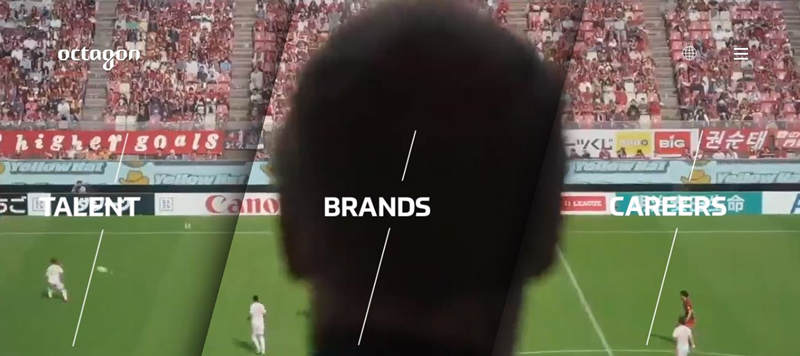 Octagon is the world's largest sponsorship consulting practice and a pioneer and leader in athlete marketing agency. For more than 40 years, Octagon has helped companies create, manage, and activate some of the most successful sponsorship and endorsement programs in history.
With over 800 employees globally, they have the experience and resources to help you achieve your objectives.
Knox Sports Marketing has been in business for over 20 years. They are the premier sports sponsorship negotiation, evaluation and activation company in the United State. Their client list includes some of the most recognizable brands in the world. They have a proven track record of success in getting clients the most value for their sponsorship investments.
When you think about sports marketing, the first thing that likely comes to mind is advertising and endorsement deals. However, a good sports marketing agency does much more than just broker contracts for their athletes.
At Creatitive Sports Marketing, they offer comprehensive digital marketing services that can help you reach your goals. They will help their clients create a strong brand identity that will connect with fans and help them stand out from the competition.

rEvolution is an independent, fully integrated sports marketing agency that represents some of the top athletes in the world. The company was founded in 2001 and serves as a one-stop shop for all of sports marketing needs.
rEvolution has a team of experienced professionals who are dedicated to helping its clients achieve their goals. The agency's services include sponsorship consulting, brand development, social media management, and more. rEvolution is committed to providing its clients with the highest level of service possible and has a proven track record of success.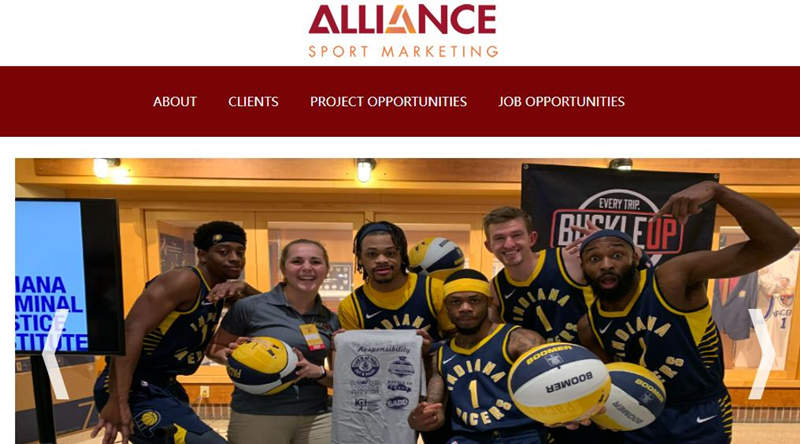 Alliance Sport Marketing is a full-service sport marketing agency, providing innovative and customized solutions to help theiir clients achieve their marketing and business objectives. Their staff is dedicated to successful sport marketing, and they work tirelessly to create powerful and enduring partnerships between their clients and their target consumers.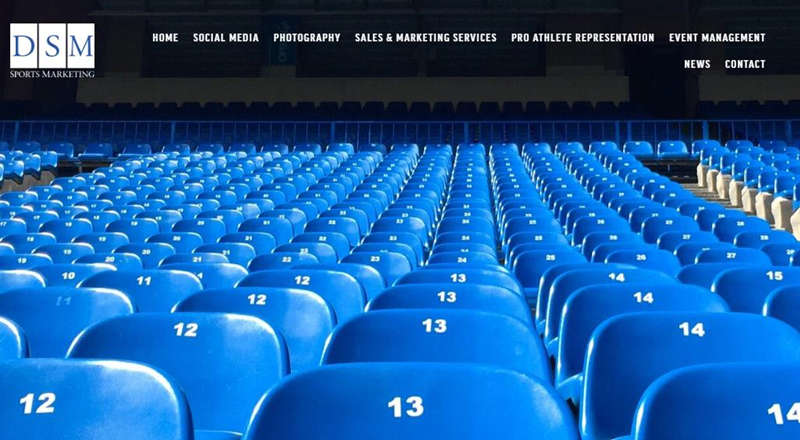 DSM Sports Marketing, Inc. is a sports marketing firm that connects brands with opportunities in the sports and entertainment industries. DSM has a worldwide reach, working with top brands and leagues in over 30 countries. DSM offers services such as event management, brand activation, sponsorship consulting, and marketing research.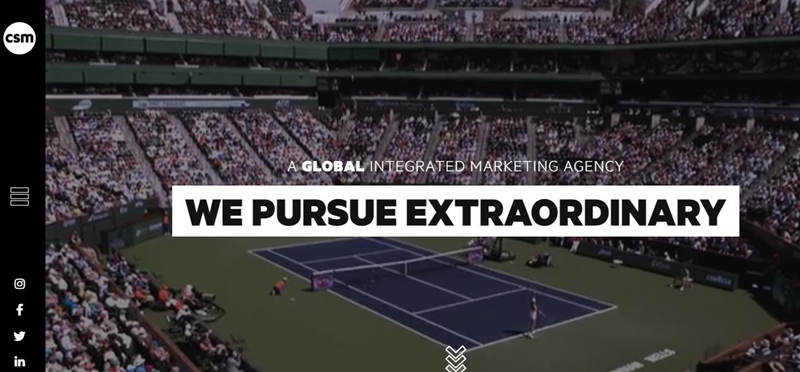 CSM Sport & Entertainment is a full-service marketing agency that believes in the power of great experiences in sport and entertainment to create lasting impressions. They work with brands and properties to create, activate, and measure marketing programs that engage fans and consumers.
Their team has a deep understanding of the sports and entertainment industries, as well as extensive experience working with some of the world's most iconic brands. They are proud to have helped their clients achieve success in both arenas.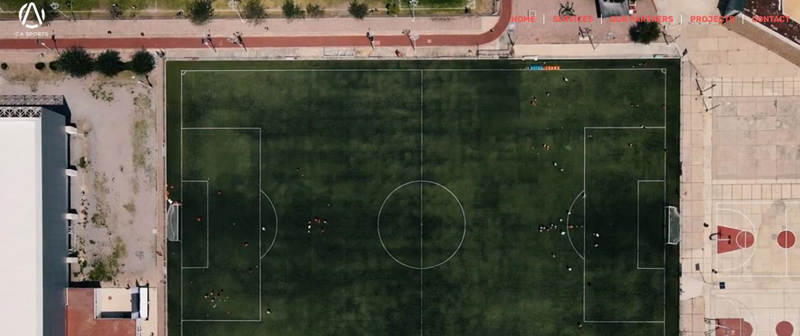 There are many facets to the sports marketing industry. CA Sports Marketing was founded with the intent of taking on all aspects of this industry based in Spain, Egypt, Mexico and Monaco. They have a team of dedicated and experienced professionals who are passionate about sports and marketing.
They understand the importance of engaging fans and building strong relationships with sponsors and broadcasters. Their goal is to provide innovative and creative solutions that exceed their clients' expectations.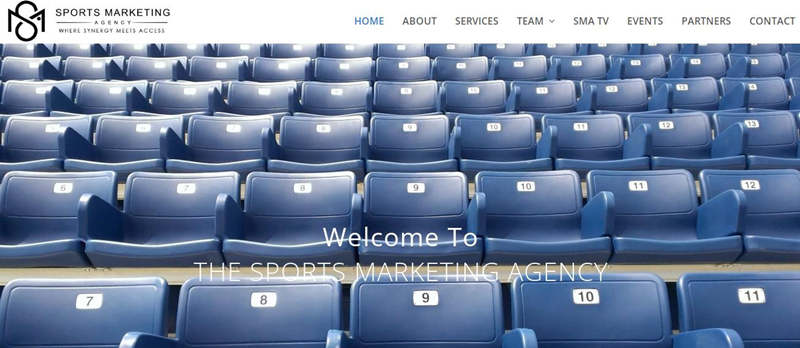 In a world where businesses are always looking for new and innovative ways to reach consumers, SMA Sports Marketing Agency has found success by using sports and entertainment as its vehicle. Since its inception, SMA has worked with some of the biggest names in sports and entertainment, including the NFL, NBA, NHL, ESPN, Univision Deportes, and Telemundo.
SMA's approach is simple but effective: it uses the power of sport and entertainment to create connections between brands and consumers. Through its various marketing platforms—including sponsorships, PR/publicity, advertising, event management, and digital marketing—SMA helps brands reach new audiences and grow their businesses.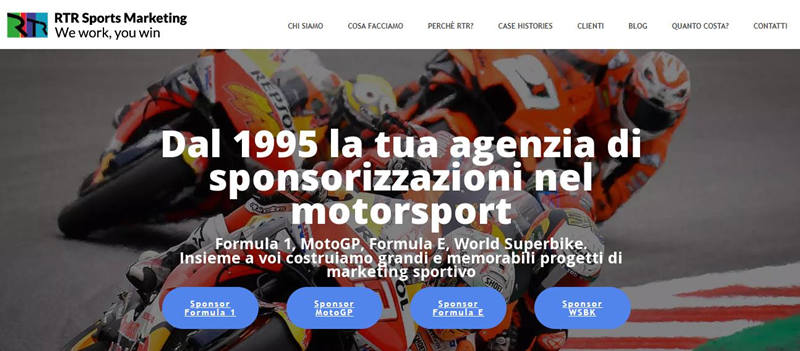 Based in London UK, RTR Sports Marketing LTD is a sports marketing agency. They offer a wide range of services, from media and sponsorship consulting to athlete management and event organisation.
RTR has a strong international presence, and has worked with some of the biggest names in sport, including Formula 1, MotoGP, Formula E, World Superbike.
Clients praise their expertise and professionalism, and RTR is quickly becoming one of the leading sports marketing agencies in the world.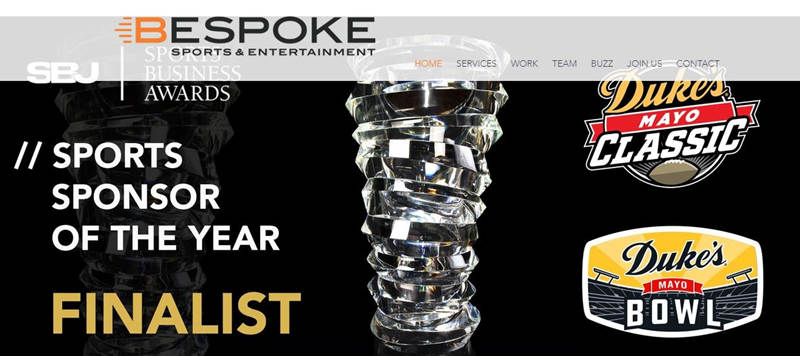 Bespoke Sports and Entertainment is a unique and cutting-edge company that provides marketing and consulting services to athletes, entertainers, and businesses.
Bespoke was founded in North Carolina by industry veterans with over 20 years of experience in the sports and entertainment fields. The company has a team of experts who can help clients with anything from brand building to event management.
Bespoke also has a strong presence in the digital media space, and they are constantly creating new and innovative ways to reach fans online. Whether you're an up-and-coming athlete or entertainer looking for help getting your career off the ground, or a business looking for creative marketing solutions, Bespoke Sports and Entertainment is the perfect partner.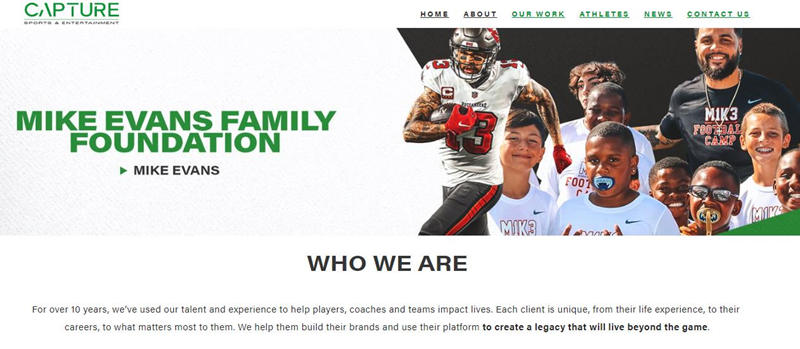 Since 2011, Capture Sports Marketing is a full-service sports and entertainment marketing company that works with clients in the NFL, NHL, NBA, MLB, MLS, NASCAR, PGA Tour and other professional sports leagues. The company offers marketing consulting, sponsorship sales, and marketing services.
FAQs About Sports Marketing
What is sport marketing strategy?
Sport marketing strategy is the process of designing and implementing a plan to market a sport product or service. This could include anything from developing a marketing mix to promoting the sport through various channels.
There are many different aspects to consider when creating a marketing strategy, such as the target market, what type of messaging to use, and how to reach consumers. It's important to have a clear goal in mind and be able to adapt as needed, as the sports industry is constantly evolving.
What are the types of sports marketing?
There are many different types of sports marketing.
One type is called ambush marketing. Ambush marketing is when a company uses an event to promote their product, even if they are not an official sponsor of the event.
Another type of sports marketing is sponsorship. Sponsorship is when a company pays to have their name or product associated with a sporting event or player.
Another type of sports marketing is product placement. Product placement is when a company pays to have their product featured in a movie, TV show, or sporting event.
What do sports marketers do?
Sports marketing is a field that is focused on promoting and selling products or services to consumers through the use of sports. It is a relatively new field, but has grown in popularity in recent years.
Sports marketers work with teams, leagues, athletes, and other sponsors to create marketing campaigns and strategies. They may also be responsible for creating and executing product launches and promotions.
What are the 4 P's of sports marketing?
In order to create a successful marketing strategy for a sports team or individual athlete, it is important to understand the four P's of sports marketing: product, price, promotion, and place.
The product refers to the team or athlete themselves, while price is how much fans are willing to pay to see them play. Promotion includes advertising and public relations, while place refers to where the games are played and how accessible they are.
By understanding these concepts, marketers can create campaigns that appeal to fans and encourage them to support their team or favorite athlete.
What are the benefits of sports marketing?
Sports marketing is a form of marketing that uses the language and images of sports to promote products and services. It has become an important part of the global marketing landscape in recent years, as businesses have come to see the potential benefits of using sports to reach consumers.
There are several reasons why sports marketing is so successful.
Firstly, it is a form of advertising that people are very likely to pay attention to. In fact, research has shown that people are more likely to remember messages that are delivered through sports than those that are delivered through other forms of advertising.
Secondly, sports provide a way for businesses to connect with consumers on an emotional level. People tend to feel passionate about their favourite sports teams and players, and this passion can be harnessed by businesses in order to create brand loyalty.
Finally, sports offer a unique platform for marketing products and services.
Why is sport sponsorship important?
Sport sponsorship can be an extremely effective way to engage with a target audience and improve your business.
By aligning your company with a respected and popular sport, you can create an association with positive values that your target market will respect and admire.
Additionally, sponsoring a team or event can provide opportunities for marketing and promotion, as well as generate customer loyalty and brand awareness. When done correctly, sport sponsorship can be a powerful way to build a successful business.
What are examples of sports marketing?
Sports marketing is a process of creating value for a product or service through the use of promotion and communication tools.
These tools can include traditional advertising such as television commercials and print ads, but can also include social media, public relations, event marketing and much more.
Sports marketing is often used to promote products or services that are related to sports, such as sports drinks, sporting goods and even sporting events.
While there are no hard-and-fast rules for sports marketing, there are a few key concepts that are essential to success.
First, it is important to understand your target market and what appeals to them.
Next, you need to create a promotional plan that will reach your target market and generate interest in your product or service.
Finally, you must execute the plan effectively using the right mix of marketing tools.
What is the biggest advantage of sports marketing?
There are many advantages to sports marketing, but the biggest advantage is the ability to reach a large audience.
Sports provide a way to connect with people on a personal level, and fans are passionate about their favorite teams and players.
When companies use sports marketing to promote their products, they can tap into that passion and create connections with consumers.
Sports are also a great way to build brand awareness and create loyalty among consumers.
In addition, sports provide opportunities for sponsorships and product placements, which can help increase sales.
What marketing strategy does Nike use?
There is no one marketing strategy that Nike uses.
Rather, it employs a variety of marketing strategies to reach its consumers.
One strategy is product placement. You can often find Nike sneakers in movies and on TV shows.
Nike also sponsors many high-profile athletes and teams, which helps to create brand awareness.
Additionally, the company uses social media platforms, such as Twitter and Instagram, to engage with customers and promote its products.
What is adidas marketing strategy?
Adidas is one of the most popular and successful sports brands in the world. But what is their marketing strategy? And how did they become so successful?
Adidas' marketing strategy has been based on a few key principles.
Firstly, they have always focused on sponsoring top athletes and teams. This gives them credibility and helps to create a strong brand image. They have also been very good at using new technologies to create innovative products.
For example, their use of digital marketing and social media has helped them to reach new customers around the world.
Finally, they have always been prepared to invest in their marketing campaigns, which has helped them to build a strong brand identity.
Conclusion
In the ever-growing and competitive field of marketing, sport marketing agencies have emerged as a powerful tool for brands and organizations to reach out to their target demographics.
In conclusion, choosing the right marketing agency is essential to the success of any sports organization. By considering the best agencies listed in this article, you can be sure that you are making a wise decision. So don't wait any longer, get started today!