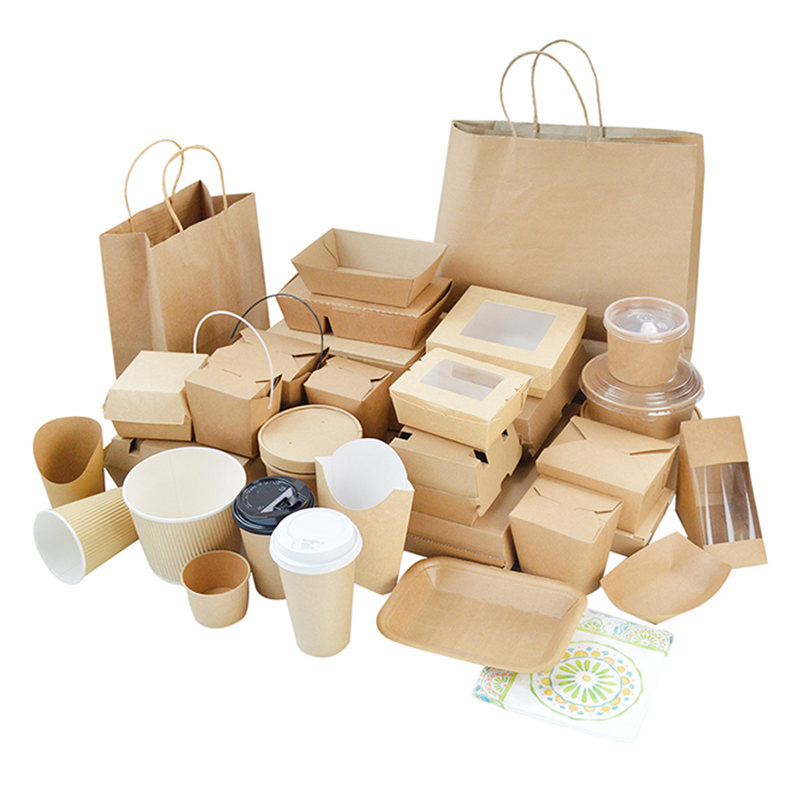 The Ultimate Guide to Eco-Friendly Biodegradable Packaging
Are you looking to make your business packaging more sustainable but not sure where to start? This ultimate guide covers everything you need to know about eco-friendly biodegradable packaging. We discuss the different materials, pros and cons, top manufacturers and certifications available. By the end, you'll feel equipped to overhaul your packaging with the most innovative yet Earth-friendly options.
Every step to reduce plastic and boost composting helps – let's get started!
The Importance of Certifications for Compostable Business Packaging
Biodegradable and compostable packaging options are on the rise, as both businesses and consumers look for sustainable alternatives to plastics. However, not all eco-friendly packs are created equal. Certifications and standards exist to ensure products will break down safely and on schedule, as advertised.
For business packaging, credible certifications are important for several reasons:
Credibility – Widely recognized certifications from reputable organizations confirm that a product meets meaningful and verified standards for sustainability, compostability or performance. This third-party endorsement provides credibility that the environmental claims around a product are legitimate. Without certification, businesses and consumers have to simply take marketing at its word.
Accountability – Comprehensive standards specify clear criteria for factors like biodegradation, toxicity, compostability, and sourcing. They also require independent testing to ensure products meet these criteria before they can be certified. This means you can be confident a certified pack will break down safely and responsibly, as advertised. Standards help prevent misleading "greenwashing."
Quality – The certification process typically establishes certain benchmarks for material safety, functionality and production practices. This helps filter out poor quality or unreliable products, so you end up with options that meet high performance levels and will break down properly. Certified products have been evaluated and approved by sustainability and composting experts.
Environmental Performance – Leading standards for compostable packaging are designed to confirm products will break down completely in commercial composting, helping divert waste from landfills and reducing pollution. They aim to advance sustainable options that are as eco-friendly and low-impact as possible. Using certified compostable packs helps maximize these environmental benefits.
Customer Confidence – Many businesses are working to improve their environmental footprint and sustainability. Using third-party certified sustainable and compostable packaging options is an easy way to provide external validation of these efforts. It signals a higher level of accountability and helps give customers, investors, employees and communities confidence in those initiatives.
In summary, standards and certifications offer assurance, credibility and quality for compostable business packaging. They are instrumental in creating options that meet the highest levels of environmental performance and functionality.
For any business, but especially those promoting sustainability, certified compostable products are the best choice for meeting customer, community and corporate green goals. They represent a real and measurable impact.
the most reputable certifications for compostable business packaging
Some of the most reputable certifications for compostable business packaging include:
•Cradle to Cradle – Requires meeting criteria at Basic level and above (Bronze, Silver, Gold or Platinum) for sustainable and eco-friendly product design. Gold is best for commercial use.
•OK Compost – Confirms compostability for industrial or home composting. Requires testing to specific standards for safe breakdown within a 6 or 12 month period. Industrial or Home ratings suitable for businesses.
•FSC and SFI – Ensures sustainable forest management. FSC is the preferred standard, identifying wood and paper items from responsibly-managed forests. Ideal for paper or wood-based packaging.
•Green Seal – Certifies compliance with lifecycle-based standards for sustainability. "Unconditional" or "unqualified" level offers the most credible certification of compostable food service items and packaging.
In summary, certifications offer an important distinction between biodegradable and truly compostable products for businesses. Look for well-established standards from reputable organizations to ensure your sustainable packaging will perform as promised and provide the maximum credibility and benefits.
Compostability, accountability and quality are all key considerations for meeting customer and community needs.
How Manufacturers Can Use Biodegradable Packaging for Consumer Goods
As concerns grow over the environmental impact of plastics, manufacturers are looking for sustainable packaging alternatives for their products. Biodegradable materials are an ideal solution, especially for single-use items and food packaging.
By switching to compostable or recyclable packs made from materials like paper, bagasse, bamboo or PLA, companies can make a difference in reducing waste while still protecting goods during distribution and sale.
For Food – Compostable options for food product packaging include:
•Paper or bagasse food trays, clamshells and containers for prepared foods, produce, snacks, etc. These keep items together and display well while being grease-resistant and sturdy.
•PLA (compostable plastic) or bagasse cups, utensils and straws. Replaces standard plastic food serviceware.
•Unpbleached paper tea bags, coffee pods and filters. Traditional bleached paper and non-recyclable single-serve packs end up in landfills.
•Compostable film and bags for food storage, sandwiches, snacks, etc. Made of plant-based sources, these keep items fresh before being used and then decomposing harmlessly.
For Cosmetics – Sustainable options include:
•Compostable tubes, bottles, droppers and dispensers made of post-consumer recycled (PCR) plastic, glass or paper. Replaces standard packs that cannot be recycled in many areas.
•Biodegradable cotton pads, swabs and makeup remover wipes. Solutions for eliminating single-use plastics.
•Paper packaging for eyeshadow, lipstick, lotion and balm containers. Paper sleeves, wraps and boxes used in place of plastics.
•Recycled denim bags for product samples or gift packs. Upcycled option being adopted by natural and eco brands.
For Retail Goods – Alternatives include:
•Paper padded mailers, paper cushioning and paper tape for shipping. Curbing the use of plastic bubble wrap, packing peanuts and vinyl tape.
•Biodegradable or recycled packaging inserts like cardboard separators. Provides protection within boxes without additional plastic waste.
•PLA, cardboard or grass paper product labels and price tags. Greener options for product information and pricing in stores.
•Paper gift wrap, tissue paper, bags and tags. Reduce excess plastic waste from celebratory items that quickly end up in the trash.
Manufacturers have an opportunity to become sustainability leaders by transitioning product packaging to compostable, recyclable and eco-friendly materials.
With options for virtually every application, companies can make a huge impact through these simple switches that collectively divert millions of tons of waste from landfills each year. The future of sustainable production and consumption starts with the packaging itself.
Top Biodegradable Packaging Suppliers & Companies
EcoEnclose is a family-owned and operated company passionate about the environment and community. They are committed to supporting forward-thinking eCommerce brands that make ethical, sustainable decisions at every turn.
They aim to help eCommerce brands become a regenerative force for the environment by innovating and developing the world's most sustainable packaging solutions.
EcoEnclose has four priorities: to develop sustainable packaging solutions, to be an EcoAlly to forward-thinking brands, to empower their team members, and to improve their sustainable packaging framework continuously.
They stand behind their products only if they meet their rigorous sustainability standards. EcoEnclose spends significant time researching carbon accounting analysis and new materials to achieve this vision.
They provide sustainability and business guidance through their website resources, newsletters, social media channels, and 1-1 interactions with customers.
EcoEnclose strives to be an empowering workplace where team members can thrive and expand their passion for sustainability while building personal and professional connections within a caring and impact-oriented community.
Hightlights: Paper Mailers, Poly Mailers, Shipping Boxes, Inner Packaging, Retail Packaging, Protective Packaging & Void Fill, Carton Sealing Tape, Stickers & Labels, Notecards, Hangtags, & Paper
Related Blog:
Elevate Packaging is a leading source of USA-made, sustainable, compostable packaging and label solutions. Their innovative and best-in-class American-made sustainable packaging and labels are designed to create eco-friendly brand experiences with recycled, compostable, and recycle-friendly packaging, pouches, bags, and tags.
Elevate Packaging invests in research and development to deliver the most sustainable packaging and drive towards delivering zero waste B2B packaging for a circular economy.
Their years of experience have established unrivaled expertise in the compostable packaging industry. Their friendly experts are ready to help with sustainable packaging challenges, offering fast shipping, excellent service, high quality, and USA-made packaging.
Elevate packaging's revolutionary flag of sustainability continues to innovate, manufacture and introduce new and world-class sustainable packaging and adhesive label solutions, all conveniently available from a central, one-stop source that is trusted and experienced. Their mission is to enable brands to lead change and make composting mainstream.
Hightlights: Compostable Packaging Solutions, Bags and Pouches, Poly Bags, Ecommerce Packaging
JBM Packaging is a family-oriented business founded in 1985 by Greg Sheanshang. His three children inspired the company, and it started as an envelope brokerage business. JBM Packaging's culture of quality, innovation, and excellence has been cultivated since its inception.
JBM Packaging offers packaging solutions to solve their customers' toughest challenges across commercial, consumer products, medical, and retail categories. Their manufacturing capabilities include printing, folding, cutting, adhesive application, and other packaging processes. They have an Innovation Team dedicated to customer-focused product advancements, where each team member has a voice in the collaborative process.
With over 35 years of experience in the print and packaging industry, JBM Packaging creates a broad range of unique packaging that adds value to its customers' products. Their Innovation Team actively collaborates with customers to analyze current packaging challenges and identify new concepts, applying them against existing designs and processes. They also conduct chemical reactions and tests to overcome "death threats" identified in new images.
By carefully listening and engaging with customers, JBM Packaging identifies opportunities to accelerate new concepts to the market faster, helping customers achieve their sales goals and realize operational efficiencies. Their innovative approach to packaging helps highlight customers' products and create a lasting impression.
Hightlights: Custom Packaging, Specialty Mailers, Custom Disposable Paper Cups, Envelopes, Premium Packets
noissue is a company that provides makers, brands, and businesses of all sizes access to custom, sustainable packaging. Their easy-to-use design online tool allows customers to mix and match noissue Packaging products to suit their brand, shipping, and packing needs. The low order minimums make packaging accessible for any stage of business.
Their Eco-Packaging Alliance supports global reforestation by planting trees in areas of need for every order made. They are committed to sustainability and provide essential product information to help customers make the best choices for their business.
noissue's core beliefs focus on customer satisfaction and believe sustainable packaging can be attainable. They commit to eliminating unnecessary issues with custom production, making packaging easy for their customers.
Hightlights: Tissue & Wrapping, Food Grade Paper, Stickers & Labels, Stand Up Pouches, Mailers, Takeout Bags, Shipping Boxes, Takeout Containers, Bags & Totes, Coffee Bags, Tape & Dispensers, Cups, Straws & Accessories, Cards, Flyers & Tags
Better Packaging Co. is a carbon-neutral BCorp founded by Rebecca Percasky and Kate Bezar in 2018. The company's focus is on creating regenerative packaging solutions for eCommerce, shipping, and apparel that deliver a whole lot of good instead of just doing "less bad."
Their team is made up of environmentalists, designers, innovators, students, parents, scientists, dreamers & doers who are passionate about improving the state of the environment. They are continuously innovating to set the highest standard and ensure their products conform to the most rigorous global certifications.
The company takes Product Stewardship seriously and has invested in an extensive collection network to enable responsible disposal of its packaging. Better Packaging Co. is a founding signatory to the Ellen MacArthur New Plastics Pact member of the Australasian Bioplastics Association, Sedex, ANZPAC, APCO (Australian Packaging Covenant), and the NZ Packaging Forum. They are also part of various accelerators and have warehousing and distribution in different countries.
Hightlights: MAILING SATCHELS, ENVELOPES, CARRY BAGS, POLY / GARMENT BAGS, PADDED MAILERS, HYGIENE LINERS, LABELS & TAPE
Green Cell Foam, a product of KTM Industries Inc., is an eco-conscious, compostable packaging material made from US-grown cornstarch. It provides exceptional cushioning and thermal insulation while protecting the planet. Green Cell Foam matches the performance of petroleum-based foams, making it a sustainable alternative for single-use packaging in thermal insulating or shock-absorbing applications.
The company's goal is to replace polystyrene (EPS), polyurethane (PU), and polyethylene (PE) with their environmentally friendly packaging material. They offer design, testing, and fabrication services at their Holt, Michigan facility. Their customers in various industries have successfully integrated Green Cell Foam into their packaging, preventing millions of polystyrene foam coolers from filling landfills nationwide.
Green Cell Foam is certified compostable and water-soluble in backyard and industrial facilities (ASTM D6400 and BPI certified). It is made from an annually renewable resource, U.S. grown cornstarch, making it the most environmentally sustainable and functional packaging material. The company suggests rinsing it down the drain, composting it, using it as a fire starter, or throwing it out safely instead of recycling it.
Hightlights: In-house manufacturing protective packaging, Life Sciences Packaging & Shipping, Wine Packaging & Shipping, Food & Beverage Insulated Shipping Coolers
Eco-craft Ltd, founded by Lorraine and Kevin McCarthy 31 years ago, is a family business that provides recycled paper and card products. Since the company's early days designing and manufacturing its gifts and greeting cards, they have expanded to offer an off-the-shelf range of recycled card blanks available by Mailorder.
The company has made it its policy to offer environmentally sustainable and ethical products sourced from reputable green suppliers with similar values. They use recycled materials, with most of the paper and card being 100% recycled and containing post-consumer waste. The company's environmental concern extends beyond sourcing materials, as they reuse packaging from suppliers and recycle it in their offices.
Eco-craft Ltd also strives to keep its carbon footprint low, purchasing energy from a renewable non-nuclear supplier and working with carbon-neutral delivery companies. As an ethical supplier, they believe the fair treatment of employees and suppliers is essential to maintaining a healthy and viable supply chain.
Eco-craft Ltd offers a fair balance between running a successful business and maintaining a happy and healthy working environment, treating all staff fairly and without harassment or discrimination. They purchase materials, products, and services from like-minded, ethically aware, socially responsible, and sustainable suppliers, ensuring they adhere to UK and EU environmental and employment standards.
Hightlights: Presentation Boxes, Paper & Clear Bags, Postal Packaging, Gift Tags & Twine, Adhesives and Tapes, Food Packaging, Recycled Tissue Paper & Paper Rolls
Takeaway Packaging is an eco-friendly wholesale food packaging provider. They offer a comprehensive service from concept design to delivery, and use their extensive experience in creating bespoke packaging to help clients create stylish and sustainable packaging for their brand.
Their products are made from recycled, recyclable, compostable, or biodegradable materials, and are certified carbon neutral. They provide a range of stock and printed items, including paper cups, takeaway boxes, ice cream tubs, soup pots, noodle boxes, chopsticks, and accessories.
FAQs About Biodegradable Packaging
What is biodegradable packaging?
Biodegradable packaging is a form of packaging that is designed to break down in the environment with minimal impact on the environment. This type of packaging is made from natural materials such as paper, wood, and plant-based plastics.
Unlike regular plastics, these materials will decompose naturally over time, leaving no trace of their presence. Biodegradable packaging is becoming increasingly popular as more people are becoming aware of the environmental hazards associated with traditional packaging materials.
This type of packaging is also becoming increasingly available in stores, as manufacturers are beginning to produce more products with biodegradable packaging.
How to Identify if a Package is Biodegradable?
We're in an era of heightened environmental consciousness, and with it comes the need to shift our habits to more sustainable practices. Of course this includes the way we package our goods; it's important that plastic packaging is reduced to a minimum and replaced with biodegradable packaging materials. But how can you guarantee that the package you are getting is genuinely biodegradable? The answer lies in certification.
Look for certified packages marked compostable. They have been tested and certified by independent third-party certifiers like BPI (Biodegradable Products Institute) or TUV Austria according to ASTM D6400/D6868 standards – both indicate whether a product will degrade under conditions typically found in commercial/municipal composting facilities.
Bio-certified packages marked compostable (ASTM D6400) are typically made from a combination of natural materials, such as paper, cornstarch, and other plant-based materials. These packages are designed to break down quickly in a composting environment, releasing beneficial nutrients back into the soil. They are also free from toxins and other harmful chemicals, making them safe for use in food and beverage applications.
1. Check the packaging for any symbols or labels that indicate the product is biodegradable. These symbols may include a green "OK" symbol, a "Biodegradable" label, or a "Compostable" label.
2. Read the product's ingredients list or packaging for terms relating to biodegradability, such as "biodegradable," "degradable," "eco-friendly," or "compostable."
3. Research the manufacturer of the package to see if it has any policies or certifications relating to biodegradability.
4. Contact the manufacturer directly to ask if the package is biodegradable.
What
are
bi
ode
grad
able
materials
for
packaging
?
Biodegradable packaging is an eco-friendly choice for businesses and consumers alike. It's often assumed that it's exclusively made from bio-based or plant-based materials, but the truth is, there are more options available than people think. In reality, biodegradable packaging can be sourced from a variety of materials, including petrochemicals and other recycled materials.
Furthermore, the process of biodegradation occurs when bacteria break down material into its natural components. This makes it important to understand what type of material a particular product is made from in order to determine if it will degrade over time in the environment or not. For example, some plastics may be labeled as biodegradable because they contain additives that help them break down faster than traditional plastics.
Biodegradable materials come from renewable resources such as plants, animals, and other organic sources. This means that these materials can be recycled or composted instead of ending up in a landfill where they will take decades to decompose. Common examples of biodegradable packaging include paper bags, cardboard boxes, burlap sacks, cornstarch-based plastics, wheat straws and even banana leaves.
Biodegradable materials for packaging include:
1. Paper
2. Cardboard
3. Plant–based plastics
4. Bamboo
5. Cornstarch–based bioplastics
6. Compostable packaging films
7. Mushroom–based packaging
8. Hemp
9. Coconut fiber
10. Wool
What is a Fossil-Based Polymer?​
Fossil-based polymers, also known as petrochemical polymers, are a type of plastic derived from fossil fuels such as petroleum, natural gas and coal. These fossil fuels are extracted from the earth and then processed to create a variety of products. Fossil-based polymers are widely used in a variety of industries, such as packaging and construction.
A fossil-based polymer is a biodegradable, eco-friendly packaging material that is manufactured from renewable resources. Fossil-based polymers, such as polylactic acid (PLA) and starch-based thermoplastics, are derived from plants and other renewable sources. As such, these materials can be broken down relatively quickly in the environment without causing harm to the planet.
These types of polymers are incredibly versatile and can be used for a variety of applications including food packaging, medical supplies, protective films for electronics and more. They are also heat resistant and available in multiple colors, making them an ideal alternative to traditional plastic packaging materials that take centuries to decompose.
Furthermore, their lightweight design makes them easy to transport with low carbon emissions compared to traditional plastics.
Why is it important to have biodegradable packaging in our world?
In the modern world, biodegradable packaging is one of the most important ways to reduce our environmental impact. It is essential to use materials that are more sustainable, as pollution and climate change become ever-increasing issues for us all. Biodegradable packaging helps us to do this by breaking down naturally in the environment after being used, rather than remaining as litter or creating hazardous waste.
Biodegradable packaging also has significant benefits when it comes to reducing resource consumption and energy expenditure. By using materials that can be recycled easily and quickly, we are able to significantly reduce the amount of resources needed for production and transportation. Furthermore, biodegradable packaging requires less energy for disposal, leading to fewer emissions released into the atmosphere from incinerators or landfills.
Is biodegradable packaging good for the food industry?
The food industry is becoming increasingly aware of the need for environmentally friendly packaging solutions. Biodegradable packaging has emerged as one of the leading solutions to this problem, but is it really good for the food industry?
Yes, biodegradable packaging is good for the food industry. It reduces the amount of plastic waste, which is beneficial for the environment. It is also safer for the people who are working with the packaging, since it is made of natural materials and does not pose a health risk. Additionally, biodegradable packaging can help to keep food fresh for longer, which can extend the shelf life of products.
Biodegradable packaging offers a number of key advantages. It does not contribute to the global plastic waste crisis and can be broken down relatively quickly in natural ecosystems, returning its component materials safely back into the environment. Additionally, biodegradable packaging uses fewer resources than traditional plastic options, which makes it an attractive choice from a cost-saving perspective.
However, there are some potential drawbacks with biodegradable packaging that should be considered before investing in this type of product. Firstly, biodegradability may decrease with exposure to certain environmental factors such as high temperatures or intense sunlight.
What are the Benefits of Biodegradable Packaging?
Biodegradable packaging is quickly growing in popularity as the world shifts its focus towards sustainability. This type of packaging is made from renewable, organic materials like paper, cardboard, and plant-based plastics, which make them easier to break down and compost. Not only does biodegradable packaging help reduce waste, but it also offers other advantages.
One key advantage of biodegradable packaging is that it helps reduce our reliance on non-renewable materials. Traditional plastic packaging is made from petroleum-based materials that are difficult to break down and can take thousands of years to decompose. With biodegradable packaging, we can reduce our dependence on these non-renewable resources and help preserve our environment.
Another benefit of biodegradable packaging is that it's better for our health. Traditional plastic packaging often contains toxic chemicals, dyes, and fragrances that can be absorbed into our bodies. Biodegradable packaging, on the other hand, is made with natural materials that are less likely to contain these harmful substances. This makes them safer for both people and the planet.
In addition, biodegradable packaging is often lighter and more affordable than traditional plastic packaging.
What are the types of biodegradable packaging?
Biodegradable and compostable packaging is made from sustainable materials such as plants or other renewable resources rather than non-renewables such as plastic and metals. These materials are designed to break down into natural components that the environment can easily absorb without leaving any harmful residue behind. Common types of biodegradable packing materials include paper, cardboard, bamboo, cornstarch-based plastics, potato starch-based plastics and sugarcane-based plastics.
1. Paper and cardboard: Paper and cardboard are some of the most common types of biodegradable packaging and can be used for both food and non-food products.
2. Plant-based plastics: Plant-based plastics are biodegradable alternatives to traditional plastic packaging. These are made from plant-derived materials, such as cornstarch, potato, or sugarcane.
3. Compostable packaging: Compostable packaging is made from materials that can be broken down and decomposed by microorganisms in a compost pile.
4. Bio-resin packaging: Bio-resin packaging is a type of biodegradable plastic made from plant-based sources. It is often used in food packaging, as it is resistant to moisture and oxygen.
5. Hydrophobic materials: Hydrophobic materials are materials that are designed to repel water. These materials are often used in food packaging, as they can help to keep moisture out of the product.
6. Edible packaging: Edible packaging is made from food-grade materials, such as sugar, flour, and other edible ingredients. These can be used for food products and can be eaten after the product is consumed.
In summary, the main types are:
Compostable Packaging
Plant-based Packaging
Paper Packaging
Bioplastic Packaging
Challenges in Biodegradable Packaging
1. Cost: Biodegradable packaging is often more expensive than traditional packaging. This can be a barrier for companies looking to switch to this type of packaging.
2. Accessibility: Not all materials used for biodegradable packaging are widely available. This can make it difficult for companies to switch to this type of packaging if the materials are not available in their area.
3. Durability: Some biodegradable packaging is not as durable as traditional packaging, making it more susceptible to damage.
4. Environmental Impact: Biodegradable packaging can have a negative environmental impact if it is not disposed of properly. If it is not composted, it can contribute to landfill waste.
5. Regulatory: There are no universal regulations governing biodegradable packaging, which can make it difficult for companies to know what is required when they switch to this type of packaging.
Solutions to Address Challenges in Biodegradable Packaging
1. Increase Awareness: Educating the public about the importance of biodegradable packaging and its benefits is essential for encouraging more people to make the switch. This can be done through campaigns, workshops, and other initiatives that help raise awareness about this type of packaging.
2. Research and Develop Innovative Solutions: By investing in research and development, organizations can create better and more sustainable packaging materials that are biodegradable.
3. Government Subsidies: Governments can provide subsidies to organizations that make the switch to biodegradable packaging. This will help reduce the cost of switching to biodegradable packaging and will encourage more organizations to make the switch.
4. Create Recycling Programs: Establishing recycling programs can help reduce the amount of packaging waste that ends up in landfills.
5. Increase the Use of Plant-Based Packaging: Plant-based packaging is a great way to reduce the use of plastics and other non-biodegradable materials. By increasing the use of plant-based packaging, organizations can reduce their environmental impact.
6. Invest in Compostable Packaging: Investing in compostable packaging can help reduce waste by allowing for the packaging to be compost.