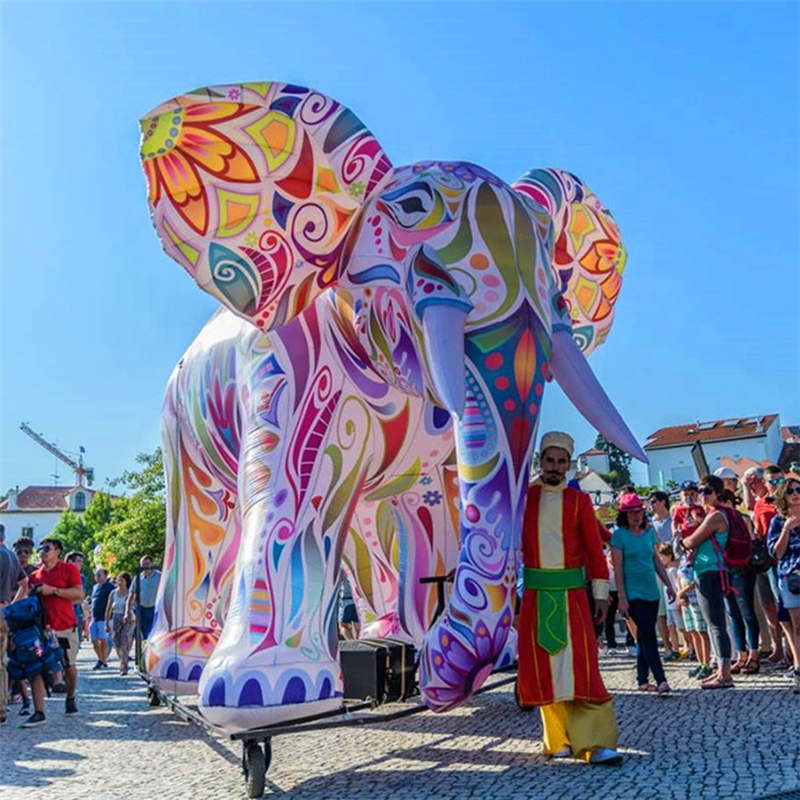 Top 30 Best Corporate Event Management Companies in USA
Organizing a corporate event takes time, money, and expertise. It is important to find the best event management company to ensure a successful outcome. Therefore, we have compiled a list of the top 30 corporate event management companies in the United States of America.
They provide everything you need for a successful corporate event, including budgeting, marketing, venue selection and negotiation, catering and hospitality management, multimedia production services such as audiovisual support and livestreaming, as well as onsite staff to ensure that the event runs smoothly. These companies also have access to exclusive vendors that can provide premium services at competitive prices.
With their expertise in corporate events management, they can ensure success while minimizing costs. Their comprehensive services make them the best choice for managing any type of corporate event – from small meetings to large-scale conferences or trade shows.
At Noya, we offer custom logo printing materials and promotional products for a variety of events. Our products are designed to help customers promote their brand with maximum impact. We provide high-quality materials that can be used as giveaways or packaging. Our experienced team is here to assist customers in choosing the perfect product for every event, whether it be a holiday, festival, live concert, or sports game. With our custom logo printing services, customers can easily create unique designs that will turn heads and make an impression. Our products are designed to last and offer superior quality performance while also providing cost-effective solutions.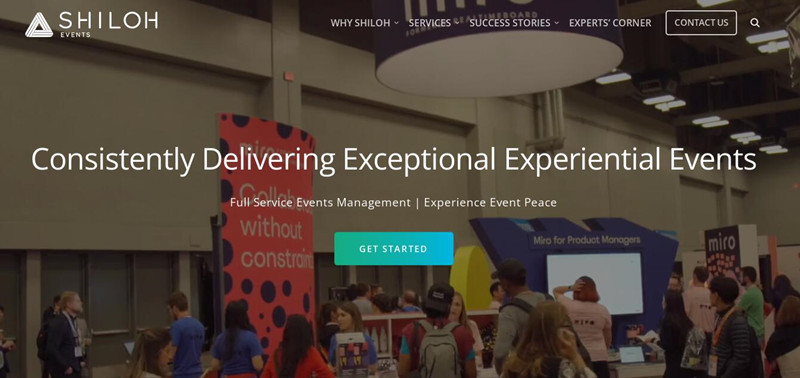 At Shiloh Event Management, their experts have the precision and passion to craft unique and engaging experiences for corporate brands. They have the strategic event expertise to rapidly create an impactful attendee experience, increase lead generation and maximize ROI.
Their team works closely with clients to understand their goals and bring their vision to life. They provide innovative event marketing strategies, successful event execution and quality service. Their comprehensive project plans will give you visibility into every detail with complete project documentation and data analysis.
You'll have unrivaled transparency and control in event management with proven process, and be able to measure the event's impact with insightful evaluation and comprehensive reporting. Shiloh Event Management are passionate about delivering exceptional events that make lasting impressions and bring value.
Location: Santa Clara, California
What services do they offer?
Full Service Event Management, Trade Show Management, Event Branding & Marketing, Creative & Graphic Services, Speaker & Entertainment Management, Attendee Engagement & Management, Event Design & Implementation, Virtual Events
At Eventique, they make it their mission to create experiences that will be remembered long after the actual event. The team is comprised of experienced professionals from the theater, media, and brand marketing industries. They understand that to fully engage the guests, each detail must be carefully considered and implemented. From ambitious concepts to untapped spaces, they make it all happen and leave the guests inspired.
Eventique believes that storytelling is what drives their creative approach. Their founders have years of expertise in the entertainment and event production industry, plus the technical know-how to bring events to life. They are not a conventional event company, but rather a group of event planners and developers who prioritize great guest experiences.
From concept to completion, Eventique's thoughtful and artistic approach produces unique, inspiring moments that evoke emotions, conversations, and memories. In a world where it's difficult to stand out, Eventique helps to make your event an unforgettable one.
Location: New York
What services do they offer?
Conferences + Sales Meetings, Trade Show Exhibitions, Media Launches, Consumer Experiences, Retreats + Team Building, Holiday Parties + Summer Outings, Brand Events, NON-PROFIT events,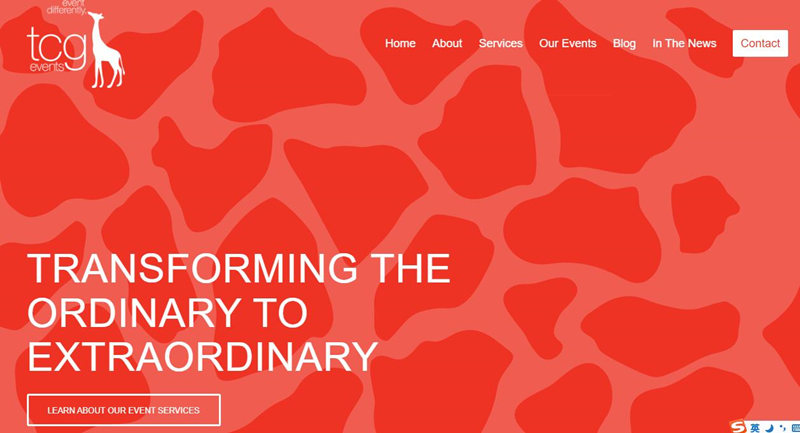 TCG Events, Inc is an event planning company that strives to make the ordinary extraordinary. Their mission is to provide a stress-free and enjoyable experience for clients while also exceeding their expectations and turning their event into an unforgettable experience.
From product launches to customer appreciation events, TCG Events will design a memorable experience for your clients while keeping an eye on the bottom line. They make sure your donors don't just attend another boring chicken dinner, but rather an energizing event that reinvigorates sponsors and creates a buzz.
Location: Charlotte, NC 28232
What services do they offer?
Corporate Event Planning, Non-Profit Event Planning,
Event Rhythm is a creative event planning and management company based in Miami, Florida, delivering world-class events that are guaranteed to make a long-lasting impression. Their experienced event planners work with you to create an event experience that is truly personalized, while their vast network, expertise, and innovative solutions ensure that your event comes together seamlessly.
Their mission is to create memorable masterpieces that create a deep connection with everybody that attends. No matter if it's an In-Person, Virtual, or Hybrid event, their team provides complete development, production, and management services, keeping your event running smoothly, fresh, and professional.
They offer a wide range of event planning and production services to make sure all the details come together to create a truly extraordinary event.
Location: Miami Beach, Florida
What services do they offer?
EVENT PRODUCTION & ENTERTAINMENT, VIRTUAL & HYBRID EVENTS,
Imprint Group is your go-to partner for Colorado Event Planning, Destination Management (DMC) Services, Corporate Event Planning, Event Production, Live Entertainment and much more! They are a full-service, experiential event group passionate about creating outstanding experiences and delivering in-house event alternatives. Their team of female-minority owned professionals are dedicated to helping you plan and deliver virtual solutions for your audience in today's changing landscape.
At Imprint Group, they believe in providing comprehensive services that meet the needs of our partners and clients. They strive to create an Imprint that is felt on countless platforms, through creative content that reflects your brand's message and structures your meeting to ensure engagement and success. Their high standards of professionalism and service ensure a consistent and flawless meeting and event experience.
Location: Colorado, Florida, Nevada
What services do they offer?
Creative Branding & Design, Destination & Event Management, Entertainment, Virtual Meeting & Digital Event Production, Teambuilding
Creating meaningful memories, Make It Happen is your go-to full-service event planning, design and production company. They bring expertise and creativity to every detail, from sourcing the perfect venue to booking travel, so that each element of your special event, meeting, conference, or destination management conveys your brand in the most exceptional way.
Their staff are seasoned professionals, able to provide support anywhere you need it. They oversee room layouts, table settings, flowers, décor, and production. They also have access to renowned speakers and entertainment to add energy and social media buzz to your event.
Location: New York
What services do they offer?
GLOBAL DESTINATION, HOTEL + VENUE SOURCING, EVENT DESIGN + PRODUCTION, MANAGEMENT + STAFF SUPPORT, SPEAKER + ENTERTAINMENT, FOOD + BEVERAGE EVENT, TECHNOLOGY + COMMUNICATIONS EVENT, STRATEGIC CONSULTING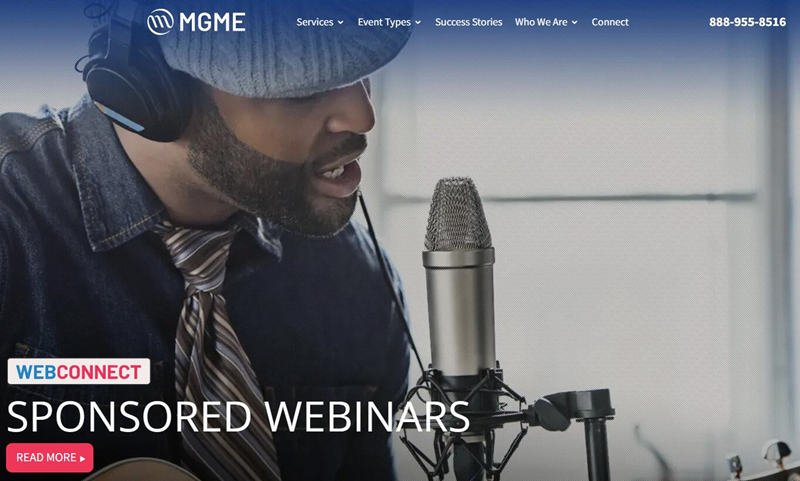 MGME is a vibrant and diverse team of bold visionaries, inventive thinkers and creative trendsetters. They create and manage events, meetings and conferences that drive powerful moments of human connection and stimulate audiences to reconsider and take action. Whether it's one-time expertise or a full-fledged solution, they do it all, in-house and around the world.
Their approach is a blend of art and science, backed up by their knowledge and experience. At MGME, they strive to tailor their events to your team, crafting uniquely original and evocative experiences that leave a lasting impression. They don't believe in one-size-fits-all solutions, as we understand the importance of your distinctive corporate identity.
Their clients include some of the world's leading brands, and together they generate monumental events that build strong personal connections and bring people together.
Location: NY, San Diego, Glastonbury, Miami, Washington, Canada
What services do they offer?
Event Design, Planning, Logistics, Production, Reporting & Analytics, Virtual Events, Meetings, Incentives, Conferences/Tradeshows, Life Science
The Special Event Company is a full-service corporate event planning and management company located in Research Triangle Park (RTP), North Carolina. Their team of experienced event professionals is equipped to deliver interactive brand experiences that are meaningful and engaging, whether it's communicating company strategy, transforming company culture, launching a product or service, or encouraging customer brand engagement.
They have been recognized as a Top 50 Global Event Company by Special Events Magazine for three consecutive years, a testament to their ability to produce award-winning meetings and conferences.
They offer a strategic, creative, turnkey solution for live and virtual meetings and events. Their process-driven, results-oriented and bottom-line focused approach ensures a stress-free and positive experience for customers throughout the entire lifecycle of their programs.
Location: Apex, NC 27539
What services do they offer?
Corporate Event Planning Services, STRATEGY & DEVELOPMENT, SPEAKERS & ENTERTAINMENT, CREATIVE SERVICES & MARKETING, ONSITE MANAGEMENT, PRODUCTION & A/V, TRAVEL & TRANSPORTATION
From Walt Disney to Nickelodeon, their team of experienced professionals has worked with some of the biggest names in the industry. Whether it's a carnival package, an exclusive private event, or a cozy group picnic, they can help you make it epic!
They specialize in creative, professional, and enjoyable events that will truly make your special occasion unforgettable. Their innovative ideas push the boundaries of what's possible, while their commitment to service ensures that no opportunity is wasted.
Location: Anaheim, CA
What services do they offer?
Corporate Event Planning & Production, Corporate Holiday Party Planning, Non-Profit Sporting Events & Festivals, School Events, Company Picnics, Rides & Attractions, Event Venues,
At 360 Destination Group, they help to make your events truly memorable. Whether it's a corporate meeting, conference or something a little more creative, they have the expertise and knowledge to design incredible experiences.
Their team takes the mundane and stuffy, and turns it into something spectacular. They ensure that the logistics and organization of your event is handled seamlessly, while creating exciting concepts that will captivate your clients and employees. From modern art affairs to carnival-themed seminars to Latin nightclub receptions, they have done it all.
They are a leading full-service destination management company (DMC) and their mission is to create experiences, not just programs.
Location: USA
What services do they offer?
Event Design & Development, Unique Decor & Theme Concepts, Team Building, Off-Property Venues, Entertainment, Transportation & Shuttle Services, Dine Arounds,
Garnish Event Management is a one-stop supplier for a wide range of corporate event services. From virtual events and meetings to live, hybrid ones, they have the expertise and resources to help clients make their events successful no matter the size and budget.
They understand that all events are important for client's business, so they strive to exceed their expectations and create a lasting, positive impression on all attendees.
Their extensive and versatile portfolio of services enables them to execute and enhance clients' events and also keep pace with their needs in the ever-changing environment. They take pride in ability to scale up or down depending on the requirements of clients and provide them with the quality services they need.
Location: Boston, MA
What services do they offer?
EVENT STRATEGY & PROJECT MANAGEMENT, TECHNOLOGY & LOGISTICS SERVICES, Registration Strategy Consultation
Mode Events is devoted to creating unforgettable experiences for clients, from start to finish. Whether it's a one-of-a-kind wedding, an impactful non-profit event, or an engaging corporate event, Mode Events is here for you.
They understand the importance of creating a stress-free event that won't break the bank. The team of experienced professionals plan and execute every detail with passion, from audio and lighting services to stage setup and Insta-worthy photo booths.
With over 20 years of experience, They have the expertise to design a custom event tailored just for you, so you can focus on making memories. Their goal is to ensure that your event runs smoothly and your guests leave raving about it.
Location: CHICAGO, LAS VEGAS, NEW YORK, MIAMI
What services do they offer?
Retail Events, Corporate Events, Conferences, Audio/Visual Production, DJ Services, Lighting Design, Photo Booth Rentals, Audio/Video Production, Experiential Marketing, Vendor Referrals, Wedding Planning, Corporate & Experiential Event Planning,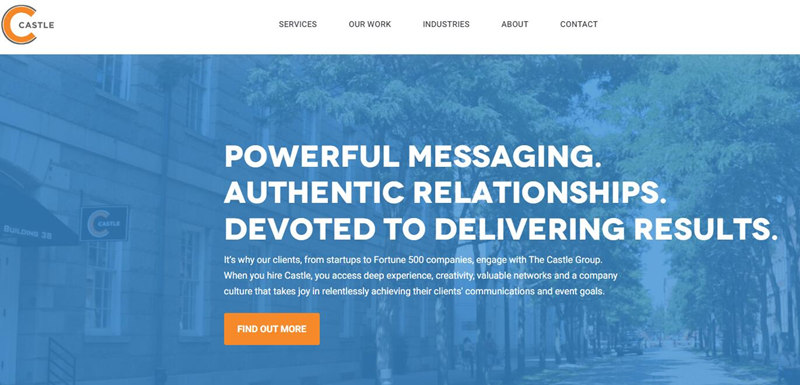 With a mission to create powerful campaigns and strategies with the best creative ideas, Castle has been a driving force behind their clients' success since 1996. Utilizing the right experience to fit unique needs, the agency has achieved great heights by infusing ideas, energy, and a strategic approach into every endeavor.
By combining the power of public relations and events, Castle has been able to provide exceptional client service and help their clients reach their business goals. To keep up with the digital and social media trends, the team has developed unique strategies for all their campaigns, from creating compelling content to sharing social media chatter at events.
This innovative strategy has enabled Castle to expand beyond their Boston headquarters, and in 2016, the agency opened offices in Atlanta and Maui. Their client base ranges from 50% multi-national firms to 50% local clients who are looking to get beyond their backyards and reach an international audience. By combining their expertise with a passion for client service, Castle has become a driving force in the industry.
Location: Boston, MA 02129
What services do they offer?
PUBLIC RELATIONS, Event Management, PUBLIC AFFAIRS, CRISIS COMMUNICATIONS, SOCIAL/DIGITAL MEDIA, Marketing Communications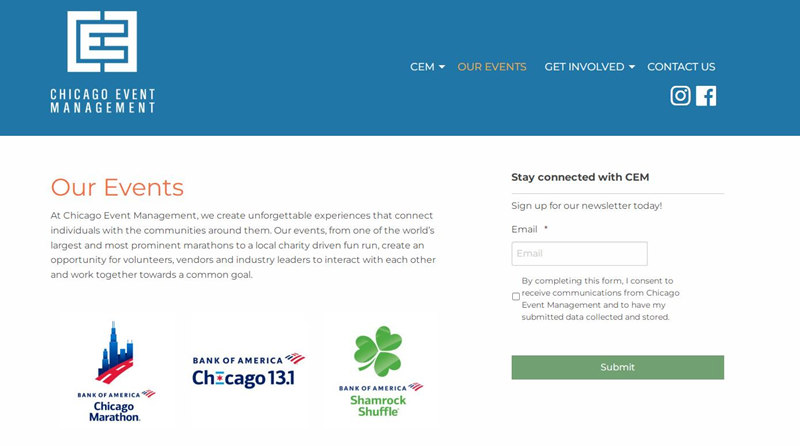 As a leading event management company, Chicago Event Management is passionate about creating memorable experiences and connecting people with the communities around them. From the world's largest marathons to small charity-driven fun runs, they strive to bring together volunteers, vendors, and industry leaders to work towards a common goal. Since 1996, CEM has been dedicated to this mission and is now a leader in event production and the endurance sports industry.
They are committed to sharing best practices and creating high quality event experiences. To do this, they provide access to industry-standard equipment that is available for rental. Additionally, they are dedicated to pushing conversations forward, creating dialogues between industry partners, and sharing best practices across events.
They are passionate about connecting the communities they serve through the events we produce and look forward to continuing to make a lasting impact.
Location: Chicago, IL
What services do they offer?
Marathon Event Management, Equipment rental,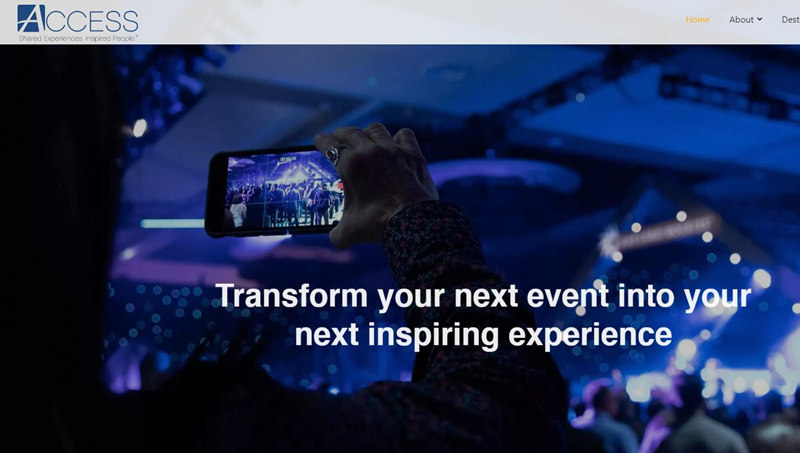 Since its inception as a small "ground operator" in 1969, ACCESS has embraced the power of creative and inspiring experiences to drive organizational change. Pioneering the concept of destination management and adopting Design Thinking, they have been continuously redefining the industry.
They bring clients a wealth of local expertise and innovative solutions wherever they are. Their customized services range from creative event and program design to transportation logistics, CSR programs, recreational activities, and more.
They specialize in event design and team building activities to build camaraderie within organizations. They also create CSR programs, from park building to school clean-up and care package preparation for the military.
Location: San Diego, CA
What services do they offer?
Experiential event and destination management, Event design consultants, Multi-Day Incentive, Park Build in the Desert, Company Milestone Celebration, Large Scale Event, School Event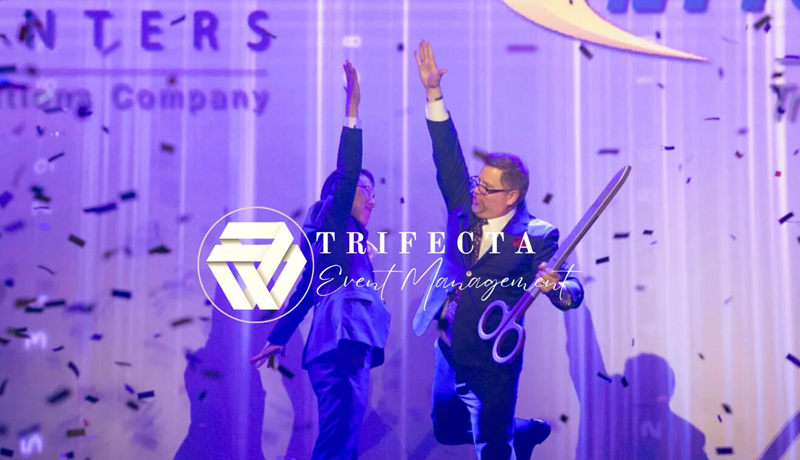 At Trifecta, they approach each event with an insight into the requirements and goals of each client's individual needs. They specialize in creating uniquely tailored experiences, no matter the size or budget of the event. Their flexibility allows them to create your vision by immersing themself in your brand, business, culture, and objectives.
They strive to provide maximum return on your investment by utilizing an inside-out approach to build your brand and relationships with consumers and employees.
Their meticulous attention to detail and exceptional personalized service allows them to refresh and recharge your brand to create business solutions that deliver your vision. They aim to construct triggers and associations that each of your attendees will take home in order to create powerful memories that won't soon be forgotten.
Location: Dallas, Texas
What services do they offer?
NONPROFIT EVENT PLANNING, CORPORATE EVENT PLANNING, EVENT MANAGEMENT SOLUTIONS
Founded in 2007, Endless Events began with a single man and a passion for producing unforgettable events. Will Curran, the founder of Endless Events, started out as a backyard DJ, and soon developed a reputation for being able to create truly amazing experiences. As word of his talent spread, he quickly found himself in high demand. Will knew that he had something special, and with that, Endless Events was born.
Since then, Endless Events has grown to become a comprehensive event management company, where customers can come to get help with their events from start to finish.
The team at Endless specializes in event management, event technology, event production, event creative and event strategy, and they use their broad knowledge base to not only fulfill their customers' needs, but also to collaborate with them to take the events to the next level.
Whether virtual, hybrid or in-person, Endless Events know just what it takes to create a flawless, exciting experience. Their aim to not only fulfill customers' needs, but to help create a lasting legacy through each event. Their commitment to excellence has earned the top customer satisfaction ratings in the industry, according to G2.com.
Location: New York
What services do they offer?
COMPREHENSIVE EVENT MANAGEMENT, OUTSTANDING EVENT PRODUCTION, Event Creative Services, Event Strategy Services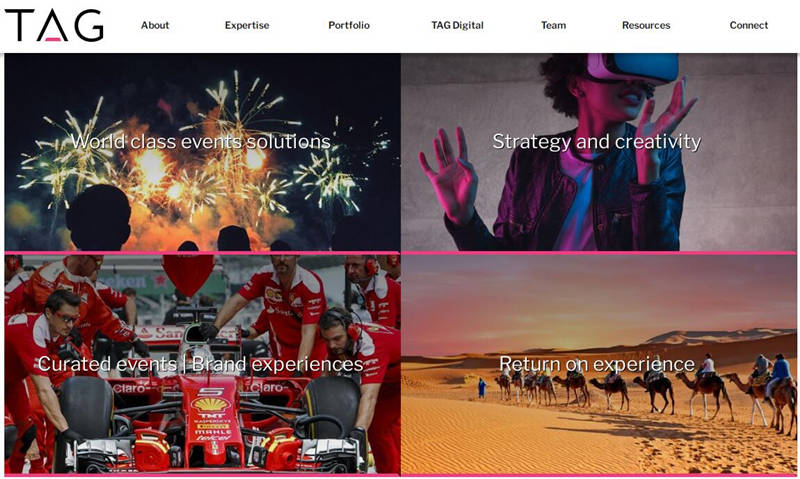 With over three decades of experience, TAG is a world-renowned events and group travel management company that has earned a variety of awards. Their professional team is devoted to transforming your brand image through unforgettable experiences, beginning with its conception and ending with its completion. Wherever you have in mind to go, TAG is ready to work with you to meet your goals.
Their solutions are tailored to your needs, with the aim of connecting with your audience. From incentive programs to product launches and celebrations, their experts are an integral part of your team, offering personal and attentive service throughout the entire process. Their long-standing expertise and commitment to excellence allows us to provide you with the highest quality of service.
At TAG, a creative approach to event and group travel management is their specialty. With a focus on sound strategy and success, they provide a unique experience from start to finish, making every event a special occasion.
Location: Los Angeles, Nashville, Atlanta, New York, London, Manchester, Leeds, Singapore, Hong Kong, Melbourne and Sydney
What services do they offer?
Incentive trips, conferences, special events and product launches, Group event travel, Strategic creativity, Event management, Event branding, Event production
The Remaining 12 Event Management Companies in USA
| | | |
| --- | --- | --- |
| Company Name | Services | Location |
| Vision Event Management | Event Management, RUNNING EVENTS • VIRTUAL EVENTS • ENDURANCE EVENTS • NON-TRADITIONAL EVENTS, Event Operations & Logistics, Crisis Management Planning, Volunteer Management | USA |
|  The Planning Company | full service event planning and destination management company | Palm Beach, Miami, and New York |
| OneTouch Events LLC | an award-winning International Event Planning Firm | Atlanta, GA |
| Enterprise Events Group, Inc | Live events, virtual events, Hybrid events, Tradeshows, Creative, strategy, and production |  San Rafael, CA |
| Viva Event Management | Destination Management, Convention Receptions, Airport Meet & Greet, Tours & Excursions, Themed Events, Virtual and In-Person Events, Meetings and Conferences | Portland, Oregon |
| Rafanelli Events | WEDDINGS, NON-PROFIT EVENTS, CORPORATE EVENTS, VIRTUAL EVENTS | New York, |
| SYB Event Planning | Corporate Events, Event Design, Non-Profit Events, Special Events/Teen Events | Wellesley,  MA |
| ProGlobalEvents | Event Design & Creative, Event Strategy & Planning, Hybrid Events, Exhibit & Sponsorship Management, Attendee Management, Logistics, and Engagement, Event Production & Activation, Experiential Marketing | California |
| Albrecht Events, LLC | DESTINATION MANAGEMENT, Meeting Planning, Teambuilding, Conference Services, Entertainment Sourcing, Décor and Scenic Design, Recreational Activities | Lansdale, PA |
| Houston Event Planning | Corporate Team Building & Event Planning, Grand Opening Event Planner, Corporate Event & Conference Planning |  Houston, Texas |
| Entire Productions Inc | EVENT & ENTERTAINMENT DESIGN, PLANNING + PRODUCTION | San Francisco, California |
| Allison Sargent Events | Corporate Events, Charity Events, Special Occasion Planning, Wedding Planning, Destination Events, | Montclair, NJ |