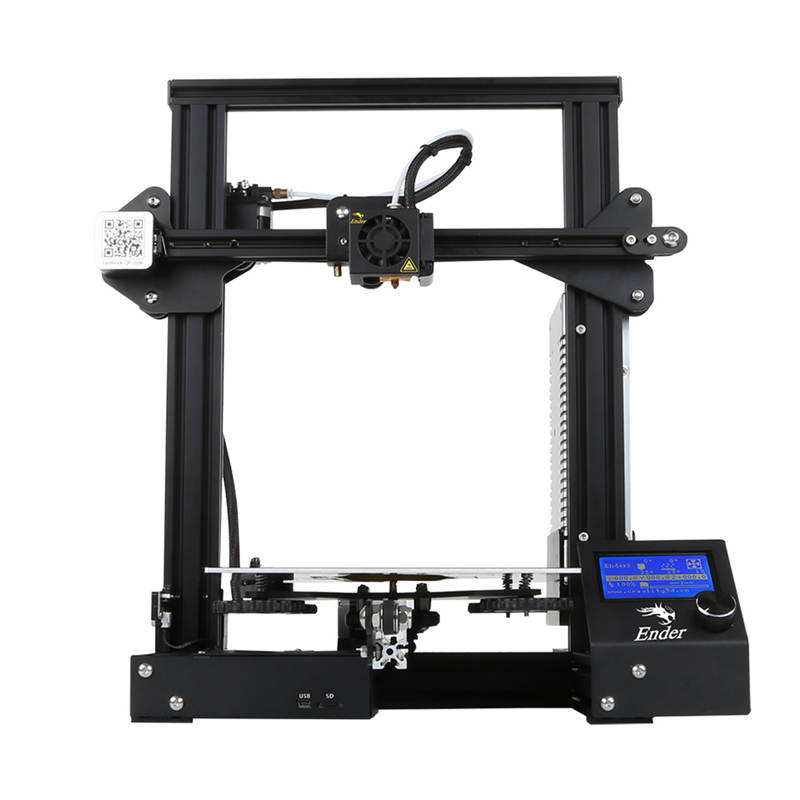 15 Best 3D Printer Manufacturers in The World
When it comes to choosing a 3D printer manufacturer, there are a lot of great options out there.
In this article, we'll cover details on the best 3D printer manufacturers & suppliers, along with our featured list of top 3D printer brands by industry recognized. But!
How to choose your right 3D printers?
There are a few key features to consider when purchasing a 3D printer. First, you'll want to think about the build volume, or the size of the objects that the printer can create. You'll also want to consider the print quality, which is typically measured in microns. The lower the micron count, the higher the quality of the print.
Additionally, you'll want to take into account the materials that the printer can use. Some 3D printers can only use plastic filament, while others can use multiple types of materials, like metals and glass. Finally, you'll want to think about the price of the printer and any ongoing costs, like replacement parts and filament.
What is 3d printer?
A 3D printer is a machine that creates three-dimensional objects by successively depositing layers of material. The first 3D printer was invented in the 1980s, and since then they have become increasingly popular, with a wide range of models available on the market.
3D printers work by following a digital model, which can be created using computer-aided design (CAD) software or scanned from an existing object. The model is then sliced into thin layers, which are printed one at a time to build up the final object.
There are a wide variety of materials that can be used with 3D printers, including plastics, metals, ceramics and even food. This means that there are endless possibilities for what can be created with a 3D printer.
What are the Disadvantages of 3D Printing?
3D printing is often touted as a revolutionary technology that will change the way we manufacture products. Indeed, the ability to quickly and cheaply produce complex objects has endless potential applications. However, there are also some drawbacks to 3D printing which must be considered.
For one, 3D printers are still relatively slow compared to traditional manufacturing methods. They also require a high level of operator expertise and can be very expensive to maintain. Additionally, the materials used in 3D printing are often not as strong or durable as those used in traditional manufacturing processes.
If you're looking for a 3D printer, then you'll want to check out the best 3D printer manufacturers. They offer a variety of features and advantages that will benefit you as a customer. For example, they offer high-quality printers that are easy to use and come with a variety of benefits.
Here are the ultimate list of best 3D printer manufacturers:
Best 3d Printer Manufacturers & Brands
Nexa3D, based in California, is a 3D printer manufacturer that enables ultrafast and scaled additive production, offering superior precision and quality. The company's printers are used in a variety of industries, including aerospace, automotive, medical and consumer goods. Nexa3D's technology is based on stereolithography (SLA) and uses Continuous Liquid Interface Production (CLIP).
Their fleet of industrial additive manufacturing solutions offers unparalleled speed, quality, and scalability for businesses and manufacturers. Their 3d printer products are designed to benefit their customers by providing them with the ability to produce high-quality products at a fraction of the time and cost of traditional manufacturing methods.
In just a few short years, Ultimaker has established itself as a leading name in the 3D printing world. The company's printers, software, and materials are all top-notch, and its commitment to open-source development means that users can always expect improvements and new features.
Ultimaker's printers are some of the most reliable on the market, and their ease of use makes them a great choice for both beginners and experienced users alike. The company's software is also excellent, with a user-friendly interface that makes it easy to get the most out of your printer.
The company's products are designed to accelerate 3D printing innovation and adoption around the world. The products are easy to use and allow customers to quickly create high-quality 3D prints. The products are also backed by a team of experts who are available to help customers with any questions or issues they may have.
The Ultimaker is based in Netherlands, but its global production facilities in Europe and the US.
3D printing technology has become more popular in recent years as it offers a quick and easy way to produce three-dimensional objects. Voxeljet is one of the leading manufacturers of 3D printing systems for industrial applications, and is known for its high quality and precision.
The company's products are used in a variety of industries, including automotive, aerospace, architecture, and medical. Voxeljet's 3D printers are able to produce parts with intricate designs and fine details.
They believe in developing their 3D printing solutions to benefit their customers and the environment. Their products are designed to be durable and efficient, saving your money and resources. They are constantly innovating to find new ways to reduce our environmental impact and improve products. Their goal is to be the leading provider of 3D printing solutions that are sustainable and responsible.
In 2011, three MIT graduate students built the first 3D printer that could achieve industrial, professional quality printing at a fraction of the cost of traditional methods. The technology has since been adopted by major corporations and is now used to produce everything from medical implants to aircraft parts.
They offer affordable, industrial-quality 3D printer that consistently produces functional, high-quality prototypes and end-use parts. The Formlabs 3d printer is fast, reliable, and easy to use, making it an ideal solution for prototyping and manufacturing applications.
The Formlabs Factory Solutions Team helps companies build additive 3d manufacturing solutions for their most important production challenges. The team offers a comprehensive suite of services, including design consultation, process development, and production support.
Formlabs has a proven track record of helping companies succeed with additive manufacturing. The team has a deep understanding of the technology and how to apply it to solve real-world problems. Formlabs is committed to helping companies succeed with additive manufacturing and is an ideal partner for companies looking to implement this transformative technology.
When it comes to industrial-grade 3D printers, there are few companies that can compare to Stratasys. Their machines use some of the most advanced technologies available, including FDM, PolyJet, SAF, P3, and Stereolithography. Stratasys has a long history of innovation and their printers are some of the most reliable on the market.
If you're looking for a professional 3D printer that will be able to handle your most demanding projects, then Stratasys is definitely worth considering.
They offer a wide range of materials to choose from. They also have a team of experts who can help with every step of the process, from design to production to post-processing.
Stratasys is a one-stop shop for all your 3D printing needs, and their products are backed by a team of experts who are always available to help.
Founded in 2015, Raise3D is a designer and manufacturer of large-format 3D printers.
Raise3D's printers are designed for use in a variety of industries, including education, health care, architecture, and manufacturing. The company's products have been used to create prosthetic limbs, dental implants, and architectural models. In addition to its line of 3D printers, Raise3D also offers a suite of software tools and services.
The Raise3D printer is built for professionals and advanced hobbyists who want to push the boundaries of what is possible with 3D printing.
Raise3D is committed to providing the best possible 3D printing experience for their customers.
ExOne is a global company that provides sand 3D printing systems and services using binder jetting technology. The company has a wide range of products and services that cater to different industries including aerospace, automotive, medical, and more.
ExOne's binder jetting technology is one of the most advanced in the market today. The company's printers are able to produce high quality parts with intricate details and smooth surfaces. In addition, ExOne's printers are also very fast, which makes them ideal for mass production.
The ExOne 3D printer offers a number of advantages over traditional sandcasting methods, including the ability to create complex designs with intricate details, and the ability to produce molds in a matter of hours rather than days or weeks. This makes the ExOne 3D printer an ideal solution for businesses that need to produce high-quality metal parts in a short timeframe.
The company also offers a wide range of materials that can be used with their printers. This includes metals, ceramics, glass, and more. ExOne also has a team of experts that can help customers with their specific needs.
Velo3D is a 3D printer manufacturer that provides an end-to-end metal 3D printing solution for mission-critical parts used for space exploration. The company's printers are capable of printing high-strength metals, such as Inconel and titanium, which are essential for many space-related applications.
Velo3D's software is also designed to handle the complex geometries often required for 3D printed parts used in space travel, supersonic and hypersonic flight, automotive tooling development, renewable energy, and advanced power production.
The Velo3D printers are constantly being improved and developed to meet the needs of these cutting-edge industries. As a result, the customer can be confident that they are getting a product that is of the highest quality and which will continue to perform at the highest level for many years to come.
In addition to its end-to-end solution, Velo3D also offers customer support and training, which is essential for those new to 3D printing. The company has a team of experts who can help with every step of the 3D printing process, from design to production.
Mantle is a leading manufacturer of 3D printers that helps manufacturers bring new products to life faster, cheaper, and more easily than ever before. With Mantle, manufacturers can create prototypes and production parts in a fraction of the time and cost of traditional methods.
Mantle is based on innovative additive manufacturing technology that builds parts layer by layer from a pool of liquid polymer. This process is much faster and less expensive than traditional methods such as machining or injection molding.
With Mantle's TrueShape 3d technology, you can create molds with very tight tolerances, which results in a better finished product. Additionally, the surface finish is much smoother, which gives the customer a higher quality product.
With Mantle, manufacturers can quickly create prototypes and test different design iterations before moving into production. This helps them save time and money by avoiding costly mistakes.
Mantle also offers a wide range of materials that can be used to create parts with different properties, such as flexibility or transparency. This makes it ideal for creating complex products that would be difficult or impossible to make with traditional manufacturing methods.
Among the best 3D printer manufacturers is MakerGear. The company designs, engineers, and manufactures top-rated desktop 3D printers for professionals and education. Their machines are known for their durability, precision, and ease of use.
MakerGear was founded in 2009 by a team of engineers with a passion for 3D printing. The company has since grown to become a leading provider of 3D printers and related products. In addition to their line of desktop 3D printers, MakerGear also offers a wide range of filaments, resins, and other materials.
MakerGear's products are used by some of the world's leading companies and institutions, including NASA, Boeing, Ford, and Harvard University. The company is headquartered in Ohio, USA.
MakerGear 3D printers are the perfect choice for educators because of their ease of use, low maintenance, and real support. The printers are designed to be user-friendly and require minimal upkeep. In addition, MakerGear offers excellent customer service and support, so educators can get help when they need it.
Based in UK, RPS specialises in industrial 3D Printing. Their engineering team is behind the Neo.
They have been in business for over 10 years and have worked with some of the biggest names in the industry. They are proud to be one of the leading suppliers of 3D printers in the UK and offer a wide range of services to their clients.
RPS provides high-quality industrial 3D printing hardware, material, and support solutions that enable industries to transform their digital manufacturing processes.
The company's products are designed to be easy to use and offer a wide range of benefits for customers, including the ability to produce high-quality prints, the flexibility to create customised prints, and the speed and efficiency of the printing process.
They offer a variety of different 3D printing services, including prototyping, production and bespoke designs. They also offer a wide range of materials and finishes, so you can create your perfect product.
Nanogrande is the first company in the world to offer additive manufacturing with molecular scale de. The company's innovative technology can produce objects with extremely precise dimensions, down to the nanometer range. This makes Nanogrande's 3D printers ideal for use in fields such as medicine and electronics, where small size and high accuracy are critical.
Nanogrande's 3D printers use a special type of "ink" made from molecules that can be precisely assembled into complex structures. This makes it possible to create objects with virtually any shape or size, limited only by the imagination of the designer.
The company's technology has already been used to create a wide range of products, including medical implants, eyeglass lenses, and even diamond jewelry. With its unique capabilities, Nanogrande is poised to revolutionize the field of additive manufacturing.
AddUp is a French Joint Venture and was created in 2015 by Michelin & Fives with the aim of providing innovative additive manufacturing solutions to the industry.
AddUp has developed two machines for the production of metal parts: the PBF (Powder Bed Fusion) and the DED (Direct Energy Deposition). Both machines are capable of producing high quality parts with a high degree of accuracy. AddUp also manufactures a range of parts and accessories for these machines, which are available to purchase separately.
Their experts can help you choose the right 3D printer, design and optimize your models for 3D printing, and troubleshoot any issues that you may have. Their goal is to help you make the most of 3D printing in your business.
In 2011 B9Creations was founded by Michael Joyce. So when he learned about 3D printing technology and its potential to change the world, he knew he had found his calling.
B9Creations is now one of the leading 3D printer manufacturers, and their machines are used by everyone from hobbyists to major corporations. Joyce's mission is to make 3D printing technology accessible to everyone, so that everyone can benefit from its transformative power.
Their 3D technology has been advancing at a rapid pace and the benefits to customers are vast. With an ever-expanding resin line, businesses can find the perfect material for their needs.
The printer equipment is also constantly being updated to meet the changing demands of industry. By investing in this technology, they can stay ahead of the competition and create products that their customers will love.
Carbon has developed a 3D printing platform that it says can rapidly design, develop and scale production of better products in less time. The Carbon platform is said to be able to produce products with greater strength and accuracy than traditional manufacturing methods. Carbon's technology is also said to be more flexible, allowing for the creation of custom products.
With the Carbon 3D platform to short the design cycle, while reducing the need for expensive tooling and prototyping. The technology also gives users the ability to customize products on-demand and produce them in small batches. This results in a more agile manufacturing process that can quickly adapt to changing market demands.
The company has been working with manufacturers such as Adidas, Ford and Nike to create new products using its platform. Carbon says its technology can help companies save money and speed up the product development process.