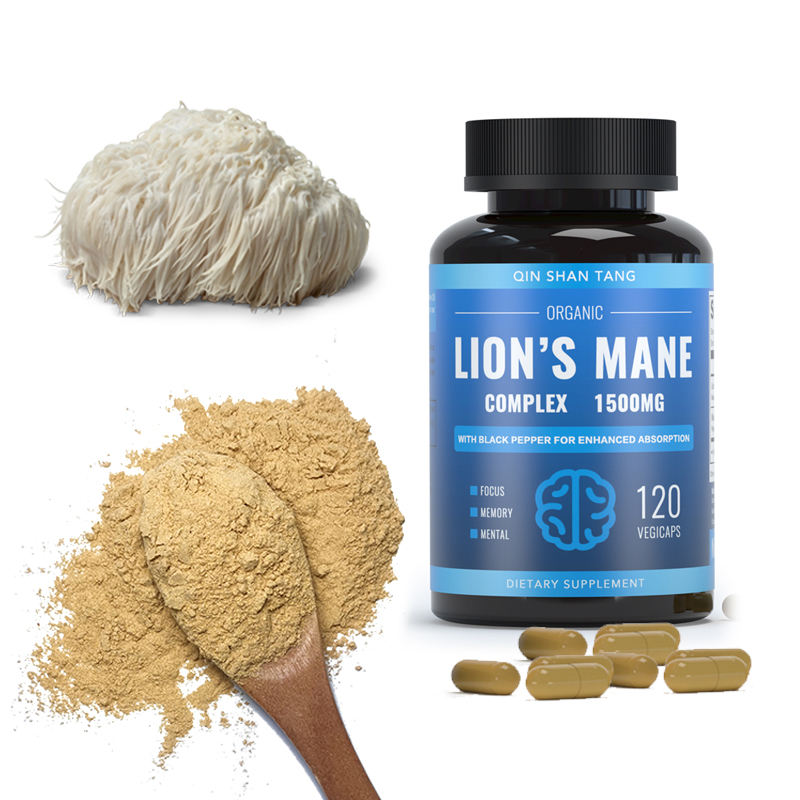 Top 25 Private Label Supplement Manufacturers
Private-label supplements are growing in popularity among health-conscious consumers. With the demand for dietary supplements growing, many companies now offer their unique blends of vitamins and minerals as private-label supplements.
These supplements are specifically tailored to meet the individual needs of each consumer, allowing them to get the most out of their nutritional intake. This article explores the benefits of private-label supplements, how to choose the right one for you, and where to find them.
Definition of Private Label Supplements
Private label supplements refer to brand owners (such as nutrition stores, retailers, travel agencies, etc.) who establish their brands but are supplements produced by third-party manufacturers.
These third-party manufacturers process the raw material into the final product, labeled as the brand owner's private label. Private-label supplements offer affordable options to meet the diverse needs of customers. They also provide customization and flexibility to meet individual customer needs.
Benefits of Private Label Supplements
Private Label Supplements can provide numerous benefits to consumers. Private-label supplements are those that are manufactured by a company but are sold under the label of a different company. This allows the original manufacturer to offer their product to a larger audience while allowing the purchasing company to put its branding on it.
1. Cost Savings: Private-label supplements are typically cheaper than those sold under a national brand name. This allows consumers to save money on accessories without sacrificing quality.
2. Variety: Private label supplements allow consumers to purchase from a more extensive selection of products. This will enable them to choose a supplement tailored to their needs without settling for a generic product.
3. Quality: Private-label supplements are usually made with higher quality ingredients than national brands. This ensures that the supplement is pure and effective.
4. Customization: Private-label supplements can be customized to meet the consumer's specific needs. This allows them to get the exact accessory best suited to their needs.
5. Branding: By purchasing private label supplements, a company can create its brand and increase its visibility. This can help a company stand out from the competition and increase sales.
Types of Private Label Supplements
Private-label supplements are increasingly becoming popular among consumers due to their affordability and convenience. Third-party manufacturers produce private-label supplements without any brand name attached. They are often cheaper than brand-name supplements and can be customized to meet users' needs.
Many different types of private-label supplements are available. Here are some of the most popular:
1. Protein Supplements: Protein supplements are a great way to get the essential amino acids needed for muscle growth and repair. Private-label protein supplements come in various forms, such as shakes, bars, and powders.
2. Energy Supplements: Energy supplements often help people improve their performance and avoid fatigue. Private-label energy supplements include pills, shots, and drinks that boost energy when needed.
3. Pre-Workout Supplements: Pre-workout supplements help athletes and fitness enthusiasts maximize their performance. Private-label pre-workout supplements include pills, powders, and drinks that boost energy and focus before a workout.
4. Weight Loss Supplements: Weight loss supplements are popular among those looking to lose weight. Private-label weight loss supplements come in pills, shakes, and drinks that can help people burn fat by increasing their metabolism and suppressing their appetite.
5. Vitamins and Minerals: Vitamins and minerals are essential for optimal health. Private-label vitamins and minerals come in the form of pills, powders, and drinks that can help people to get the nutrients they need to stay healthy.
6. Herbal Supplements: Herbal supplements often help people improve their health and well-being. Private-label herbal supplements come in pills, powders, and drinks that can provide various benefits, such as improved energy, digestion, and immune system.
Top Private Label Supplement Manufacturers in USA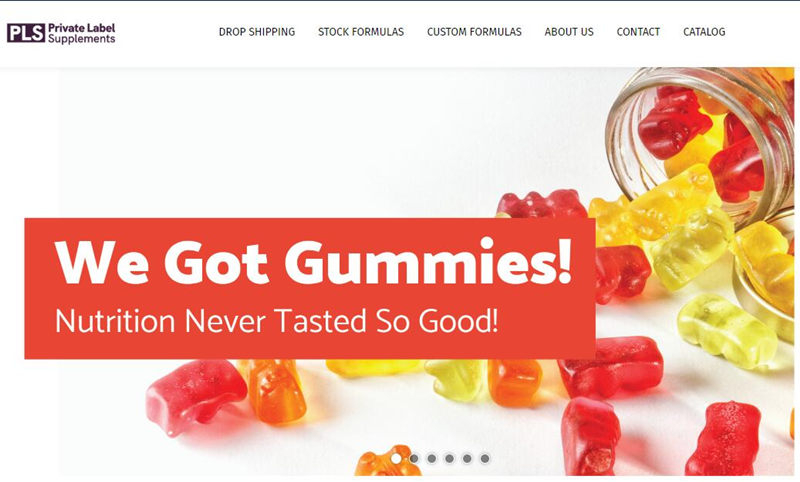 Private Label Supplements is dedicated to being the best contract manufacturer of dietary supplements and beauty products in the US while also focusing on customer care. The company values quality, purity, and composition standards set by the FDA as operational requirements.
Their internal culture is critical to exceptional service and products, and they strive to be the exception in an industry with low-quality systems. They acknowledge the challenges of their industry's regulations but recognize that their reputation depends on the products they send out.
As entrepreneurs, they understand what their clients go through and aim to support their customers as they scale up their businesses. Finally, they are committed to longevity, driven by their strength of vision and drive.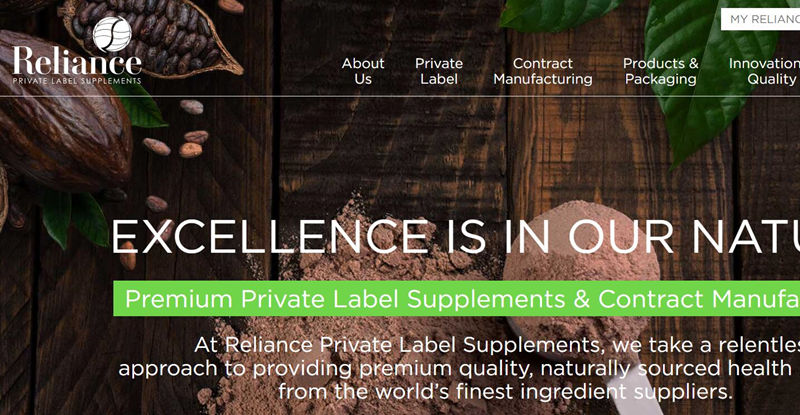 Reliance Private Label Supplements is a global innovator in health and wellness, focusing on premium quality, naturally sourced health products. They have a passion for innovation and seek it everywhere to create innovative products that bring value to their customers.
The company comprises health enthusiasts committed to improving themselves and maximizing their potential, with a forward-looking vision to help partners and customers reach their full potential.
Reliance values excellence and strives to find the next breakthrough ingredient to benefit retailers and select brands. They embrace healthy lifestyles and a culture of curiosity, personal growth, and accountability while contributing to team members and the community.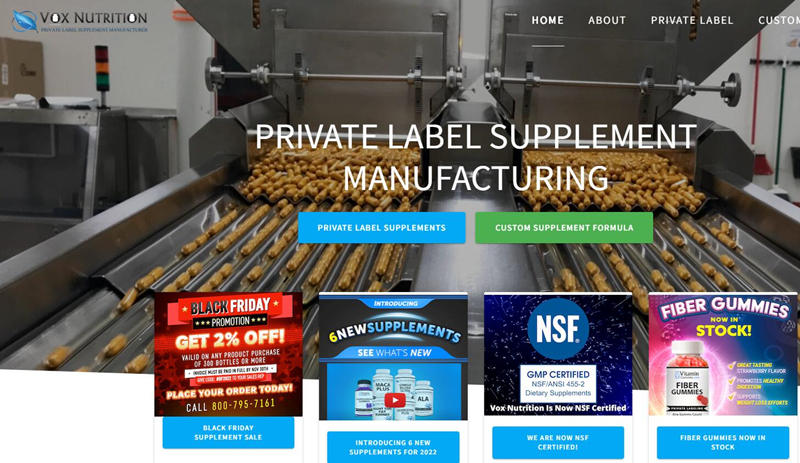 Vox Nutrition is a leading provider of private-label supplements, offering a one-stop shop for supplement manufacturing and sourcing needs. With over 125 top industry supplements in stock, they provide fast turnaround times with low minimum order quantities.
They are a certified GMP contract manufacturer, able to help customers build their own custom supplements while also offering proven and superior supplement products that are top sellers online and on Amazon.
The company was founded by President Charlie Estes, who understands the unique challenges both retail and wholesale businesses face, having owned several fitness and nutrition companies since 2002.
Vox Nutrition's state-of-the-art supplement manufacturing facility has the capacity to produce more than 200 million capsules per month, making them the largest supplement encapsulation company in Utah. The company is dedicated to providing high-quality and effective supplements, with a focus on customer success, whether selling online through Amazon, in big box stores, or launching a new brand.

Private Label Express is a U.S.-based, state-of-the-art vitamin and herbal supplement manufacturer that provides high-quality products and world-class one-on-one account support to top-ranked Amazon and e-commerce sellers. They were founded in 2010 to create a unique dietary supplement manufacturing company that is a true partner for all its clients.
With low minimum order quantities and expertise in high-demand supplements, they seek to be the last private-label supplement manufacturer their clients will ever need. They are Amazon, FBA, and Drop Ship Friendly.
CEO & Founder Robert De Lima has a background in the pharmaceutical industry and sought to address issues faced by dietary supplement brands when dealing with nutraceutical suppliers, including poor communication and unreliable turnaround times.
Private Label Express was built to create the ultimate partnership experience for brand owners of all sizes, offering market-tested and market-proven products made from quality ingredients and exceeding industry standards.
Vitalabs is a family-owned and operated company based in Georgia, specializing in private-label vitamins, custom formulations, and top-quality nutritional products with over 40 years of experience in the industry.
They offer private labeling, custom formulations, drop shipping, and creating single-serving packets, tablets, capsules, and powder. The company maintains over one hundred stock formulations and products to serve companies of all sizes.
Vitalabs has a passion for excellence and customer service, and they strive to create a customer-centric environment that exceeds expectations in quality, value, and support.
They rely on their expertise and proven track record to maintain the highest level of quality control, from order origination to fulfillment. Customers enjoy personalized attention from friendly account representatives rather than automated answering systems.
NutraCap Labs is an Atlanta-based manufacturer of high-quality Nutraceuticals/Dietary Supplements. They specialize in encapsulation manufacturing, sports nutrition and raw health powders, product formulation, brand design, and distribution, and are GMP compliant and FDA registered.
Private Label manufacturing is the fastest growing sector of their business due to the relationships they have built with customers. Their experienced management team is committed to bringing ethics and professionalism to the industry. Through their sister company, Active Wholesale USA, they market and sell some of the health and fitness industry's most popular supplements worldwide.
NutraCap Labs aims to partner with customers to create the best products possible through custom formulation, in-house label design, and other services. They are rapidly expanding their Sales and Operations teams in Atlanta and seek qualified individuals with a great attitude to join their team. NutraCap Labs offers end-to-end services to turn ideas into products and products into brands, taking brands to the next level and beyond.
SMP (Supplement Manufacturing Partner) is a young and rapidly growing company that specializes in manufacturing and packaging over-the-counter vitamins and supplement products. They offer vitamin products in capsule, tablet, powder, and gummy form to help brands sell to their customer base.
SMP Nutra ensures that the supplements are produced with high-quality equipment and raw materials, which they store in their warehouse worth over $20 million. They offer accurate price quotes within 24-48 hours and guarantee a four-week turnaround time for orders.
The company offers over 8,000 raw material choices and attends international supplier expos to find the best quality raw materials worldwide. SMP's mission is to be the best partner in supplementing manufacturing by providing competitive and trending formulas while maintaining constant communication with clients.
Their manufacturing operation is GMP and FDA-registered, boasting modern machinery, state-of-the-art industrial HVAC systems, three laboratories, and a massive selection of in-stock products for lower MOQ and competitive prices.
On Demand Fulfillment is a company that provides fulfillment services for over 110 different private-label nutrition supplements and skin care products. They help businesses and entrepreneurs build and grow their brands by offering inventory, warehousing, and shipping services.
On Demand Fulfillment has over ten years of experience in bottling, private labeling, and selling nutritional products. Their team of experts supports starting a personal label supplement business and helps businesses grow by launching new supplements and expanding to new sales platforms.
With On Demand Fulfillment, there is no need to lease a warehouse or office space as they handle the shipping process from their state-of-the-art facility. The company offers a variety of popular supplements, skincare, and hair products, eliminating guesswork for customers.
Makers Nutrition is a one-stop-shop supplement manufacturing service provider specializing in making the supplement manufacturing process straightforward for their clients. They offer various services, including manufacturing, label design, packaging, and order fulfillment.
With a team of professionals specializing in customer care, production management, quality control, graphic design, IT, laboratory science, research, and development, Makers Nutrition is structured for success. Their manufacturing facility has ultramodern machinery that can quickly handle large work orders, with a sophisticated HVAC system to ensure temperature and air quality control.
Two GMP-mandated laboratories are available for raw material testing, label analysis, and final product quality assurance. The company stocks over $10 million worth of raw materials from around the world in its sizeable raw material warehouse, ensuring accurate price quotes within 24-48 hours and a four-week turnaround time.
Makers Nutrition's focus on high operational output, streamlined processes, and high-quality ingredients make them stand out from other supplement manufacturers. They encourage clients to present an ingredient wish list to produce unique and marketable products beneficial to their targeted consumers.
BL Bio Lab is a custom manufacturer of private-label supplements, white-label supplements, vitamins, custom supplements, bulk supplements, and wholesale supplements.
They specialize in manufacturing powders, tablets, capsules, liquids, oils, serums, creams, and gels, with their experienced in-house PH.D. Research & Development staff and formulation engineers can make nearly anything they are presented with. Private labeling is one of their primary services, providing everything from formulation to production and packaging.
Private labeling offers excellent brand exposure, increases brand visibility, and makes a statement. It also saves time and money, as businesses can deliver a product they know and trust. BL Bio Lab's good manufacturing practices ensure the highest quality products for their customers.
The company offers private-label supplements, including skin care, sports nutrition, weight management, and nutraceuticals. It allows businesses to provide custom products to their clients with the flexibility to set their prices, protect margins, and increase sales and profits.
PureNSM is a nutritional supplement manufacturer that specializes in turning an original formula or idea for a nutritional supplement into a finished product ready to be marketed and sold. They offer three ways to sell accessories to label owners: contract manufacturing, private label, and co-formulations.
PureNSM's minimum order for contract manufacturing is 500 units, while private-label supplements have a minimum order of 12 teams. They also manufacture branded accessories for Dr. Clark Store or Bernard Jensen's. The company was established in 2011 by its parent company Self Health Research Center, which has been specializing in manufacturing pure supplements since 1993.
PureNSM defines a private label as a supplement product stored in their warehouse without a label attached. It allows brand owners to put their labels on the supplements and reduce the minimum amount needed to be ordered to only 12 bottles.
NutraScience Labs is an award-winning contract manufacturer of the customized capsule, tablet, powder, and soft gel products that support healthy weight loss, vision, cognition, digestion, and more. They offer full-service solutions for graphic design, packaging, and order fulfillment to dietary supplement companies of all sizes and budgets.
NutraScience Labs has over 50 years of experience in providing superior quality supplements that are manufactured according to mandated cGMP guidelines, rapid lead times, out-of-the-box powder supplement flavoring capabilities, manufacturing price quotes within 48 business hours, competitive price points using the highest quality ingredients, and dedicated account management services available 24/7/365.
The company is a Twinlab Consolidation Corporation subsidiary headquartered in Farmingdale, New York. Their formula for dominating the industry centers on having a reliable contract manufacturing partner. Their team possesses the knowledge and resources needed to create high-quality dietary supplement products that brand owners can proudly put their name on and bring to market.
NutraPak USA is a contract manufacturer and supplier of private-label supplements, offering softgels, gelcaps, caplets, tablets, capsules, and liquids in various types of packaging. They provide high-quality products with competitive pricing for private label retailers and contract manufacturers across the United States.
NutraPak USA has worked with leading brands in the natural products industry and pharmaceutical companies to produce unique formulations and combinations for their respective markets. They are committed to providing green, eco-friendly, and sustainable packaging options to meet the needs of environmentally-conscious consumers.
With state-of-the-art facilities in Clifton and East Rutherford, New Jersey, they offer various manufacturing services designed to fit the diverse needs of multi-sized corporations nationwide. NutraPak USA's mission is to deliver unparalleled quality and excellence in every product, no matter the size or nature of the project.
They are dedicated to fulfilling the packaging needs of their clients' contact packaging projects and earning their business as a reliable supplement supplier.
Private Label Supplement Manufacturers UK
Nutribl is a leading UK developer and producer of private-label foods and supplements, providing flexible and streamlined services to businesses looking to develop their range of nutritional products.
Their fully integrated branding, labeling, and distribution service is supported by a complete package of support services, ensuring clients are looked after from concept to distribution. Nutribl's scalable and guaranteed quality production allows them to service businesses of all sizes with competitive pricing and high-quality products made to GMP standards.
They have over 120 stock product formulas for private labels, including vegan and organic certified items, with no minimum order quantities.
Nutribl offers comprehensive solutions, from product development to packaging and labeling design, regulatory support, and even dropshipping services. Their goal is to make it easy for clients to focus on growing their business while they handle the rest.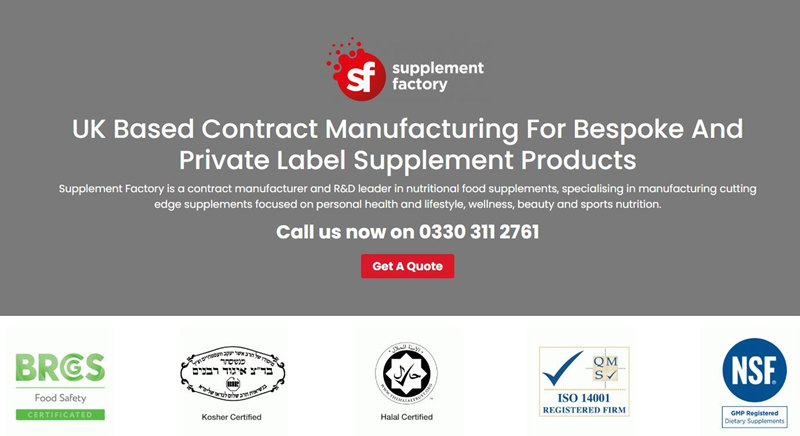 Supplement Factory is a UK-based contract manufacturer, and R&D leader focused on nutritional food supplements, including capsules, powders, tablets, and probiotics. With an authentic NSF-certified Good Manufacturing Practice and AA-grade BRC accreditation, they offer the highest quality products and services, always striving to exceed customer expectations.
Their experienced account managers guide clients through the product development process, from brainstorming concepts to finalizing formulations and creating branding and labels. Additionally, their dedicated packaging expert ensures the best sustainable packaging options, allowing customers to leave their mark on the industry.
Supplement Factory's extensive knowledge of the supplement industry means they can create the perfect formulation for each customer, with access to over 2,000 ingredients and a global supply of raw materials.
For over 50 years, G&G Food Supplies has been a leading manufacturer of vitamins and supplements. Based in South East England, the company is certified by MHRA, HFMA, AIB, FDA, and more and is proud of its quality certifications, always upholding the highest standards.
Specializing in organic, vegan, non-GMO, and free-from products, G&G is committed to delivering pure ingredients without the use of fillers and excipients, and their advanced encapsulation technique allows them to provide some of the most pristine nutraceuticals available.
Further, G&G is a family-run business committed to ethics and responsibility and a zero-compromise approach to quality and standards. They are dedicated to helping customers grow their brands from inception to success, offering expert guidance at every stage. Moreover, G&G provides a range of supplement packaging solutions and is available for product consultation.
ParkAcre is a fully integrated contract manufacturer of Vitamins, Minerals, and Supplements (VMS) in the UK. With over 400 products and 1000s of custom formulations, they offer services such as custom formulations, private label supplements, and packaging options.
Their experienced team provides advice and guidance to help customers meet expectations and enhance brands. Their sales team handles accounts and provides support along the way. They strive to exceed expectations and help customers differentiate themselves from competitors.
Their manufacturing facility also allows them to be flexible with production, utilizing several packaging, capping, and labeling machines for a consistently high-quality finish. Founded in 2004, they are committed to providing quality VMS products, services, and innovation while being mindful of their environment and local communities. Their quality management system is certified to BRC, ISO 9001, and SGS GMP standards.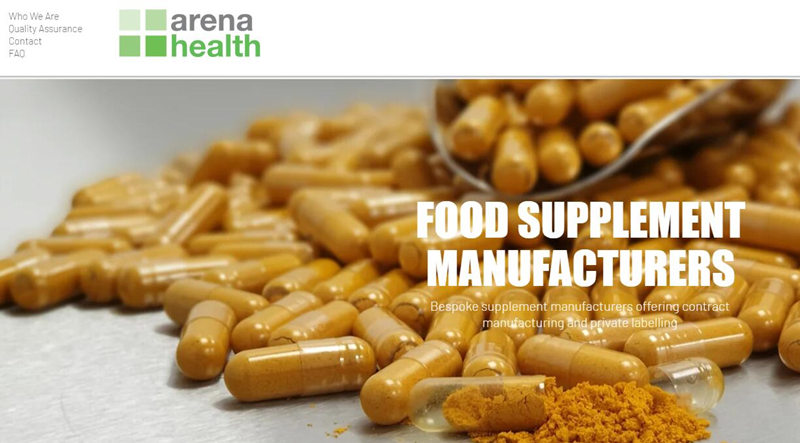 Arena Health is an experienced UK contract manufacturer of health supplements specializing in powders and two-piece hard capsules. They offer custom formulations tailored to individual needs and specifications, including vitamins, minerals, nutraceuticals, meal replacements, and protein shakes.
Their rigorous quality control process, backed by SALSA certification, guarantees the highest standards for safety and consistency. Organic products can be produced with the use of the Soil Association logo.
Additionally, their protein experts can help you design custom protein powder with premium packaging. With over 20 years of experience in the industry and modern facilities, they are committed to producing the best quality products.
Oxford Contract Manufacturing is a leading supplement manufacturer in Europe that was established in 2012. The company is located in Oxfordshire and utilizes a state-of-the-art facility to manufacture over 1,000 ingredients and hundreds of formulations for clients worldwide.
They specialize in helping new brands develop and launch products and private-label supplement services. Their production services include tablet and capsule manufacture, effervescent tablets, oils, powder mixes and blends, raw ingredients, sachets, stick packs, and sublingual tablets.
Their facility is ISO 22000 and GMP certified, and they deal with the FSA, MHRA, FDA, Trading Standards, and Organic Food Federation. All ingredients go through rigorous quality control and third-party microbiological testing.
Oxford Contract Manufacturing has experience working with over 150 products and brands globally while also providing a cloud-based traceability system and global Product Liability Insurance Policy* to satisfy customers and governing bodies.
Bee Health is an established UK-based manufacturer of vitamins, minerals, supplements, and superfoods, founded in 1992. The company produces over 400 million tablets and capsules per week at its 80,000 sq. ft. advanced facility, supplying customers in over 40 countries.
Bee Health's private label services and contract manufacturing capabilities allow businesses of any size to develop and deliver a wide range of products, from tablets and capsules to liquids, gels, creams, and powders.
The company has received various awards, including 'Supplier of the Year' and 'Best Vitamins, Herbals, Minerals & Supplements Supplier' from a leading UK health retailer, and being named one of '1000 Companies to Inspire Britain' by the London Stock Exchange Group.
Bee Health's pharmacologists, chemists, and research scientists work with the finest ingredients to create the most advanced formulas. The company is most well known for its Bee Health Propolis products and its FSC Supplements, vitamins, and superfoods.
Private Label Nutrition has specialized in producing private-label sports and health care supplements for large and small businesses for many years. Their state-of-the-art manufacturing facilities in Lancashire, UK, are equipped with some of the most advanced tablet compression and encapsulation machinery. Their cleanroom facilities provide testing, blending, dispensary, and packaging services.
They offer contract manufacturing options for small and large orders, and their existing product range is perfect for those looking to start or expand their product line. Their tableting services include a selection of shapes, sizes, and release types, and their encapsulation services offer a range of sizes and colors in both gelatin and vegan/vegetarian capsules.
They also provide soft gel formulation services. Additionally, their in-house designers can offer custom-label designs for any product. With expertise and quality production, Private Label Nutrition is the perfect partner for any business looking to enter or grow in the booming private label industry.
IVC Brunel Healthcare is the UK's top vitamin manufacturer, specializing in producing vitamin, mineral, and nutritional supplements. Their UK production facility has a variety of goods available worldwide, and their customer base includes some of the world's leading retailers and pharmaceutical companies.
The company is based on a 30,000 m² facility in Derbyshire, which has operated since 1865. In 2014, they opened a second facility just 500m away, and in 2016 they became part of the IVC family, further investing in their people, facilities, and infrastructure.
IVC is a global leader in the vitamins, minerals, and supplements market, with ten international manufacturing sites and employing over 2,500 people. They offer category management support such as market tracking and analysis, retail price and promotions monitoring, merchandising support, project management, range reviews, artwork guidance, and regulatory and legislative advice.
Best Canadian Supplement Manufacturers
NutraLab Canada is a prominent contract manufacturer specializing in private-label and custom formula natural health and vitamin supplement products. With over 25 years of experience, NutraLab has become one of Canada's premier custom natural health supplement manufacturers, producing some of the market's leading nutraceutical, herbal, and vitamin supplement brands.
The company has a pharmaceutically designed plant with fully GMP-compliant and FDA-inspected infrastructure, including HEPA air purification and a reverse osmosis water filtration system. All manufacturing, packaging, and warehousing facilities are designed according to the latest FDA and Health Canada GMP requirements.
NutraLab offers innovative natural health supplement products with the highest quality ingredients and formulas, meeting regulatory requirements and label claims.
The company values long-term partnerships by providing professional teams of scientists, laboratory technicians, purchasing teams, graphic designers, and customer relationship executives working together to develop and produce pre-registered and original formulas.
NutraLab is part of the Honson Pharmatech Group of companies and has proven itself as one of the world's leading natural health supplement contract manufacturers.
Dynamic Supplements is a leading contract manufacturer of sports nutrition, vitamins, and health supplements in North America, providing quality services and products to brands across the continent. They cater to start-ups and existing companies, offering custom formulation and private labeling services. Their team is built on high moral values and integrity, ensuring customer satisfaction.
They provide a range of health supplements and proteins to improve the general public's health. Their In-House Graphic Designer can also offer label ideas, creating a unique brand that can be easily identified on shelves. All labels adhere to government requirements and regulations, such as those set by Health Canada and the FDA.
Dynamic Supplements is the contract manufacturer customers can rely on for private labeling. They are committed to helping brands achieve their long-term goals with strategies and product lines that meet customers' needs.
Avive Naturals is a Canadian-based company specializing in partnering with professional clients to build their professional practice & supplement business. Their services include formulation, custom packaging & labeling, product licensing & testing.
They are licensed by Health Canada to manufacture Natural Health products and are an FDA-registered facility operating in strict compliance with cGMP standards. They provide over 700 premium, science-based ingredients from leading manufacturers and ship to 27 countries worldwide.
Conclusion
In conclusion, the research for the top 25 private-label supplement manufacturers has revealed an array of high-quality suppliers available to make your custom supplements. From companies specializing in small batches to those providing larger bulk orders, there is a manufacturer that can meet your needs.
Supplement manufacturers have the right resources to help you create a product that meets the highest standards with unbeatable prices. Doing proper research and selecting the right private-label supplement manufacturer is essential to ensure your product's success.