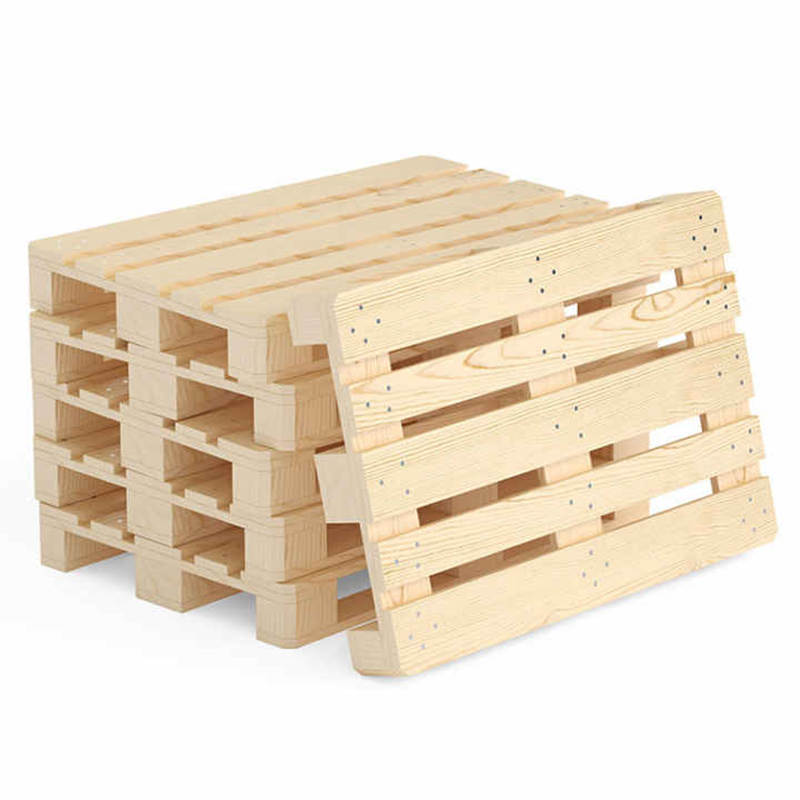 Top 110 Pallet Suppliers & Companies
Pallets are essential components of the modern supply chain. They make it possible to transport goods in a safe and cost-effective way. For businesses looking for reliable pallet suppliers, this article is an invaluable resource.
Here you will find a comprehensive list of the top 110 pallet suppliers and companies from around the world along with information about their products and services. Whether you're searching for domestic or international suppliers, this article has you covered.
Best 5 Pallet Manufacturers USA
River City Wood Products is leading pallet distributor and supplier, providing high-quality wood products to businesses across the United States and Canada. Their company supplies top-grade materials for creating custom pallets and crates that meet any customer's needs. Our innovative designs create stronger, more durable packaging solutions that provide maximum protection to goods during transport.
At River City Wood Products, the team of highly skilled professionals use the latest technology and techniques to ensure their customers receive quality products in a timely manner. Their experienced staff can help you choose from wide selection of pallets, whether it's a single skid or multiple units for larger shipments.
They also offer repair services and new production capabilities, including heat treatment for international shipments. With competitive pricing and unparalleled customer service, they strive to exceed expectations every time!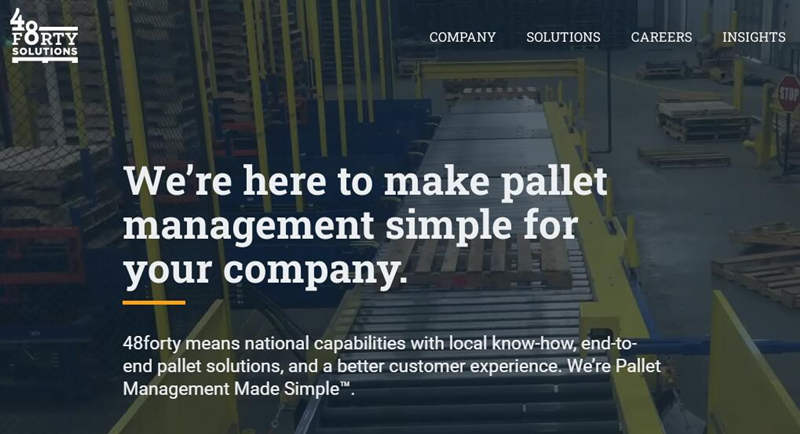 Began in 1996, 48forty Solutions is a top pallet supplier that offers national capabilities with local know-how and end-to-end pallet solutions. The company provides customers with a better experience from start to finish, taking the hassle out of managing their pallets. 48forty has over 250 million pallets in circulation each year, making it one of the largest suppliers in North America. Their vast network of regional locations ensures they are able to deliver quality service to customers regardless of location.
The company offers customized services to meet any specific customer needs, while also offering comprehensive repair and rental options as well as supply chain solutions. They provide on-site inventory management and offer real-time tracking for peace of mind.
Founded in 1989 Austin Pallet has provided high quality pallets and custom designed products to customers for 30 years. Their commitment to excellence has earned them a solid reputation as one of the top pallet suppliers in the country. Whether you need standard or specialty sizes, their experienced team can create customized pallets for any project.
They specialize in heat-treated wood pallets that meet all international export requirements, making them ideal for shipping overseas. Their state-of-the-art manufacturing facility produces a wide variety of innovative solutions that meet your needs while providing superior quality and affordability. With an onsite design center, they are able to quickly design custom solutions with precision accuracy and fast turnaround times that exceed industry standards.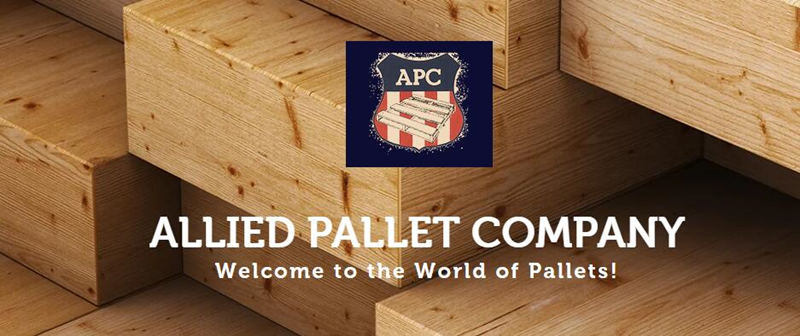 Their number one priority is providing excellent customer service. They understand how important it is to customers that their orders are delivered on time and in perfect condition. This is why they have been in business since 1972; to ensure that all of customers have access to the best quality pallets at competitive prices.
They work hard to make sure that every customer receives personalized attention when placing an order with them, no matter how small or large the order may be. They also understand that some orders require special arrangements, so they strive to provide flexible and accommodating services for customers' unique needs.
The team works diligently throughout each process—from selecting the right pallets for your needs, shipping them safely and quickly, and tracking delivery—to guarantee complete satisfaction from start to finish.
Today, the company is one of the top pallet suppliers in the United States. It manufactures heat-treated, ISPM-15 certified wooden pallets that are used in a variety of industries including food and beverage, chemical, automotive and packaging since 1907. In addition to supplying wooden pallets, Fruit Growers Supply offers many other products such as reusable plastic bins, bulk containers and corrugated boxes.
The company offers custom design services for all of its products as well as technical support to ensure customer satisfaction. The company also provides supply chain automation solutions that utilize barcode labels and RFID tags to help customers streamline their production processes.
Top 5 Pallet Companies Canada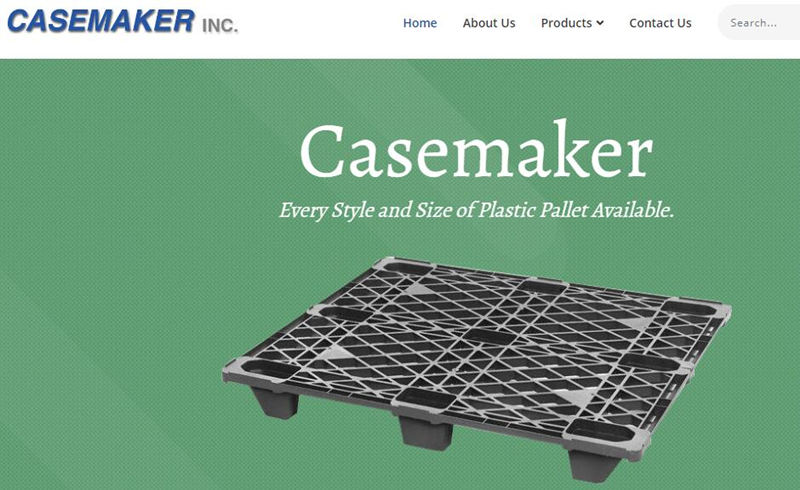 Businesses of all sizes rely on quality plastic pallets to transport goods more efficiently and safely. Finding the right supplier is key: it must provide top quality products at competitive prices.
Casemaker Inc is one stop supplier that offers an extensive selection of plastic pallets, composters, rain barrels, recycle boxes, dairy crates, waste bins, tote boxes, bulk bins and collapsible crates — all of which are higly durable and cost-effective solutions for businesses' needs. To support their customers better Casemaker also provides custom design options with quick delivery timeframes.
Casemaker Inc is well-known in the industry as a reliable source for high-quality products at competitive prices – making them a go-to choice for plastic pallet suppliers & companies.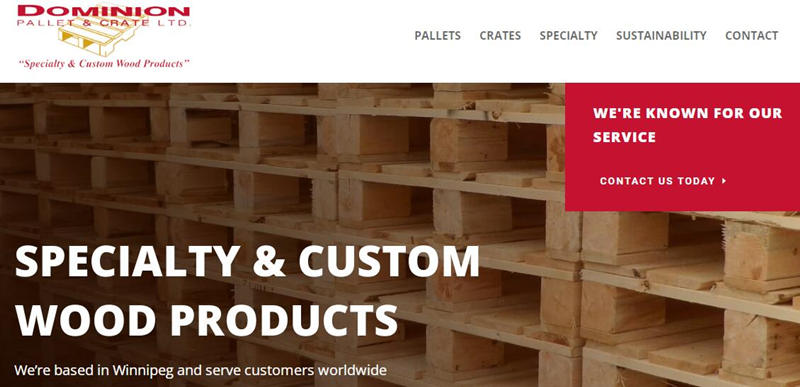 Dominion Pallet & Crate Ltd is one of the top pallet suppliers and companies in North America. The company has been providing quality manufactured new wooden pallets, crates, boxes, and various other forms of wood packaging products since 1995. With offices located across Canada and the United States, Dominion P. has gained extensive expertise in supplying all types of wooden products for heavy-duty applications as well as light-duty ones such as furniture and artworks.
Customers can rest assured that each product supplied by Dominion Pallet & Crate Ltd is made from high-quality materials with rigorous quality control measures put in place to ensure customer satisfaction every time. In addition to providing standard sizes for their products, customers can also request custom sizes to meet specific requirements or needs. Certification documents are also available upon request to provide assurance of sustainability standards met.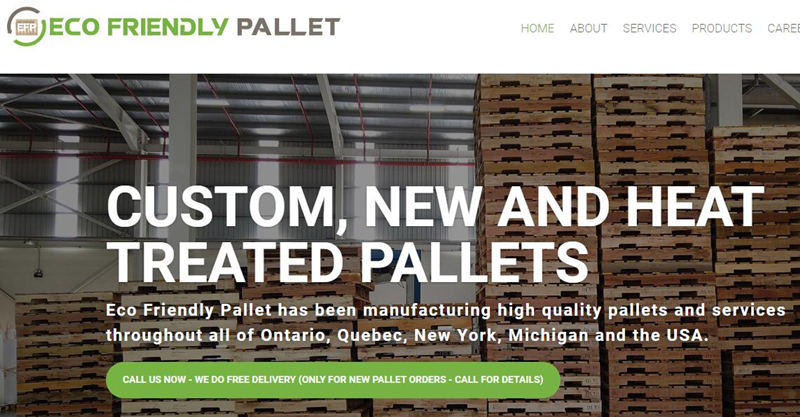 At Eco Friendly Pallet Company, they offer comprehensive pallet management programs tailored to your specific needs, no matter what size and type of warehouse you have. Their team is composed of highly trained professionals who are knowledgeable about the different types of pallets and can recommend the most suitable ones for your operation.
Their services include providing heat treated, new, and recycled pallets so that every customer gets exactly what they need in terms of durability and cost-efficiency. They provide quality solutions for any size warehouses with a focus on customer satisfaction. Additionally, their team can also advise customers on how to best use their space to ensure maximum efficiency. With their expertise and experience in this field, they guarantee excellent results every time!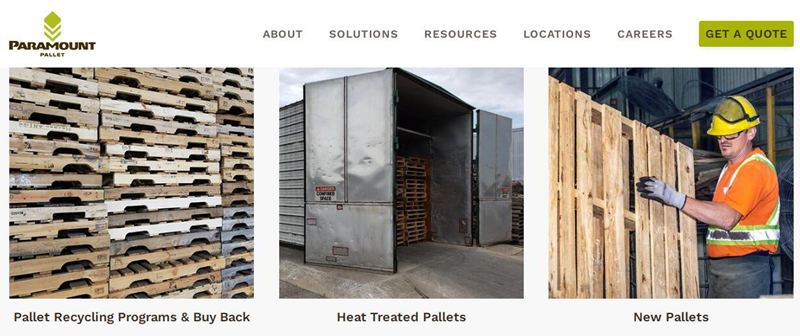 Paramount Pallet is the premier provider of pallet solutions in Canada. With a national network of six company-owned and operated facilities, they are the largest full-service pallet solutions company in the country. Paramount Pallet offers a wide range of services, including custom design and manufacturing, repair, reconditioning, and recycling as well as distribution of new and used pallets across all provinces.
No matter what type of pallet your business needs, Paramount Pallet has you covered with an extensive selection that includes wood, plastic, metal and corrugated varieties. From standard to custom sizes to specialty styles such as four-way or two-way entry blocks for heavier load applications—Paramount Pallet has got it all!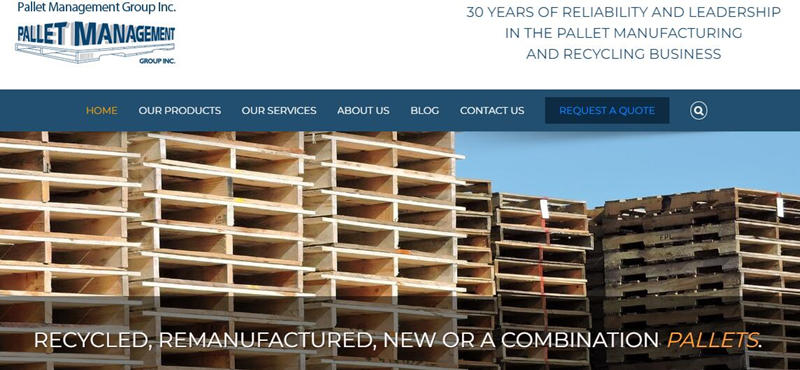 With over 30 years in business, Pallet Management Group has become one of the top suppliers and companies in the industry. Their goal is to provide clients with superior service and deliver a product that exceeds their expectations. They are dedicated to offering efficient storage solutions that not only meet client needs but also add value to their businesses.
They take pride in the quality of each and every pallet manufactured at our facility, using sustainable resources that comply with all environmental standards. Their team of experts works hard to guarantee a durable and strong product so you can rest assured your goods will be properly transported when loaded onto one of their dependable wooden pallets. In addition, they offer custom designed pallets tailored specifically for your project requirements.
top 4 Pallet Suppliers UK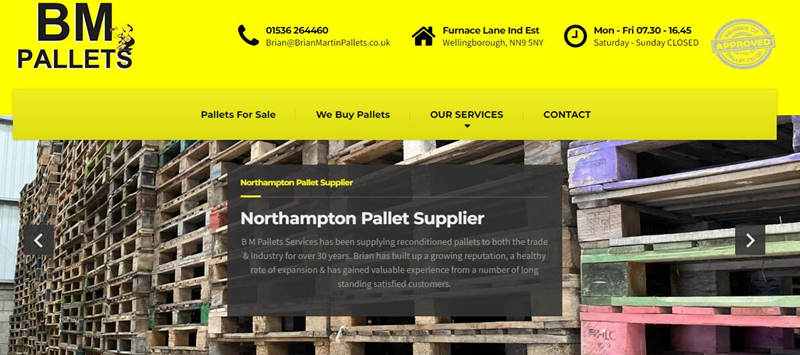 Brian Martin Pallets LTD has been offering superior customer service and competitive pricing on pallets for 30 years in UK.
Brian Martin Pallets is committed to serving customers in every aspect of their pallet needs. This includes pallet design, custom sizes, delivery services and even repair services if needed.
The company also offers a wide variety of pallets from recycled wood to new hardwood blocks for any application or budget. With an experienced staff, the team at Brian Martin Pallets Services is capable of meeting any customer need with quick response times and helpful advice.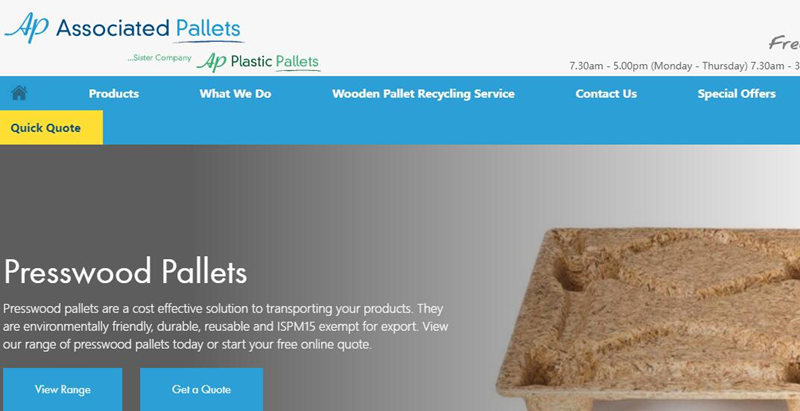 Associated Pallets Ltd is one of the top uk pallet suppliers & companies in the industry. Specializing in presswood pallets, this company offers a cost effective solution for transporting goods. The presswood pallets are environmentally friendly, as they are made from recycled wood and don't require chemical treatments. Furthermore, these pallets are incredibly durable and can be reused multiple times without breaking down or impeding functionality.
The team at Associated Pallets Ltd pride themselves on their commitment to customer service, providing quality products with a quick turnaround time. You can trust that their products will live up to your expectations and provide a safe transportation method for your goods. They also offer competitive prices on bulk orders so you can save money while helping protect the environment. Their presswood pallet solutions are an invaluable asset to any business looking for an affordable way to transport goods securely and sustainably!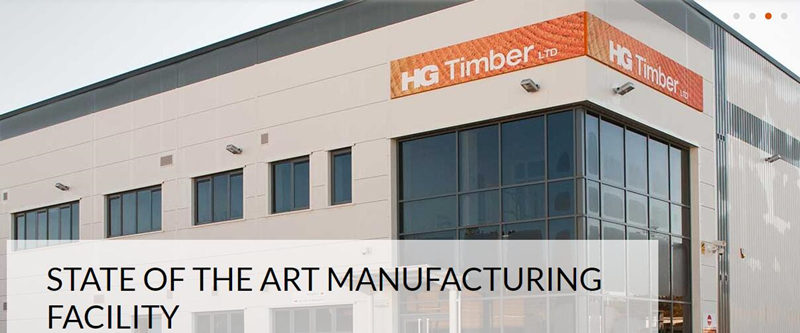 HG Timber Ltd has been providing the UK with quality timber products since 1945 and is now one of the leading suppliers of specialised timber products in the country. Over the past 75 years, HG Timber has established itself as an industry leader in providing high-grade pallets for a range of industries, including construction, transport, logistics and retail. The company's product range also includes wooden boards, pellets and packaging materials to meet most customer requirements.
HG Timber offers an unbeatable service by providing customised solutions to fit each client's individual needs. With a wide selection of sizes and grades available in their stock items, they are able to provide customers with quick turnarounds on orders and work hard to ensure complete customer satisfaction every time. The company is committed to working with only top-quality materials that are sourced from trusted suppliers across Europe and beyond.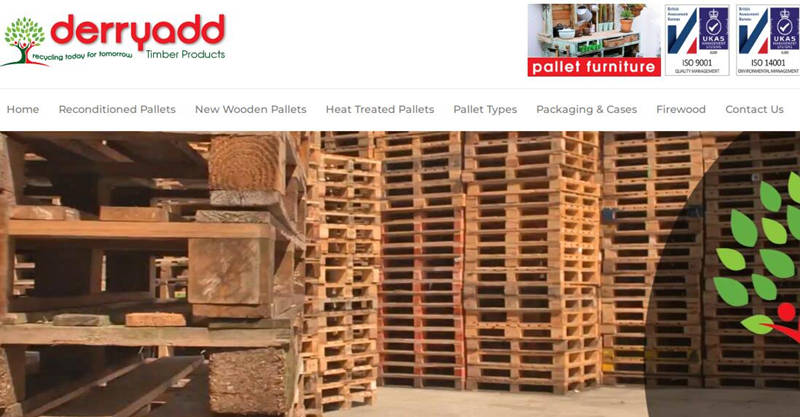 Wooden pallets are a crucial part of any logistics and manufacturing business, providing a practical way to transport goods from one place to another. For businesses looking for reliable suppliers of wooden pallets, you need look no further than Derryadd Pallets. They're proud to say that at any given time they have over 40,000 reconditioned wooden pallets in stock. Their large selection includes both Standard (1200x1000mm) and Euro spec type, ensuring that businesses can find the perfect solution for their needs.
They understand that each business has its own specific requirements when it comes to their wooden pallet selection. That's why their team goes out of their way to ensure the highest quality reconditioning process each and every time. All their products are carefully inspected and repaired before being released into circulation again – guaranteeing customer satisfaction with every order placed.
Top 4 Pallet Suppliers Australia
Cevol Industries Pty Ltd is the leading steel pallet hiring business in Australia, having been in operation since 1978. They are proud to be an Australian-owned company that has continued to provide reliable and quality service for over 40 years. With the highest safety standards, Cevol Industries Pty Ltd is committed to delivering superior customer service and a comprehensive range of steel pallets for hire throughout Australia.
Their experienced team provides competitive pricing and tailored solutions that suit your individual needs. They use only the most advanced technologies in all our processes, ensuring a safe and secure handling environment every time. Whether you need pallet hire for a single load or an entire fleet of trucks, they've got you covered with quality products, timely delivery and excellent customer support services.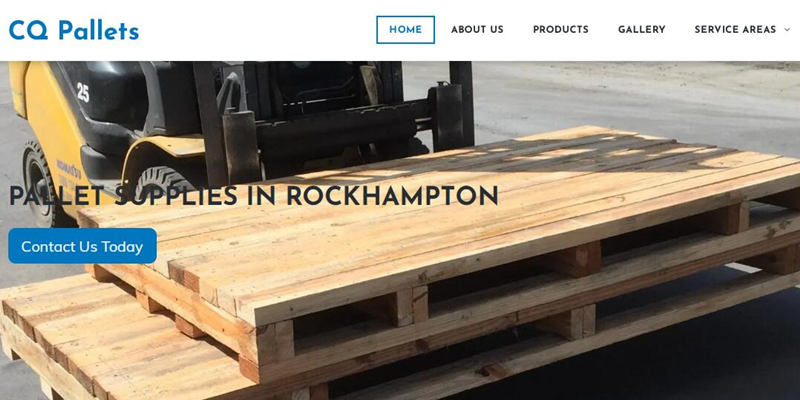 CQ Pallets offers a wide range of pallet products to meet your shipping and warehousing needs. Choose from hardwood and pine pallets, crates and boxes and all the necessary components for your order fulfillment requirements. Their team of experts will guide you through the process to ensure that you are getting the right solution at a competitive price.
They understand that quality is paramount when it comes to shipping logistics. That's why they only source the best materials from trusted suppliers who adhere to strict industry standards. All of their products come with quality checks so that you can be assured they will arrive in prime condition at their destination. They also provide delivery services with our fleet of trucks so that your goods will get there on time, every time.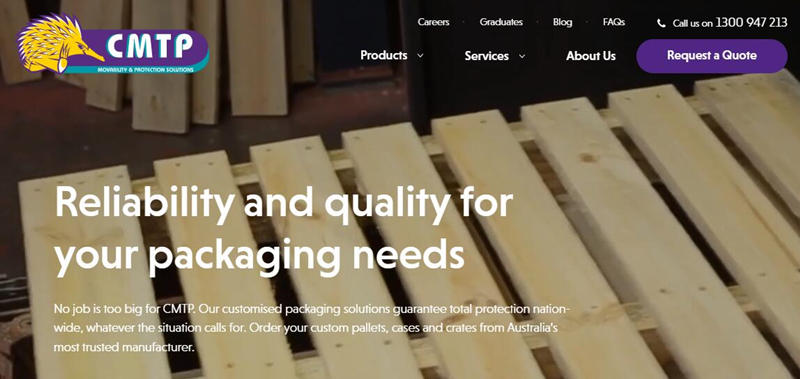 CMTP is a family-run business, with the skills and experience to provide customised products for customers. They understand that each customer has unique needs when it comes to their pallet requirements – that's why they strive to deliver the highest quality of service, with an emphasis on innovation and forward-thinking solutions.
Their team is committed to excellence and success, providing reliable delivery times and competitive pricing so that you can remain competitive in your market. Their commitment extends beyond just product provision; they make sure all of customers get the best possible advice when it comes to their pallet needs, ensuring they have the right size and type of product for their requirements.
Express Pallets & Crates have been providing top-notch pallets, crates, boxes, packing cases, fencing material for 25 years in AU. They offer custom built solutions that are tailored to suit the individual needs of their customers.
Their services also extend beyond just supplying timber products – they also provide expert advice on transport options, packaging solutions and storage requirements as well as offering onsite repair and maintenance services. With their fleet of trucks they're able to deliver orders quickly and efficiently with minimal disruption. Express Pallets & Crates guarantee you will receive a quality product every time with their expert team taking care of all your pallet needs from start to finish!
The Remaining 92 Pallet Suppliers & Companies
| | | |
| --- | --- | --- |
| Company Name | Services | Location |
| A Pallet Company | buying, rebuilding and recycling pallets in bulk | Indiana, USA |
| First Alliance Logistics Management | provider of pallet sourcing logistics solutions and recycle waste stream solutions |  North Carolina, USA |
| Fricks Pallet Company |  specializing in wood pallet manufacturing, recycling and distribution | Texas, USA |
| HD Pallet Company |  providing quality products and wood packaging solutions | Tennessee, USA |
| J.C. Pallet Company, Inc | From wood pallets, to reclaimed pallet lumber, cardboard, metal, mulch, woodchips and more | Virginia, USA |
| John Rock Inc Pallet Supplier | wooden pallet, skid & crate manufacturer | Pennsylvania, USA |
| J&B Pallet Supplier | custom-sized pallet built-to-order,  MANUFACTURING STANDARD PALLETS | Minnesota, USA |
| Love Pallet Company  | supply new wood pallets, reconditioned wood pallets, heat treated pallets, plastic pallets, and custom made pallets | New Jersey, USA |
|  Lakeshore Pallet, Inc | Wood Pallet Manufacturing and Recycling | Wisconsin, USA |
| General Pallet Company |  pallet distributor, producer, and recycler of all types of pallets and shipping crates | New Jersey, USA |
| Granville Pallet Co | providing the highest quality new, recycled, and custom pallet solutions |  North Carolina, USA |
| Great Lakes Pallet Company |  full-line supplier of quality wood pallets | Illinois, USA |
| Lima Pallet Company | offer the finest in wood pallets and crates designed to your specifications in order to meet your needs | Ohio, USA |
| Irvine Wood Recovery | specialists in the pallet, packaging, landscaping & mulch business | Ohio, USA |
| Mock Pallet Company, Inc | Pallet Design   *Crate Design   *Scrap Pallet Removal & Disposal Pallet  *Pallet Purchasing   *Pallet Consulting | Georgia, USA |
| Madison County Wood Products | specializes in land and timber management, logging, sawmilling,  and pallet manufacturing. |  Missouri, USA |
| Northeast Custom Pallets Company | Manufacturer and Supplier of Custom Wood Pallets, Crates, and Boxes | Pennsylvania, USA |
| Kamps Pallets Supplier |  supplying high quality recycled pallets, new custom pallets, and comprehensive pallet services | Michigan, USA |
| REMMEY The Pallet Company | designs, manufactures and delivers quality wood, plastic, corrugated and metal pallets | Pennsylvania, USA |
| Reardon Pallet Company | provided quality pallets, crates and quality lumber |  Kansas, USA |
| Pallet One |  largest new pallet manufacturer | Florida, USA |
| Pallet Express Inc | the region's largest and most respected wood pallet recycler and manufacturer | Pennsylvania, USA |
| Pallet Services Inc | One Stop Pallet Supplier | New York |
|  Pallet Market, Inc | manufactures and sells standard pallets, custom pallets and crates, and recycled pallets | California, USA |
| PECO Pallet Company | North America's second largest pooled pallet provider | Illinois, USA |
| Pasadena Skid & Pallet | All-in-One Wooden Pallet Services | Texas, USA |
| Rose Pallet Company |  build, recycle and repair millions of high quality pallets | Illinois, USA |
| Smith Pallet Company | custom built products including pallets, block pallets, crates, caps, boxes | Arkansas, USA |
|  Troymill Wood Products | Wholesale Pallets, Custom Pallets, Industrial Lumber | Ohio, USA |
| Oakmoor Pallet Company | a cost effective pallet supplier | Ohio, USA |
| Oakland Pallet Co., Inc |  premier pallet supplier providing customer driven solutions | California, USA |
| Alberta Pallet Co Ltd | New pallets, Recycled pallets, Re-manufactured pallets, Combination pallets, ​ Heat-treated pallets, ​ (PDS) Pallet design system | Alberta, Canada |
| Apex Pallet Supplier | reliable pallet supplier of heat treated pallets, new pallets & recycled wooden pallets |  Toronto, Canada |
| CPCQ Inc Pallet Supplier | design and manufacturing services for wooden packaging | Québec, Canada |
| CPS Wood Products | manufacture Wood Pallets, Wood Shipping Crates, Customizable Shipping solutions | Ontario, Canada |
| Express Pallet Collection Inc | one of the biggest wood pallets suppliers in BC. We have been providing quality wood pallets | British Columbia, Canada |
| Niagara Pallet & Recyclers Ltd | manufacturer, seller and recycler of pallets and shipping material | Ontario, Canada |
| Pacific Pallet Ltd | automated manufacturing lines produce consistently built pallets | British Columbia, Canada |
| Woodbridge Pallet Company | manufacture a wide variety of pallets | Ontario, Canada |
| Iroquois Enterprises | Manufacturers of New Hardwood or Softwood Pallets & Industrial Wood Products | Ontario, Canada |
| Happy Pallets, Inc | Pallet Manufacturing, Recycling & Sales. Proudly Serving The Greater Toronto Area | Ontario, Canada |
| Toronto Pallet Solutions Inc | Wood Pallets and Crates for Companies | Ontario, Canada |
| Wallis Pallet Recycling Incorporated | pallet manufacturing, pallet collection services, and skid recycling services | Canada |
| South-East Pallet & Wood Products | provide pallet solutions that are designed | Canada |
| St. Boniface Pallet Company | a full service pallet, crate and wood recycling company | Manitoba, Canada |
| Pallet Depot  | building new and refurbished wood pallets | Atlantic Canada |
| Olde Tyme Pallets Company | Reliable and Professional Wood Pallets Supplier in the GTA | Ontario, Canada |
| Oxford Pallet Company | supply new pallets & recycled pallets for medical, retail, and automotive | Ontario, Canada |
| Bridge Pallet Supplies Ltd  | supplying and recycling pallets | Huddersfield, UK |
| Black Country Pallets Ltd | Pallet Collection Supplier | West Midlands, UK |
| AJB Pallet Ltd  | Leading Pallet Suppliers across the Midlands, Staffordshire and Worcestershire region | West Midlands, UK |
| N & R Manufacturing Limited | manufacturers of wooden packaging | UK |
| James Jones & Sons Ltd | family owned and managed forest products company | Stirlingshire, UK |
| Marks Tey Products | manufacturers and suppliers of quality fencing and made to measure timber packing cases that are ISPM-15 compliant | England |
| Industrial Pallet Services Ltd | Industrial Pallet & Transport Services | England |
| Giffords Pallets Company | Wooden Pallet Manufacturers & Pallet Recycling Specialists | West Midlands, UK |
| Lakeland Pallets Company | PALLETS MANUFACTURE NEW WOODEN PALLETS AND CASES | Hackthorpe, England |
| Light Engineers Ltd  | substantial supplier of wooden pallets and packing cases | England |
| Down Pallets Company | a reputable pallet manufacturing company in Northern Ireland | Newtownards, Northern Ireland |
| D & K Pallets Ltd | PALLET, CASE & CRATE MANUFACTURERS | Huddersfield, UK |
| Bache Group | manufacturer of both bespoke and standard industrial pallets and containers | UK |
| J.C.S Pallets  | a leading specialist in all aspects of the pallet industry | UK |
| Pine Products Ltd  | pallet manufacturer, reconditioned pallets, repair of used pallets and repatriation of pallets | Lancashire, UK |
| Beecraft UK Ltd | lightweight plastic pallet, one way and export pallet, medium and heavy duty pallets, regular rackable pallet | Middlesex, United Kingdom |
| Pallets Direct | supply New and Used Pallets for delivery and collection | UK |
| The Pallet Company | most cost effective solution for your complete pallet requirements | UK |
| Shaw Pallet Ltd | supply of new wooden pallets | West Yorkshire, UK |
|  SDN Pallets Ltd | a pallet manufacturer specialising in new, reconditioned and ISPM15 heat treated pallets | Nottinghamshire, UK |
| The Scott Group | pallets, timber packaging, agricultural boxes, industrial supplies, tools, workwear, PPE, safety equipment, premium apparel & professional protective clothing manufacture and property services | UK |
| Red Rose Pallet & Case Ltd | Pallet And Case Supplier | Bolton, UK |
| ROWLINSON GROUP LIMITED |  leading designer and manufacturer of bespoke and standard timber packaging |  Cheshire, England |
| JBJ Pallets Ltd  | buying, repairing, manufacturing and supplying wooden pallets | Essex, UK |
|  Abbey Pallets Company | sell new and used wooden and plastic pallets, | Sydney, Australia |
| Craig Timber Products | reliable timber, pallet and box supplier | Australia |
| Affordable Pallets Company | provide wooden boxes & crates, wood cut to size, heat treated pallets & boxes, shipping crates, wooden pallets | Australia |
| Pinewood Products | Timber Wholesalers & Pallet Suppliers, Australian Pallet & Packaging Experts | Australia |
| Pace Pallet Services | create a timber pallet, crate, box or skid | Australia |
| Pallet Pals | buy, sell and recycle your wooden pallets in Perth | Australia |
| Direct Pallets | offer a full range of recycled, new and custom-made pallets, skids, crates and boxes | Australia |
|  Pallet Masters  | pallet design and innovative manufacturing | Australia |
| Next Generation Pallets Supplier | Quality Timber Pallets Manufacturers & Suppliers | Australia |
|  Smart Pallets Company | recycling timber packaging, including pallets, crates and boxes and collecting, repairing and returning pallets for the brick | Australia |
| Rita and Son Pallets Company | new and second hand; export pallets | Australia |
| UBEECO Packaging Solutions | AN AUSTRALIAN PACKAGING SOLUTIONS COMPANY, | Australia |
| Pallets on the Run | providing you the best timber pallets in any shape or size to fulfil your requirements | Australia |
| Pallets Express | From standard to custom pallets, | Australia |
| Plain Pallets | wooden pallets, plastic pallets and recycled pallets supplier | Australia |
| Palletco SA | Custom made pallets | Australia |
| Townsville Pallet & Crate Manufacturers | standard pallets, custom pallets, export pallets, crates, skids, boxes, dunnage and all other timber packaging products | Australia |
| Wintle Pallets Company | Australian standard timber pallets, Euro pallets, export pallets and plastic pallets | Australia |
| West Coast Pallets Pty Ltd  | New & Second-Hand Wooden & Plastic Pallets | Australia |
| Marks Pallets Company | Buying and selling Standard Pallets, Euro and Plastic Pallets, recycled plastic pallets, timber pallets and export pallets | Australia |
FAQ About Pallets
What materials can be used to make a pallet?
Pallets can be made from a variety of materials, including wood, plastic, metal, and paper. The material chosen depends on the intended use of the pallet and the weight it will be carrying.
What are the different types of pallets?
1. Stringer Pallets: These are the most common type of pallets, consisting of three or four stringers that are supported by multiple parallel deck boards.
2. Block Pallets: These pallets feature a solid block for the bottom deck that is supported by four-way entry corner blocks.
3. Double-Deck Pallets: These feature two complete decks, both of which can be used for product storage.
4. Recycled Pallets: These are usually made from recycled wood and can be used for a variety of applications.
5. Plastic Pallets: These are becoming increasingly popular due to their durability, light weight and easy cleaning.
6. Metal Pallets: These are ideal for applications where strength and durability are needed.
7. Multi-Tiered Pallets: These are designed to accommodate multiple levels of product storage in a single pallet.
How do you measure the size of a pallet?
The size of a pallet is typically measured in inches or centimeters (length x width x height). It is also common to measure the usable space on a pallet, which is the internal space between the pallet's stringers.
What is the best way to store pallets?
The best way to store pallets is to keep them off the ground, away from moisture and direct sunlight, and in a cool, dry space. Pallets should be stored in an upright position, if possible, and stacked in a way so that the weight is evenly distributed. If possible, pallets should also be wrapped in plastic or some other protective material to prevent damage.
How do you safely move a pallet?
1. Inspect the pallet before use to ensure that it is in good condition and free of any damage.
2. Wear protective gloves and sturdy shoes.
3. Position the pallet jack or forklift correctly.
4. Be sure to keep your back straight and bend your knees when lifting the pallet.
5. Make sure the load is balanced and secure before moving it.
6. Move slowly to prevent the pallet from tipping.
7. Make sure to keep the load close to your body and away from your feet.
8. Avoid abrupt stops and sharp turns.
9. Lower the load slowly and carefully.
10. Once the load is lowered, check for any damage.
What are the benefits of using a pallet?
1. Cost Savings: Pallets are a very cost-effective way to transport and store goods, as they can be reused and recycled, saving on the cost of purchasing new materials.
2. Efficiency: Pallets help to increase efficiency in the supply chain, as they are designed to move goods quickly and can be easily loaded and unloaded from trucks and warehouses.
3. Safety: Pallets help to ensure the safety of goods, as they can be stacked and strapped together, reducing the risk of items being damaged in transit.
4. Versatility: Pallets are very versatile and can be used for a variety of goods, from food and beverages to industrial machinery and automotive parts.
5. Environmentally Friendly: Pallets are made of wood, which is a renewable resource and can be recycled or reused, making them an environmentally friendly way to transport and store goods.