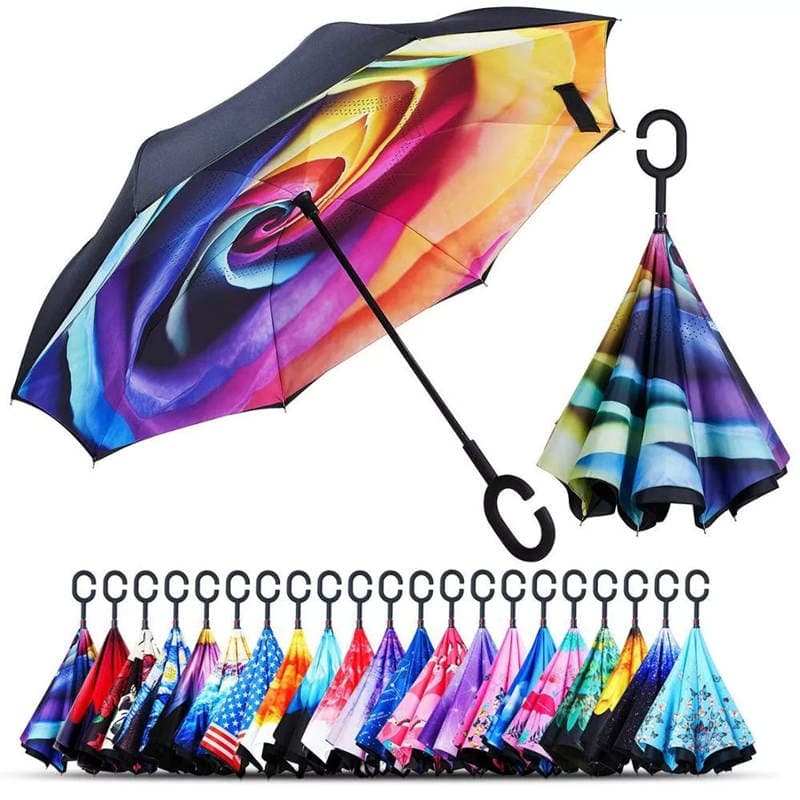 12 Best Custom Logo Umbrella Manufacturers & Suppliers
Logo umbrellas have become a staple for businesses and organizations of all sizes in recent years. Not only do they add a touch of branding and personality to an outfit, but they also provide much-needed shade and protection from the rain. If you're in the market for a custom logo umbrella, then you're in luck! In this article there are countless umbrella manufacturers and suppliers that can help you create the perfect umbrella for your needs.
How to Choose Your Best Custom Logo Umbrella Manufacturers?
When searching for the perfect custom logo umbrella manufacturer, there are a few key factors to keep in mind. Price, quality, and turnaround time are all important considerations when making your decision. Additionally, it's important to find a manufacturer that can provide you with the exact type of umbrella you're looking for. Here are a few tips on how to choose the best supplier for your needs:
1. Do your research. There are many suppliers out there that offer custom logo umbrellas, so it's important to do your homework before making a decision. Compare prices and quality, and read reviews from other customers to get a sense of what each company is like.
2. Consider your budget. Custom logo umbrellas can be expensive, so it's important to set a budget and find a manufacturer that fits within your budget.
3. Compare styles. It's important to find a supplier that offers additional styles of umbrellas, including a stand-up option. This way you can choose the style that best fits your needs and create a customized logo umbrella.
4. Consider sourcing and marking custom umbrellas from Chinese manufacturer. In the world, about 80% of umbrellas are made in China. For this reason, sourcing and producing umbrellas in China may be a good option for your business.
Why Import Logo Printed Umbrellas from China?
There are numerous advantages to manufacturing umbrellas in China, including:
1. A large pool of skilled labor. There is a large pool of skilled labor available in China to manufacture umbrellas. This means that you can find a factory with the right level of experience and expertise to produce high-quality umbrellas.
2. Low production costs. Labor costs are relatively low in China, which means you can save money on the cost of manufacturing your umbrellas.
3. A robust infrastructure. The infrastructure in China is well-developed, which makes it easy to transport goods and materials around the country.
12 Best Custom Logo Umbrella Manufacturers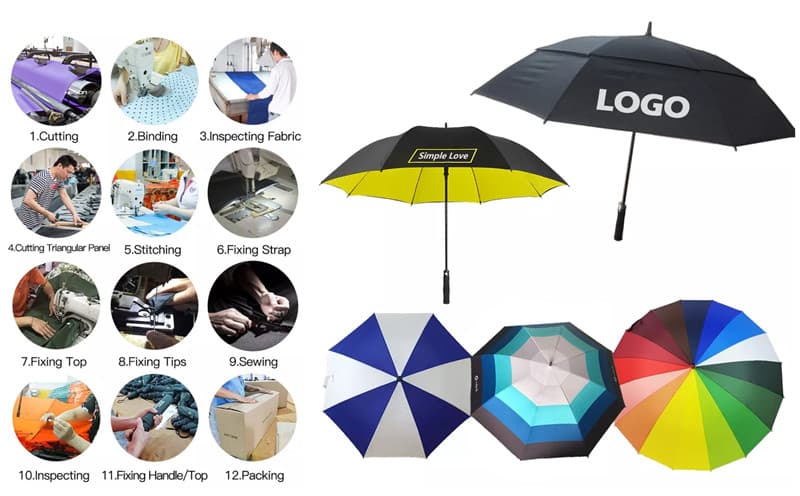 As the leading custom promotional products supplier from Fujian, China, Noya make logo printed umbrellas for your promotion. We also help luxury brands and companies develop the latest style and unique umbrella.
The Fujian province is located on the southeast coast of China and is known for its production of umbrellas. The region has been manufacturing umbrellas for centuries and is responsible for producing the majority of the world's supply. The unique craft and access to resources have made the Fujian province a hub for umbrella production.
At Noya, we understand the needs of startups and small businesses. That's why we offer low-volume brand customization, which allows you to create unique umbrella products without having to invest a lot of time or money.
We work with you to turn your ideas into reality, so you can stand out from the crowd and reach your target audience. So what are you waiting for? Contact us today!
Based in Canada, the current president of Vancouver Umbrella is Shana Hochfelder. Under her leadership, Vancouver Umbrella has become a multi-million dollar umbrella manufacturer.
Starting in the umbrella repair business in the 1930s, Isadore Flader from Poland (Shana's great-grandfather) soon opened his first umbrella manufacturing factory and retail store in Vancouver. As a long-established umbrella family business, Vancouver also has many new products with innovative patented designs for frames, handles and fabrics.

Since 1942 the StrombergBrand focused on creating high-quality umbrella products and quickly became a leader in the industry. Today, StrombergBrand is still family-owned and operated, with the same commitment to quality and innovation. Their products are used by some of the world's leading brands and can be found in retail stores across the globe.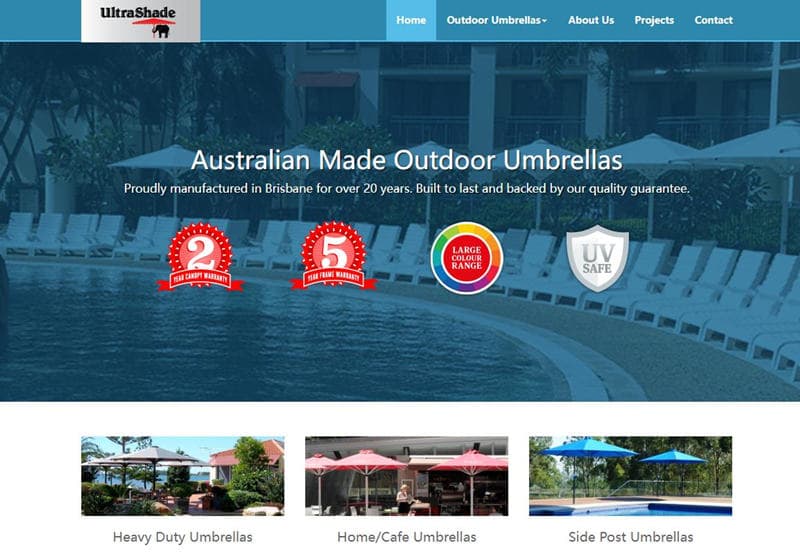 Founded in 1987, UltraShade is a leading manufacturer of high-quality umbrellas, with a wide selection of products for both personal and commercial use. The company's umbrellas are known for their durability, sun protection, and stylish designs. All UltraShade umbrellas are made in the Australia from the highest-quality materials.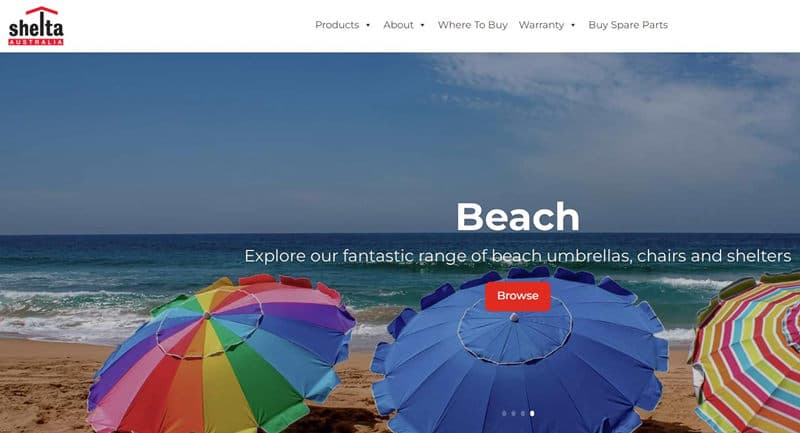 Shelta umbrellas are an Australian icon, with a rich history dating back to 1911. Shelta has been manufacturing and selling ubrellas in Australia for over 100 years, making them the longest-running Australian umbrella company. Shelta's high-quality umbrellas are made from only the best materials, and are designed to withstand even the harshest weather conditions.
Shelta umbrellas are also known for their stylish designs, which include a wide range of colours and patterns to choose from. Whether you're looking for an everyday umbrella or something special for a special occasion, Shelta has the perfect umbrella for you.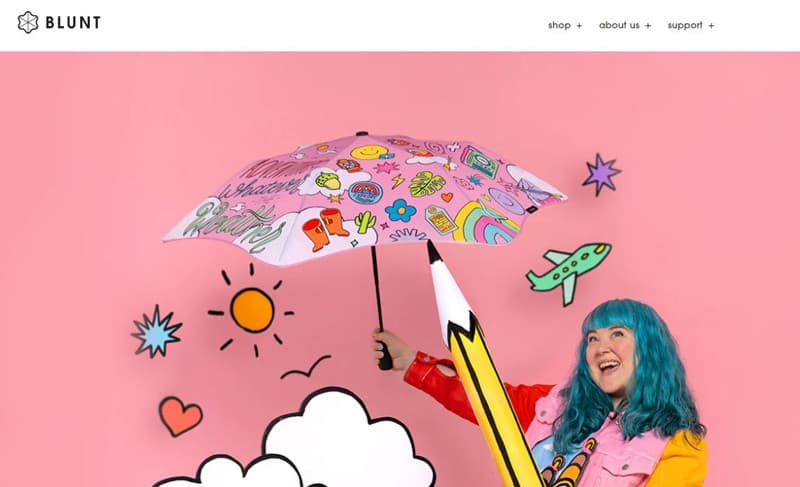 In a world of ever-growing technology, sometimes the old ways are still the best. BLUNT Umbrella is one example of a company that has taken a traditional product and made it even better. With their superior engineering and beautiful design, they have evolved a very traditional product into something truly special.
The BLUNT Umbrella is designed with wind tunnel technology, which makes it virtually impossible for it to flip inside out. It also has a patented curved handle that keeps your hands and arms dry, even in the heaviest rain. And to top it all off, the BLUNT Umbrella comes in a variety of stylish colors and designs, so you can choose the perfect one for you.
Whether you're looking for an everyday umbrella or something special for a rainy day, the BLUNT Umbrella is sure to please.
The Tsujikura umbrella company was founded in 1690 by Kihachiro Tsujikura. It is a small, family-owned business that specializes in the production of high-quality umbrellas. The company is based in Kyoto, Japan, and its products are sold all over the world.
Tsujikura umbrellas are known for their beautiful designs and durable construction. They are made from the highest quality materials, and they are built to last. The company's products have been featured in magazines and television shows, and they have been praised by customers and experts alike.
If you're looking for an elegant and well-crafted umbrella, Tsujikura is the perfect choice. Their products are sure to keep you dry on even the wettest days.
James Ince & Sons (Umbrellas) Ltd. is a BRITAIN'S OLDEST UMBRELLA MAKER that has been in business for over 215 years. They make some of the highest quality umbrellas in the world and are known for their craftsmanship and attention to detail. Their umbrellas are used by some of the most well-known people in the world, including celebrities, presidents, and royalty.
Fox Umbrellas have been manufacturing and supplying umbrellas to both the public and trade for over 150 years. Fox umbrellas are made to the highest possible standards, using the latest materials and construction techniques.
Their range of umbrellas is huge, so they have something for everyone. Whether you're looking for a compact umbrella for travel or a large umbrella for staying dry in bad weather, they have you covered.
Fujian Ocean Umbrellas Co., Ltd
The Fujian Ocean Umbrellas Co., Ltd is a company that has more than ten years of experience in the umbrellas industry. They are based in Fujian, China and manufacture a wide variety of umbrellas, including golf umbrellas, sun umbrellas, and rain umbrellas. The company is known for their high quality products and excellent customer service.
Fujian YF Umbrella Co., Ltd
The Fujian YF Umbrella Co., Ltd was founded in 2006 and is located in the Quanzhou City of Fujian Province. The company specializes in the development and production of high-grade gift umbrellas and umbrellas. The main products of the company are manual-opening umbrellas, automatic umbrellas, golf umbrellas, advertising umbrellas, sun umbrellas, children's umbrellas, and others.
The company has a strong technical force and advanced production equipment. All products are manufactured under rigorous quality control standards to ensure customer satisfaction.
Sun Umbrella (XIAMEN) CO., LTD
Sun Umbrella (XIAMEN) CO., LTD is one of the biggest umbrella factories in China. With over 10 years of experience, they have become a leader in the industry. They offer a wide range of products, including umbrellas, tents, canopies, and awnings. Their products are made of high-quality materials and are designed to withstand the toughest conditions. They also offer customized solutions to meet their customers' specific needs. Their goal is to provide the best products and services possible and exceed our customers' expectations.
Conclusion
In conclusion, it's important to find a custom umbrella company that will fit your needs. There are many companies to choose from, so do your research and find the best one for you. Remember, the quality of your umbrella will reflect the quality of your business. So be sure to find a reputable company with a good reputation. If you have any questions about sourcing custom logo designed umbrellas, contact us for free help!